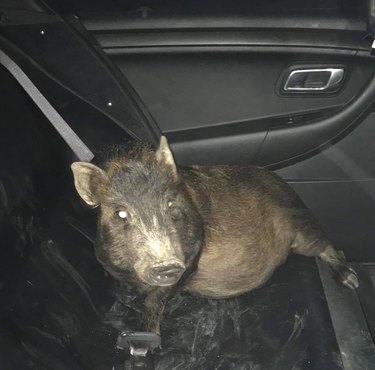 When the call came in at 5:26 a.m. last Saturday, dispatchers with the North Ridgeville Police Department thought the man on the other end of the phone was "obviously" under the influence.
A pig, he claimed, had been following closely behind after he got off a train at the local Amtrak station — and the man wasn't sure what to do about it.
Officials with the department were naturally skeptical, but a patrolman was ordered to the scene to learn more.
Upon his arrival, the officer quickly determined the report was no hogwash: A 50-pound pig was gently but repeatedly "nudging" the man.
The swine-y scofflaw, you see, wasn't targeting his wallet or anything like that. No, she wanted his pets and she wanted them now.
Caught in the act, the affection-starved critter tried to scamper away from Johnny Law, but she didn't get far before she was collared.
In a Facebook post that has since gone viral with more than 17,000+ shares, the department's social media team humorously recapped what happened next:
"Ptlm. Kuduzovic managed to wrangle (I think this is the correct word to use) said pig into his cruiser and [s]he is currently secured in our pig pens.....er, dog kennels. Whatever.
You'd have thought we would have learned our lesson after the kangaroo incident.
After a short investigation, officers traced the culprit, whose name is Zoey, to a local farm, where it was discovered that she had slipped out of her pen sometime during the night.
Her humans bailed her out later that same morning, but by then Zoey's story had already spilled over the social web, where the takes — and the puns — were flying:
"Brings a new meaning to bringing home the bacon," quipped one woman.

"The last line of this just made me snort out loud. Like a pig. Zoey and I would be fast friends, I am certain of it," added a second, former USWNT soccer star Julie Foudy.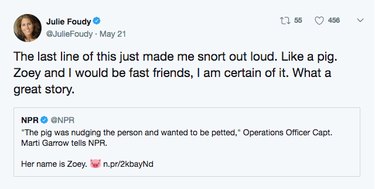 But lest you think the North Ridgeville Police Department had owned itself by inadvertently inviting the public to crack pig & police jokes, they quickly pumped the brakes on keyboard comedians everywhere:
"'Also, we will mention the irony of the pig in a police car now so that anyone that thinks they're funny is actually unoriginal and trying too hard,'" the police said on social media.'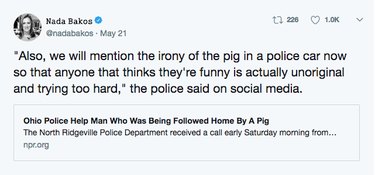 Zoey, from everyone here at Cuteness HQ, you can steal our hearts anytime. 🐷 🐷 🐷