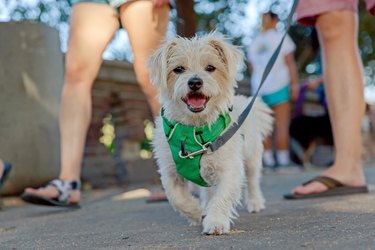 As proud doggie parents, we spend a lot of our time showing off our pets. At the park, on social media, with our friends and families — pups always manage to steal the show. What if you could proudly show off your four-legged friend while also helping out shelter dogs in need? Now you can! Best Friends Animal Society is once again hosting Strut Your Mutt events across the country, where you and your pet can strut your stuff while raising money for an amazing cause.
What exactly is Strut Your Mutt?
Strut Your Mutt is a fundraising event for anyone who loves animals. Pet parents across the country are invited to walk their dogs to help raise money to save homeless pets.
Annie Laubernds, National Events Manager for Best Friends, explained that the money goes to shelters and rescues across the country that save the lives of animals. "More than 4,100 dogs and cats [...] are killed in shelters every day just because they don't have a safe place to call home," she said. "The funds go towards running spay and neuter programs, adoptions, animal care and training, transport, and other services our partners provide in their community."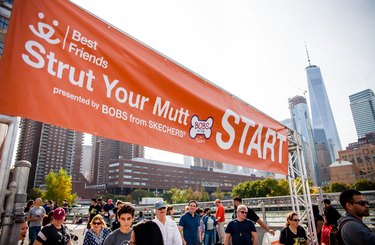 Strut Your Mutt isn't just a fundraiser; it's also a community-building event for participants as well as shelters and rescues. "For Best Friends, it's a chance for us to connect with our partners and supporters all over the country, and educate people on our nationwide programs," Annie explained.
Who can attend Strut Your Mutt?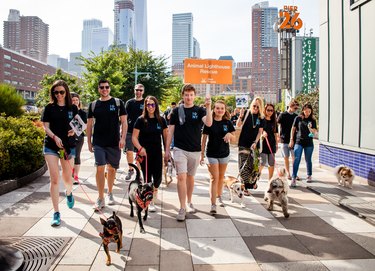 Dog parents, well-wishers without dogs, and pretty much everyone (even cat people) are welcome to join any of the Strut Your Mutt events as a team or as an individual. Similar to other fundraising walks, once you register for the event, you can set up an online fundraising page, where friends and family can donate to support your walk with or without a mutt.
Where and when will Strut Your Mutt happen this year?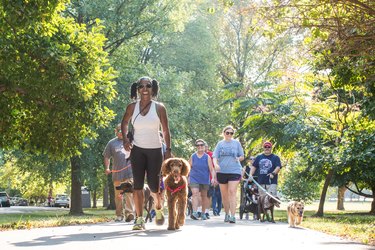 September 8, 2018: Atlanta
September 15, 2018: Austin and Kanab
September 22, 2018: Portland and St. Louis
September 29, 2018: Jacksonville, Minneapolis–St. Paul, and San Francisco
October 6, 2018: D.C. Metro and New York City
October 13, 2018: Houston and Salt Lake City
October 20, 2018: Los Angeles and Phoenix
October 27, 2018: Strut Your Mutt Day

If there isn't an event in your area, you can participate virtually or set up an event with your local shelter by October 27th, Strut Your Mutt Day. Best Friends hopes to raise $2.4 million dollars to help protect animals.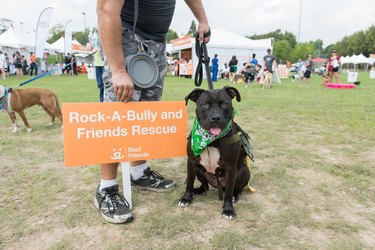 Annie explained, "It's a unique model, because in addition to raising money for Best Friends and the animals in our care, we partner with groups all over the country and they get to use our event platform to raise money for themselves too – so they can reach out to their own local network of supporters and volunteers to fundraise to support their local lifesaving programs."
Here's some of the fun new features you'll find at Strut Your Mutt events this year.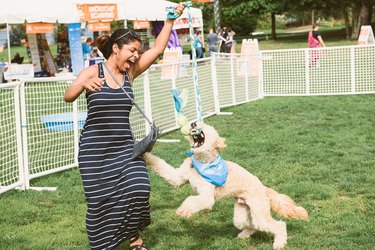 Strut Your Mutt isn't just a walk, it's basically an event straight out of a doggie lover's dreams. While events vary by city, here are some of the awesome activities you can expect:
Pooch Pavilion: a hub for doggie activities. Checking for microchips, PAWdicures, connect with local groups, enjoy games, and even paw painting. The specific activities will vary, depending on your city.
Strut School: a fun training class for your pup. Help your dog learn fun tricks; if they make it through all the stations, they get a doggie diploma.
The Best Friends Experience: learn all about Best Friends' mission, including a virtual reality station, and a prize wheel where you can win fun prizes.
How do you get involved with Strut Your Mutt?
If you want to join in and strut your mutt, then start by registering on the Strut Your Mutt website. Once you've registered, you'll get a fundraising page. Annie encourages everyone to share their page on social media because it's often a huge draw for donations.
If you want to be even more involved, you can volunteer in one of the event cities. Annie explained, "We produce this event series with a small staff team and rely heavily on incredibly talented and dedicated volunteers. We recruit volunteer teams in each city that take on the bulk of the event planning, and our staff team provides them with guidance and support." You can find out more by visiting the Strut Your Mutt website and emailing the coordinator for your city.
Now, get out there and strut your mutt!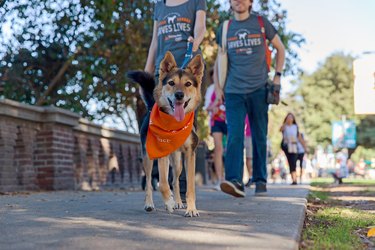 We can't wait to see you and your pooch strutting your stuff and raising money to save the lives of shelter animals!