Pull the Kleenex close because this next story will give you all the fuzzy feels.
In 2004, Mary Sedgwick was diagnosed with bilateral optic neuritis, a "demyelinating inflammation of the optic nerve" that triggers visual restriction and blindness.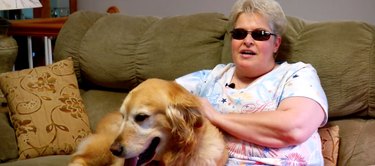 Dismayed by her new condition, the North Carolina resident fell into a depressive state, a phase that eventually ebbed when she was paired in 2010 with her guide dog, a golden retriever named Lucy.
The good girl helped restore a measure of Sedgwick's independence and the duo developed a deep bond as a result. Even so, "the question of what her loyal dog looked like always weighed heavy[ily] on her mind". But with the help of a pair of cutting edge glasses from eSight, the former physician locked eyes with her loyal companion last month at a convention — and the moment, which was recorded on a smartphone and is now going viral, will melt you into a puddle.
Watch the whole clip (with volume on for the full effect) in the embed below!
A second video adds context to Sedgwick and Lucy's relationship.
On Twitter, commenters were in agreement that (a) we don't deserve dogs, (b) technology could be used for good, and (c) that the woman's outpouring of emotion was the most precious thing ever.
"I'm not crying, it's allergies. 😢😢," wrote one woman.
"Aww super sweet brightened my day. 🤗," emojied another.
"If this doesn't melt your heart, you have no heart to melt," shared a man.
Alas, the story isn't entirely without a downside.
To ease this burden, Sedgwick has launched a crowdfunding campaign and donations spurred by media reports have matched most of that figure. In light of this success, she has reset the goal to $30,000, in the hopes of purchasing two more pairs for others that are also afflicted by bilateral optic neuritis.
On her page, she explains just how transformative — and liberating — the high tech specs can be:
"The glasses house a high-speed, high-definition camera that captures everything you're looking at and shows it on two, near-to-your-eye displays. Medical algorithms enhance the footage so you can see in real-time. These glasses restored some of my remaining residual vision.
There are no words to describe how I felt when I saw the face of my beloved family and friends and the beautiful, soulful eyes of Lucy for the first time! My heart has been flowing over since that moment, and my mind has been exploding with the potential the future holds."
To learn more about Mary's ailment and what you can do to help, visit Giving.com.