Meet Sunny.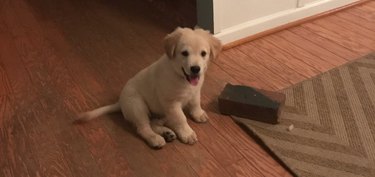 He's a 1-year-old rescue who lives with his human, Ariana Smoak, in South Carolina.
Like most good boys, he's loyal and affectionate. (Hover over embed for puppy slobbers.)
Unlike other pups, though, Sunny could care less about popular dog toys such as tennis balls, squeaky plushes, or paw-printed blankies. No, his taste trends towards something more functional than fun: a brick.
Smoak documented Sunny's relationship with the common building block — typically composed of clay and shale and forged in a kiln at a temperature of 2,000 degrees Fahrenheit if Wikipedia is to be believed — in a recent tweet.
"My dog's best friend is a brick," she captioned the adorable photoset.
I mean have you ever seen anything so pure in your life? Have you really???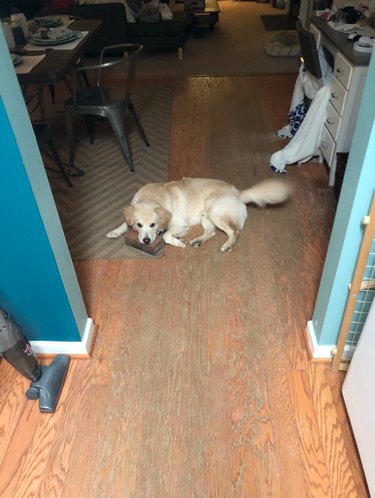 Not unsurprisingly the internet quickly fell hard for the duo.
Jokes were turned ....
.... and memes invoked.
As the tweet viraled out of control and spilled over to other social media platforms, other dog owners were prompted to share similar images of their own pets posing with unexpected objects.
Like this one snuggling with a bowling pin (🤷) ....
.... this roti munching on a rock ....
.... and even a fellow bar enthusiast.
In an update threaded to the original post, Smoak detailed Sunny's heartwarming backstory — and that of the brick itself, which moonlights as a paperweight.
"I rescued him and his siblings off the street last year and we decided to keep him. We have the brick," she added, "to keep the rug from curling up and he lays with it and kisses it for some reason haha."
Astonished by the spread of Sunny's story, Smoak jumped back on Twitter to thank everyone for their kind words — and post two more cute AF snaps.
"I'm still in shock at the response, i can't believe that his pictures have been shared on numerous insta accounts, Facebook, tumblr and on a BuzzFeed article. It's all very surreal. thank you all for all the love. we aren't going to let the fame get to his head haha."
The takeaway here: Get someone to look at you the way Sunny looks at his brick.