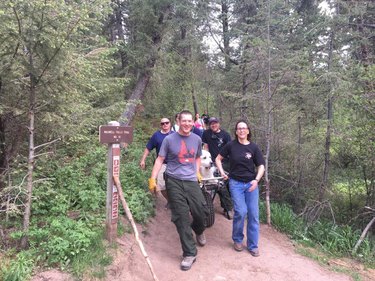 Mountain rescue teams plan for all types of emergencies — including, it seems, exhausted hikers of the four-legged variety.
That was the unlikely scenario the all-volunteer Evergreen Fire Rescue team found itself confronted with last weekend, when a report came in of a "dog in distress" on a steep trail about 40 miles west of Denver. But the victim, named Kato, was no ordinary pup: He was a 120-pound Great Pyrenees suffering from dehydration!
The massive pup — what some on the internet might call an absolute unit — was too tired to complete the return trip and had flopped to the ground.
Fortunately, he and his people were only about a mile from the trailhead. When the emergency responders arrived, they hoisted the big boi onto a rolling stretcher (complete with treaded tires) and wheeled him down the mountain.
And judging by the expression on his face, he looked pretty chill and nonchalant about the whole thing.
As news of the rescue began to spread on social media, folks chimed in with takes and opinions.
Some found it very relatable.
Others shared similar experiences of their own.
"He was obviously faking it to get the free ride," quipped this man.
"Amateur," joked a second.
In an interview with 9News.com, the department's public information officer had this to say about Kato's episode: "We choose to help animals .... Doesn't matter if a it's a horse stuck in the mud, [or] owls that fall out of the nest. This is something that the community supports."
While we're happy to report that Kato is recovering just fine, let this be a reminder to pack extra food and water if you hit the trails with your pups this summer!