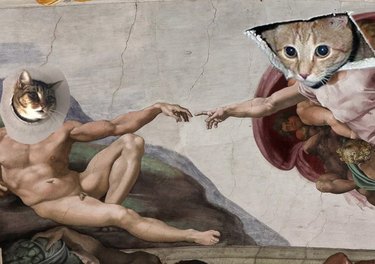 As Karl Marx famously noted, "all great world-historic memes appear, so to speak, twice: The first time as tragedy, the second time as a Twitter Moment."
That's but one interpretation (work with me here, alright?) of a now viral thread anchored around an adorable cat, who was spotted peering down through a hole in the ceiling at an Australian shelter.
Like other mysterious phenomena on the web, the photoset was shared by a proxy, its origins murky, its claims unverifiable:
"My friend's mum was at the animal welfare league and apparently there's a cat that lives in the ceiling," wrote Emma, a Scottish woman and self-professed "#1 Cool Cat Fan".
While the shocking discovery provoked a fair share of questions — "what all day? who feeds it?" asked one commenter wistfully — other internet historians looked past the paucity of details and lashed it back to a beloved, first gen, OG, gold-plated meme: Ceiling Cat.
"Old people like myself gave been waiting for the Second Coming since 2006. Its happening! #AllPraiseCeilingCat #HeIsRisen 🙌🙌🙌," heralded one man.
Topical GIFs were deployed.
As were Star Wars references.
Some tried to shed light on this most puzzling of kitteh conundrums — namely htf did it get up there — by surfacing precedents.
Others pumped the breaks on the celebratory mood, warning that things were not what they seemed. 😂 😂 😂
Still, the trophy for the comment of the day went to a videographer who put her Photoshop skills to use with a wonderful macro that expertly riffed on the creation of Adam, one meme symbolically giving birth to another.
Though Ceiling Cat 2.0's status remains elusive, it appears the shelter in question has been leaving treats out in an effort to coax it down from its tiled perch.
For more on this breaking story, keep it locked to Cuteness.com!