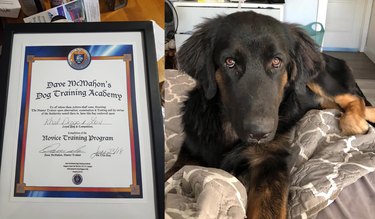 Moms are inherently proud of their children's accomplishments.
So it's not totally surprising that a Canadian woman would frame her dog's graduation diploma from a prestigious training academy.
More unusual, though, was the revelation that she hadn't extended the same honor to her flesh-and-blood offspring after they completed secondary school.
Such was the hilarious story earlier this week at the Cool Dog Group, a private Facebook group with more than 600,000+ members.
In a now viral thread, the woman's daughter, Stephanie, shared snaps of the certificate and its awardee, a handsome 6-month-old pup named Khal Drogo (a nod to Game Of Thrones, but more on that in a bit).
"My mom framed her dogs diploma but not mine," she captioned the post.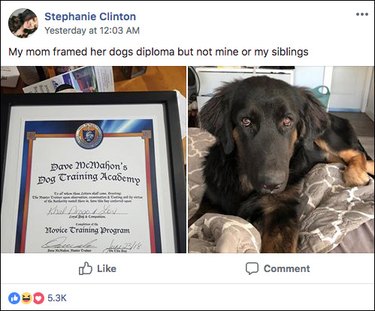 In an email to Cuteness, Clinton dished on her mom's devotion to Drogo and the other four-legged fur kids that live under her roof, which includes Khaleesi, a cat also named after a GOT character.
"She got him off of Kijiji [a classifieds site popular in Canada] one day. She just seen his picture and knew she had to have him."
"He's a very smart dog but he only listens to her," she added. "He's basically like the annoying little brother that does everything right in her eyes."
And mom's preferential treatment hasn't gone unnoticed by Stephanie's other siblings:
"My sister asked me if I had ever seen my diploma framed in the house and now that I think about it, no [I] haven't seen it since giving it to mom after graduation. I don't even think she knows where it is."
But the indignities (😉) don't stop there.
"After we moved out our mom sent boxes of all of our stuff home with us from when we were little. Thought it was weird but guess it was to clear space to show of[f] her dogs successes." (Dying right now, RIP me.)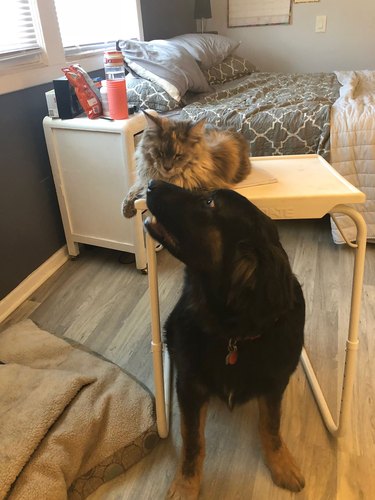 As Stephanie mused on her status as second-class sibling (j/k, she's fine), folx in the forum couldn't get enough of her mother's very extra dog mom behavior.
"ME AS A MOM," screamed one commenter.
"Omg, love it. It's something I would do," relayed a second.
"I don't see what the problem is 😂," quipped a third.
While there's no word yet on where Khaleesi's diploma hangs, it seems evident that the duo are in loving hands.
Are you overshadowed by the golden child family pet? Tell us about it in the comments below or at our Facebook page!