Today in things we didn't know we needed: A squeeeeeeee-inducing collection of tiny foster kittens sporting equally tiny hats.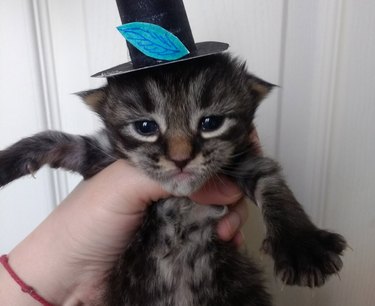 Totally, totally adorbs, amirite or amirite?
The heartwarming project is the brainchild of Danielle Adams, a Rhode Island woman who works for Brown University as a University Scheduler.
But when she's not slotting freshman at the Ivy League powerhouse into English Lit. 110, the cat-obsessed, 30-something fosters neonatal kittens in partnership with a local animal nonprofit.
And it isn't just about the fashion — the knitted accoutrements are designed to help the kittehs find new homes when the time comes for them to be adopted!
In an interview with Cuteness.com, Adams explained what led her to create headgear for her furry charges.
"I started fostering a couple of cats from various circumstances about 2 years ago but my main fostering experience has been with PARL (Providence Animal Rescue League) for just over a year. After I adopted my first cat and best friend 3 years ago (I have 2 cats), I scoured the internet for references and ended up eventually finding kitten lady, Hannah Shaw. She was my inspiration to start fostering and I signed up to foster every type of cat but really wanted neo-nates!"
Due to the lo-fi nature of the initiative, she keeps the design, production, and photography cycles lean and fast.
"The whole process is very quick. I spend an hour or two making the costumes and then very quickly take the photos. I live alone so I'm trying to both hold the kitten up in a way that the hats stay on and take the picture at the same time - photo burst is my best friend! It takes me less than 10 minutes usually to take photos of all of the kittens in their hats. I don't like to force them to take these photos if they're not being cooperative so the quicker I go the better. Some projects have ended up getting thrown out the window due to temperamental kittens!"
As is so often the case online, the project found its footing when Adams anchored it to a then trending storyline — in this case Harry and Megan's Royal Wedding.
"My first litter I had from one day old. Their mom is named Queen Sara Saturday and there was so much talk about Harry and Meghan so I decided to name the kittens after the royal family! It only seemed appropriate that they get little crowns after that. I got such a positive reaction from the private Facebook pet group that I'm a part of and it honestly made me feel really good to bring other people a little bit of happiness that I wanted to keep doing it!
Charlotte / Charlie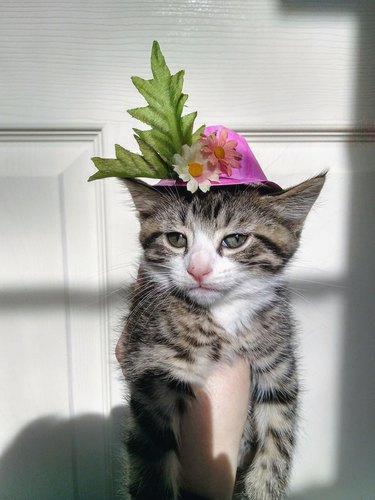 Eugenie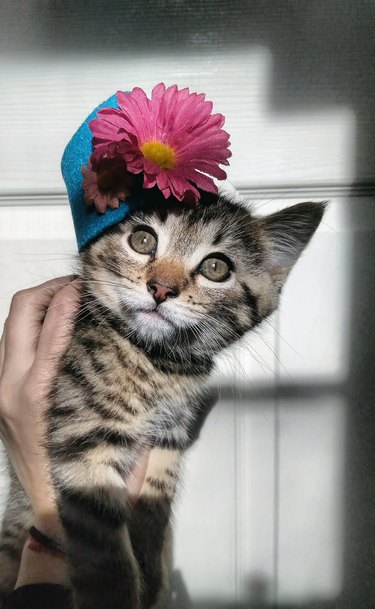 Georgie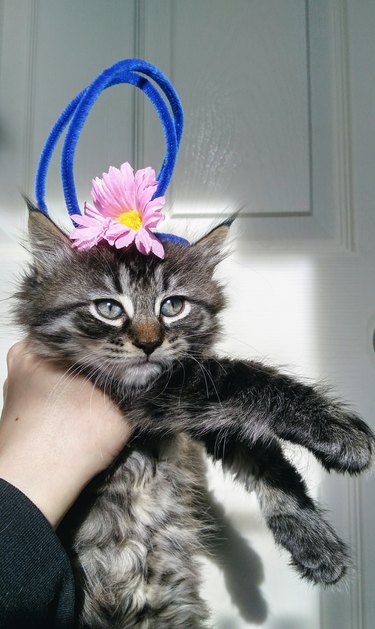 Harry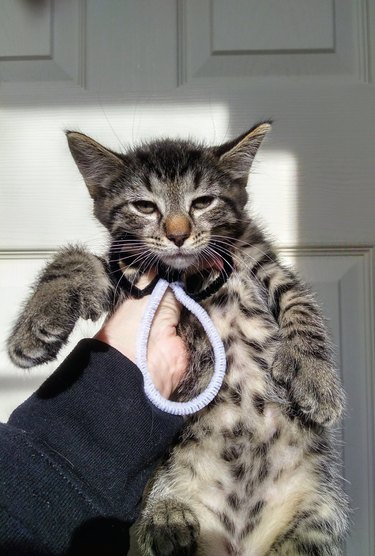 "Most of the costumes," she adds, "were topical - the royal wedding, a blizzard that hit the area prompted their beanies and scarves and also the beach costumes because they were just dying for warmer weather!"
"Here are the very first tiny hat photos that started it all! These kittens were lovingly referred to as The Royal Kittens as they were all named after the royal family, so they got crowns of their very own. They were probably between 1-2 weeks old in this set."
Charlotte / Charlie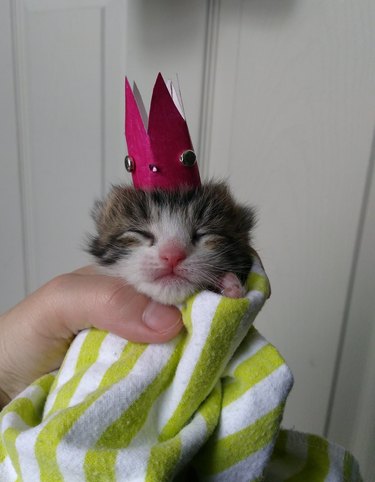 Georgie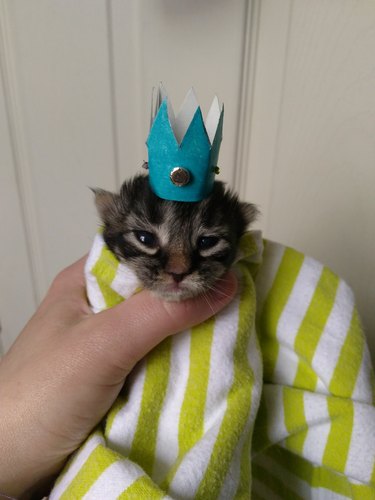 Eugenie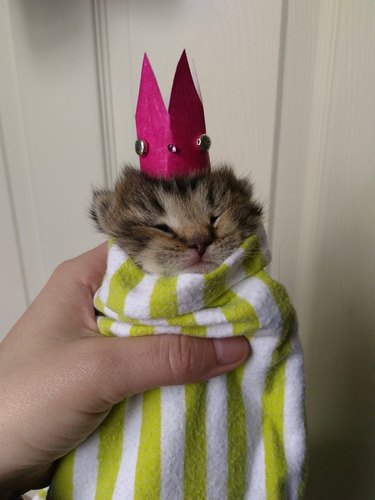 Harry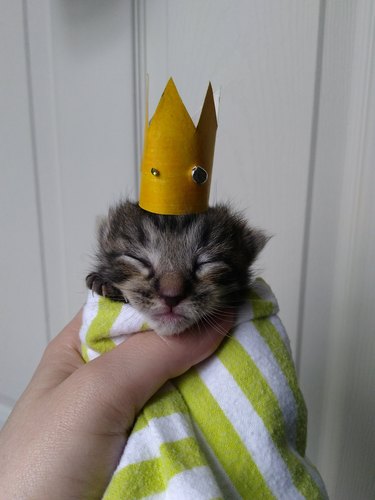 "Here are The Royal Kittens again sporting their Coronation Day gear. This was before I was totally sure of their sexes so the girls are wearing top hats!"
Charlotte / Charlie
Georgie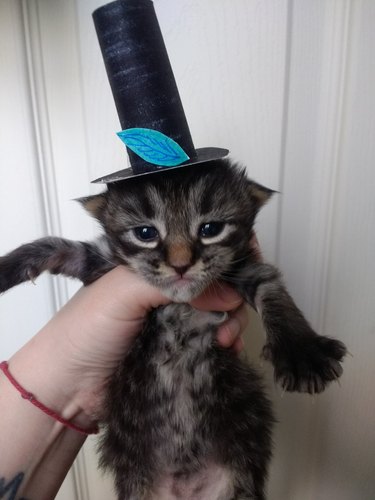 Eugenie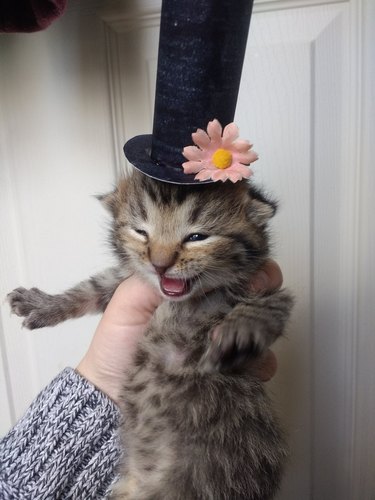 Harry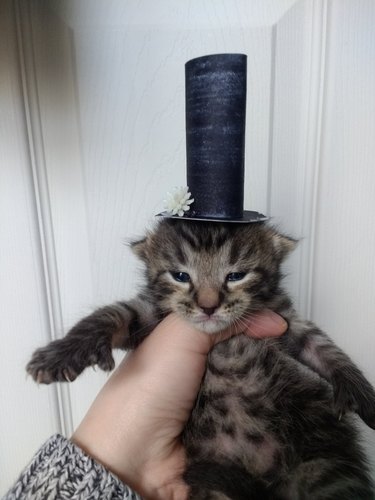 "These photos were taken when we had some major snow, and The Royal Kittens were dreaming of warmer weather!"
Charlotte / Charlie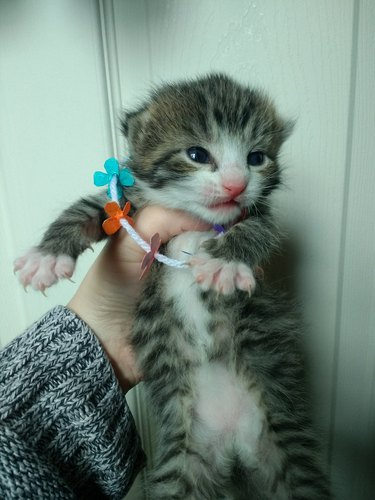 Georgie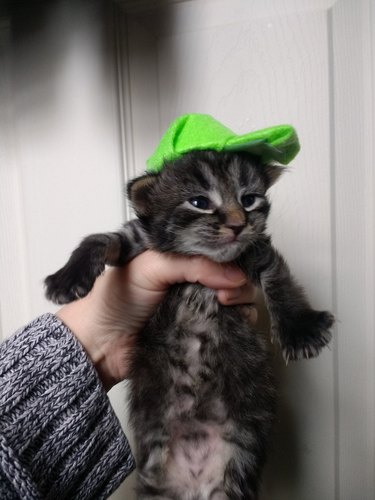 Eugenie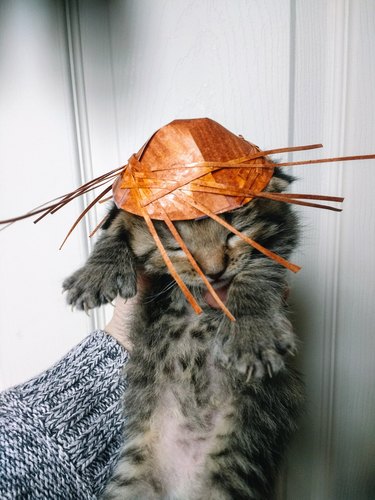 Harry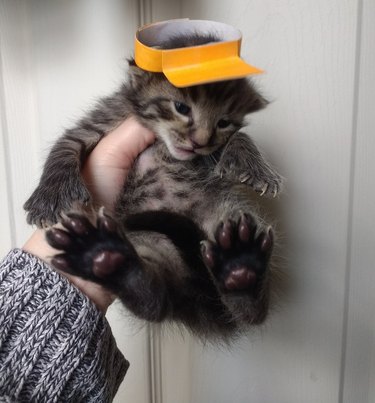 Adams' handiwork also extends to pop culture cosplay and other animals.
"I tried to do a teenage mutant ninja turtles theme but only Harry and Georgie cooperated, but I included an outtake from when I tried to get Eugenie to pose just because it's hilarious and shows that not all shoots go as planned!" (LOLOLOLOLOL!)
Harry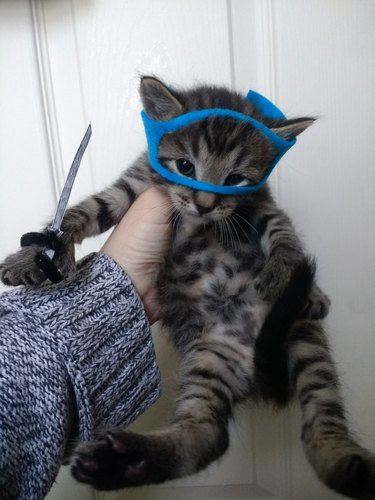 Georgie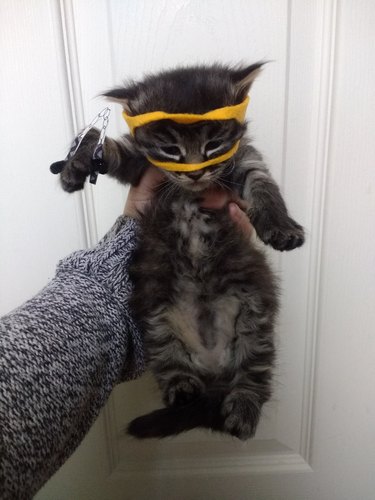 Eugenie
"The first two photos are of Eugenie as a bunny and Georgie as a grumpy giraffe."
Eugenie
Georgie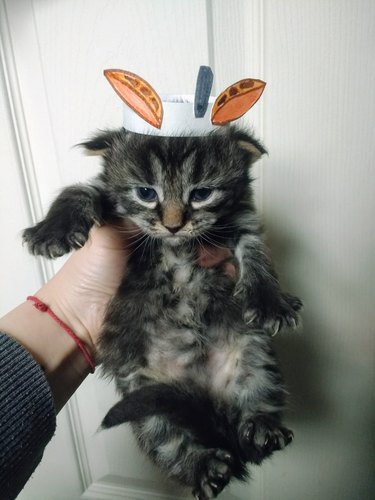 "I only had these babies for a week and a half and only 2 of the 4 cooperated with their hats. Pictured is Corduroy (I called him Cordy), the black cat in the red snow cap and Linen (or Lin) the tortie in the Mad Hatter like hat."
Corduroy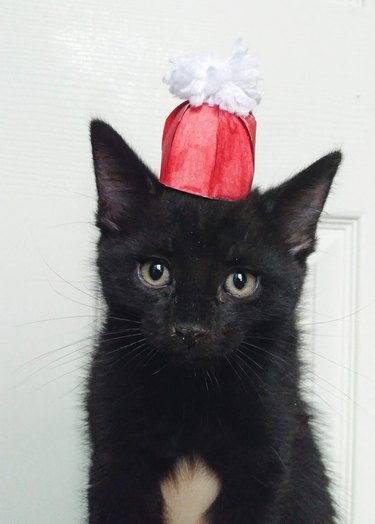 Linen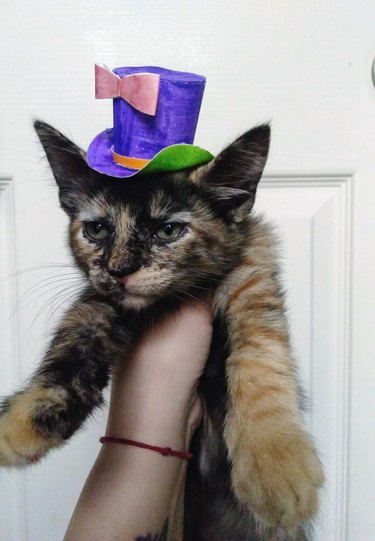 "The fabric babies were a very quick and last minute foster, I only had them for a week and a half and they came to me already named!"
"My current litter, the dessert babies, I named after desserts from The Great British Baking Show (their mom is named Mary Berry!). They're about 2-3 weeks old so there will be many more costumes in their future!"
Frangipane Cream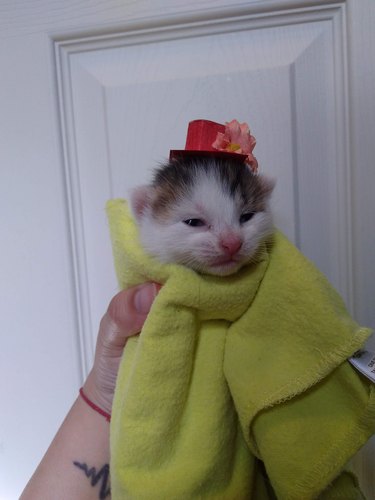 Genoise Sponge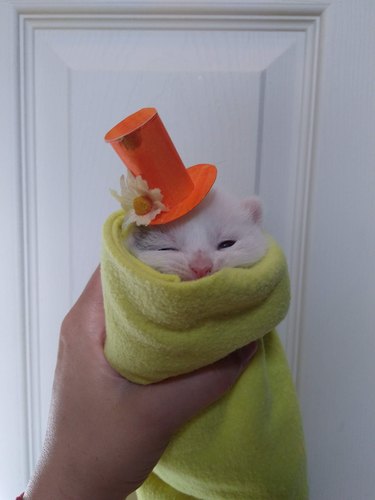 Meringue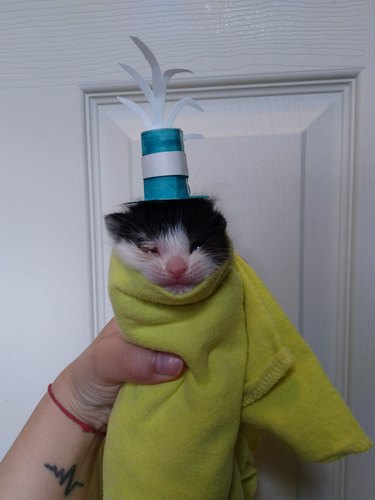 Banoffee Pie
Victoria Sponge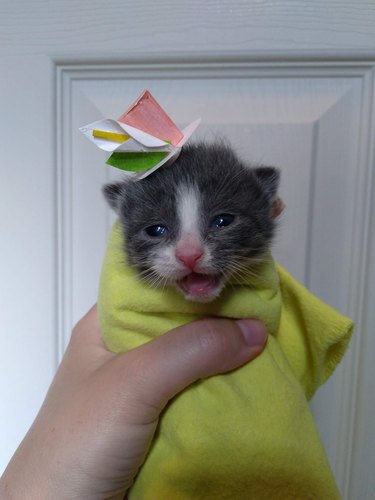 According to Adams, the success of the hat campaign is also directly tied to the shelter she collaborates with:
"PARL is a great non-profit rescue organization in Providence. They provide relief for homeless animals, accept surrenders, adopt out animals, help with pet overpopulation and provide education and low cost services to the community. I really enjoy working with them. They're very helpful and responsive and I've always felt supported by them as I've been getting hands on experience with cats and kittens. They cover the cost of all foster medical needs as well as food/litter but I like to buy my fosters food and litter and toys as donations when I can. They've loved the tiny hats and costumes and share them amongst the shelter and occasionally on social media."
"They used some of the photos as a means of appealing to the public to start fostering! I have no idea if they've been used to help adopt the kittens out but I do know that all of the kittens have been adopted quickly!"
Even without the social media love, Adams would continue making the hats for her four-legged fur kids because it's a way to bring her varied interests together in one feel-good project.
"I've had ideas of combining these costumes, my interest in photography and love of cats as a way of bringing attention to the needs of the cat/kitten community but right now fostering is how I can help, so I'll continue doing that!"
Awwwwwww, keep up the great work Danielle!