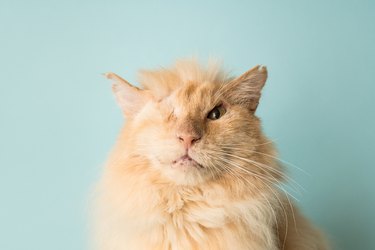 Once upon a time, in the faraway land of Southern California, at a time when extraordinary circumstances required an extraordinary cat, Sir Thomas Trueheart purred into town and stole everybody's hearts.
Sir Thomas Trueheart's story is one that every animal lover should hear because it speaks to how we can help animals in need.
Sir Thomas Trueheart is a cat who has overcome tremendous adversity to become the hero that he is today. Sir Thomas was homeless and living on the streets when a kindhearted family discovered him and began leaving out food and water. Despite finding compassion, one day some deeply cruel humans poured acid on Thomas's face and left him scarred for life.
The kind family who had been feeding Thomas found him in excruciating pain and immediately took him to a veterinarian. Unfortunately vets don't always know best, and this one recommended that Sir Thomas be euthanized because of his injuries and the fact that Thomas tested positive for FIV+, which is a chronic feline disease that weakens a cat's immune system. Cats with FIV+ require extra medical care and a safe indoor environment, but otherwise can live happy, healthy lives. However, many vets are spooked by the disease and recommend that cats be euthanized.
Sir Thomas spent a month in the hospital on a regimen of antibiotics, pain medication, and sugar bandages to prepare the burned area's of his body for a skin graft. Despite the best efforts of surgeons, the truehearted kitty lost his right eye because the damage was too severe. Rescuers say Sir Thomas "purred and kissed the people taking care of him" throughout his painful recovery.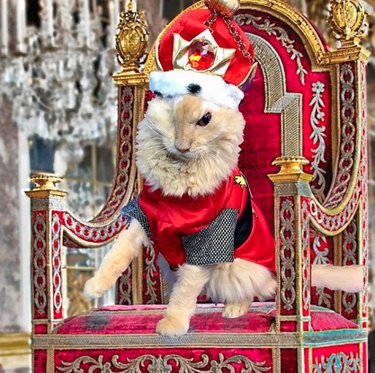 Now, Sir Thomas Trueheart is a happy, healthy cat who is loved and taken care of thanks to Michele and the Milo's Sanctuary team. Despite all of his hardship, even at the hands of humans, he hasn't lost his sweetness. Michele explained, "It still amazes me how much he loves and trusts human adults and loves children. He can get a little cranky on occasion but would never [hurt] someone. He just grumbles about it, but some tuna flakes and all is forgiven and the world is good again."
Sir Thomas now lives in a Lifetime Care Foster home, where he gets the medical treatment and snuggles that he needs.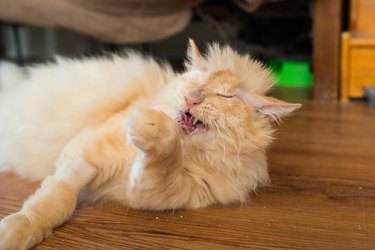 According to Michele, Sir Thomas has earned his time living as feline royalty. "Tommy loves three things: food, being the center of attention, and sleeping," she explained. "He's getting older (7 years), and we figure with all he's been through, he gets all of the above and as much as he wants." Just as a true knight should! Michele added that he does play with toys, but not very often. "We figure his years on the street of just having to survive, playing wasn't something he ever did or learned," she explained.
Being in a stable, healthy living environment allows Sir Thomas to pursue his true passion – being a spokescat for other special needs and mistreated cats.
In fact, Sir Thomas was awarded the Biggest Newcomer at CatCon 2017 to honor his work as a celebrity who is able to shine a light on important causes through social media. "Sir Thomas has not only brought a lot of much needed attention to our organization and all the cats at our Sanctuary and our Lifetime Care Program, but to the plight of injured, sick, seniors, cats born with disabilities or abused," Michele explained. "He's a perfect example of love triumphing over evil. He has so much to teach all of us about love, compassion, and forgiveness."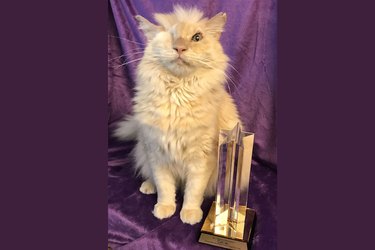 Sir Thomas also raises awareness for Milo's Sanctuary and special needs cats everywhere through his social media presence.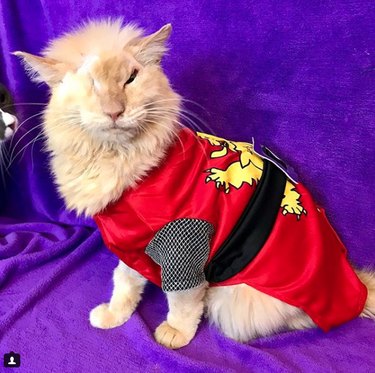 Sir Thomas has more than 44,000 followers on Instagram, which he uses as a platform to raise money for not only his care, but also the well being of other animals at Milo's Sanctuary. But for special needs cats, social media can be a double edged sword. "Social media is a blessing [because] we would have never found Tommy, and he would have been killed by that first awful vet," Michele explained, adding, "It has made it easier to get our message out about how special needs cats can have a life of happiness, joy, and health if given the proper environment and care."
However, she also explained that social media can give people the wrong idea about what a special needs cat requires. "People see these special needs cats and fall in love with them," Michele said (we can all relate to gushing over an animal on social media). "Then they rescue or adopt them and find out pretty quickly that some of these cats need practically round-the-clock care and vet bills, food bills, medication, and specialists can be quite costly, so the cat gets abandoned on the streets, back in a shelter, or euthanized." So just like a lot of other parts of life, social media can put a rosy filter on the responsibility of a special needs cat, so Michele encourages everyone to ask a lot of questions before making any decisions.
If you want to support Sir Thomas and Milo's Sanctuary, but you can't take on a special needs cat, there are other ways that you can help!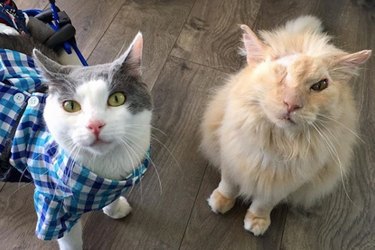 Michele told Cuteness that the best way people can help Sir Thomas and the other special needs cats that Milo's Sanctuary supports is by donating, sponsoring a cat, or contributing items from their Amazon wish list. Michele explained that what helps most is becoming a monthly contributor and sponsoring a cat as part of their Lifetime Care Program. Their special needs cats require constant veterinary care, special diets, medication, and, of course, shelter. A monthly donation of $25 supports one of the many cats the sanctuary has in their program, including Sir Thomas. Visit their website to see all the the adorable kitties they care for.
Together, we can all help Sir Thomas and Milo's Sanctuary fight for animal safety and special needs cats across the country. And we are honored to be at Sir Thomas Trueheart's Service. Huzzah!