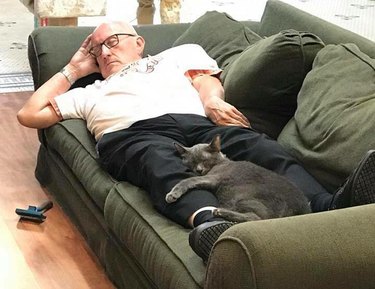 Today in #retirementgoals and Life-Paths-I-Hope-To-Emulate-In-Oh-About-25-Years: A man named Terry is winning all the internet accolades for his volunteer work at Safe Haven Pet Sanctuary, a no-kill shelter located in Green Bay, Wisconsin that rescues cats at risk of euthanasia.
But it's his specific contributions — daily grooming sessions and serving as a human mattress for the nonprofit's cats to slumber on — that will send you sprinting to your go-to reaction GIFs of the d'awww, cute, and adorbs variety.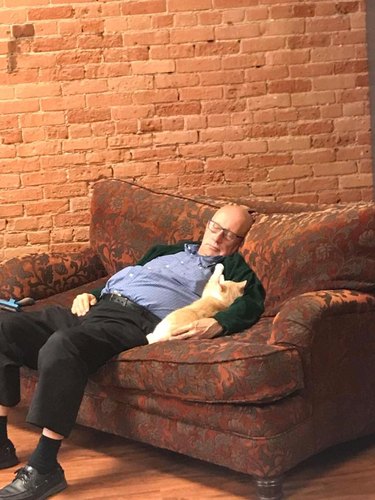 According to a post published this week on the shelter's Facebook page, the 75-year-old retiree came in out of the blue about six months ago and offered to "brush all of the cats."
When the routine became a daily one, staffers at Safe Haven invited Terry to formally join the shelter's volunteer program and the rest, as they say, is history.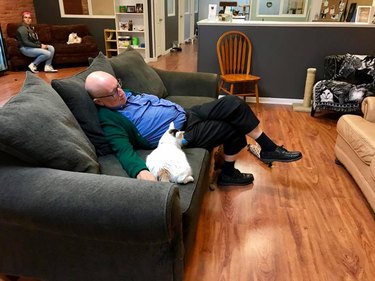 In an interview with the Huffington Post, the group's founder, Elizabeth Feldhausen, revealed that the kindhearted septuagenarian's visits tend to fall into a ridiculously awesome pattern: "[He sleeps for] about an hour, then he'll wake up and switch cats."
Keeping the dream alive, am I right?
"We are so lucky to have a human like Terry. Terry just came along one day and introduced himself. He said he'd like to brush cats. Eventually it became everyday. He brushes all of the cats, and can tell you about all of their likes and dislikes. He also accidentally falls asleep most days. We don't mind - Cats need this! Terry is a wonderful volunteer. 😻❤️🐾"
Because the Content Gods look kindly on selfless & altruistic deeds such as Terry's, the images of the man cuddling with the kittehs promptly viraled out on Facebook before spilling over to other social media platforms such as Imgur, where they were received just as enthusiastically.
When told of his newfound fame as an "Honorary Cat Grandpa," Terry reportedly deflected some of the attention to his fellow volunteers, including a woman named Paula who he has dubbed the "cat grandma", and urged the shelter's new fans to donate even modest amounts of money in increments as small as $5.
He also asked readers to "pray for him to win the lottery" because he wants to bequeath it "to his cat friends".
(We go now to live video of me trying to take process what I just wrote.)
Never change, Terry, never change.