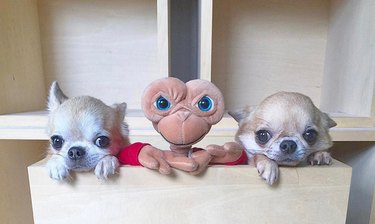 That was our reaction when images of Chihuahuas posing with an assortment of E.T. plushies trended on Twitter earlier in the week.
"Some personal news: i only have one very niche interest now," quipped a VICE writer on the microblogging platform.
3,647 retweets later, the curious photoset was subsequently revealed to be the creation of an Instagram based in Japan.
And while we don't speak Japanese, Google's handy translation tool reveals that the precious pups in the header image are actually but two of six (6!) who live with their human mom (along with at least three or four equally delightful, smush-faced kitteh chonks).
With more than 40,000 followers, the account isn't a complete mystery to seasoned cute-spotters on the web, but the carefully-composed portraiture definitely falls outside of common Instagram tropes and comes coded as somewhat otherworldly .
But enough of our blathering: You're here for pictures of dogs cuddling with E.T. dolls, and pictures of dogs cuddling with E.T. dolls you shall have.
OMG
STAHHHHHHP IT ALREADY
RIP ME, CAUSE OF DEATH: ADORBS OVERLOARD
They woke up like this 😉
One of these is not like the others
"Maybe it was an iguana."
[SQUEES FOREVER]
Topical!
If pet cosplay and artfully strewn bric-a-brac is your jam, phone home to Instagram because the rest of the account's postings are no less bonkers.