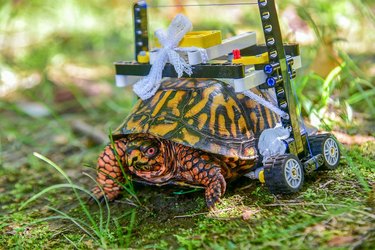 An injured turtle is on the rebound thanks to a makeshift wheelchair cobbled together with metal bone plates, surgical wire, and, most unusually, a colorful cocktail of LEGO bricks.
Thought to be at least 18 years old, the wild Eastern box turtle arrived at the Maryland Zoo's hospital in July with multiple cracks in its plastron — that's the underside shell protecting the belly — the result, media reports say, of a collision with a car.
Surgery stabilized the animal's condition, but rehabilitation presented new challenges because of the fractures' delicate location.
Tasked with a developing a solution that would preserve the turtle's mobility and allow the breaks to "heal properly," a 4th-year veterinary student named Garrett Fraess sketched out a custom wheelchair that would keep the softball-sized critter's shell elevated and off the ground.
The only problem? Miniature wheelchairs for turtles aren't really a thing. At least not a thing that can be readily purchased off the shelf.
Undeterred, the zoo's team MacGyvered a prototype from long bone plates, epoxy, and bra clasps (?!?!), but outside help was needed to complete the design. So Fraess shared his drawings with a friend and "LEGO enthusiast."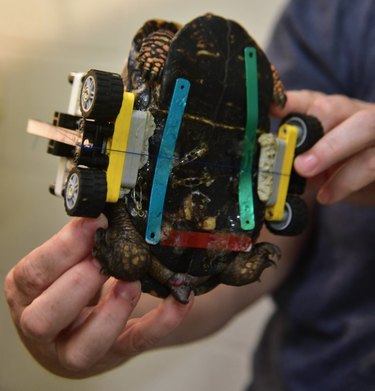 Digging into her personal library of plastic construction toys, the Danish LEGO enthusiast hit on an answer that seemed to meet the needed criteria.
But how would the patient — who, side note, really needs a cute name so make that happen already, internet— respond?
While Fraess admits he was somewhat skeptical at first, he's happy to report that the turtle motored away in his new mobility device like a champ.
"He never even hesitated .... He took off and has been doing great. Turtles are really good at healing as long as the shell remains stable."
Even better, the multihued wheelchair affords him the freedom needed to "exhibit natural behaviors, such as fully closing his shell if he feels threatened."
Because reptiles have slow metabolisms, his recovery period will likely stretch out into 2019, but keepers with the zoo fully expect to release him back into the wild when he's ready.
On the social web, the turtle's harrowing ordeal and unlikely recovery was received with a mix of astonishment, admiration, and humor.
"Two things I love: animals + LEGO = magic," wrote one commenter on Twitter.
"I think this is how #TMNT starts," joked a second.
"He's happy now but wait until he steps on a lego that falls off," quipped another. #thestruggleisreal
Naturally, there were topical GIFs pulled from sources both expected ....
.... and further afield.
For more on how the story's moving parts were pieced together into a happy outcome, watch the video embedded below!