It's October, which means Halloween time!
While of course we have to focus on finding the perfect costume, treats, and decorations for ourselves, we don't want to leave our pets out of the fun, and there are plenty of ways to get your cat or dog into the spooky spirit of the season.
That's why we've collected a list of adorable costumes, tasty treats, and fun toys, so your furry friends can have a spooky Halloween right along with you.
Cat owners understand that forcing our felines into a costume is usually a nonstarter. However, most dogs are a little more willing to let us dress them up. So we've collected some of our favorite dog costumes for when you head out trick-or-treating.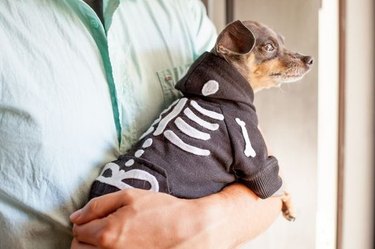 Create a little cozy spookiness for your pup with this adorable skeleton hoodie. And bonus – it's so easy to make. You'll need a black hoodie or sweater that fits your dog. Use a piece of paper to trace the length of your dog's spine and the approximate spot of your pups ribs. Then cut skeleton pieces out of white felt and glue them onto the sweatshirt. No bones about it, your pup will be best dressed.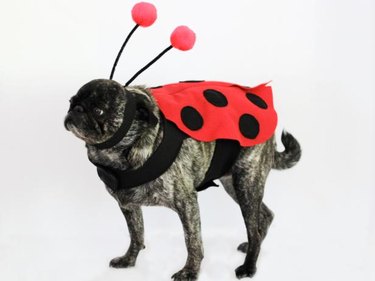 Show off your favorite little bug by putting your pug (or other small dog) in this ladybug costume. The best part? It doesn't require you to start with any dog clothes. The costume can be made entirely out of felt, so it's perfect for anyone who doesn't have too much time to sew a costume. First, create a simple harness out of black felt, then cut the wings out of red felt. You can create antennae out of elastic, pipe cleaners, and pom-poms. Check out the full tutorial here.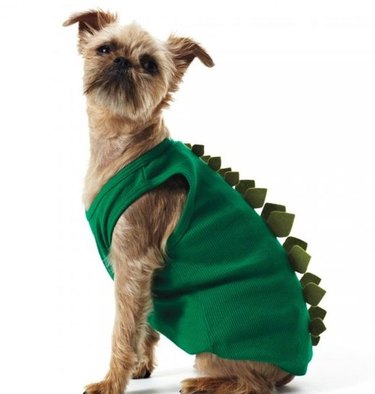 Take your dog back to the Jurassic Period with this adorable dinosaur costume. Using a toddler-sized tank top for smaller dogs (larger sizes would be needed for bigger dogs), this design is super easy to make and requires no sewing skills! That will make any DIYer roar.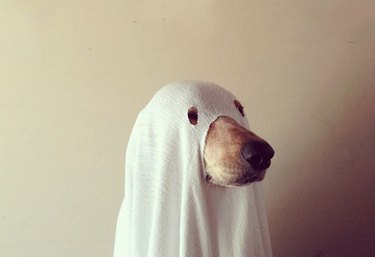 If you want to go super simple for your DIY doggie costume, but also crazy classic, then the doggie ghost costume is a fa-BOO-lous choice. Creating this look is as simple as it comes – all you need is some white fabric that can be draped over your dog and scissors. Cut holes for your pups eyes and snout, and you've you've got one spooky dog!
Treats serve some important functions for your pets, including helping with training by acting as a tasty reward.
While you could stick with your traditional treats, why not take your treats up a notch, Halloween-style? These delicious and healthy homemade snacks really put the treat in Trick-or-Treat.
Your favorite feline will say meow to these tasty pumpkin spice kitty treats. Pumpkin is great for the digestive system of both your cats and dogs. Make sure to use unseasoned pumpkin, so you don't add any extra salt or sugar to your cat's diet. And while these were designed with your cat in mind, these are also safe for your dog, and your pooch might enjoy them just as much.
Bring the dead back to life and invite them in with these green zombie treats. The treats are made using pureed green veggies that are safe for dogs, like green beans, spinach, or peas. Mixed with some rice flour and a little water, these treats are super simple to make. Decorate these little zombie snacks with pumpkin seeds and pretzel pieces for the mouth.
Cheesy Pumpkin Mummy Dog Treats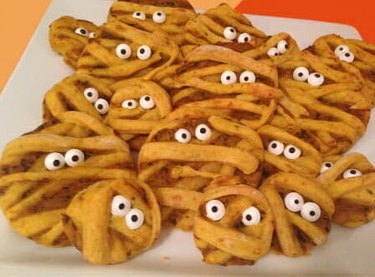 If you want something a little fancier, why not get wrapped up in these adorable mummy snacks? This pumpkin and cheddar dough can be arranged into strips to make the treats look like they're wrapped. One note: the eyes are made of candy, but the recipe author notes that these are a cute decoration, and not an appropriate treat to feed your dog regularly. (They can have one or two, though.)
You can sign up for pet toy subscription services that provide themed toys, but why not save some money and have some fun by making it yourself? These fun and easy options will make a fun Halloween present for your pet even more special.
Howl-o-ween Ghost Sock Toy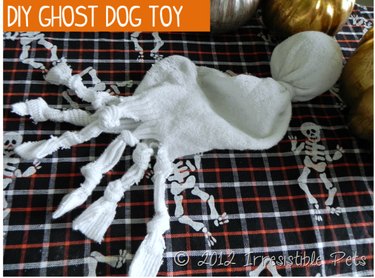 Give your special dog a spooky surprise with this adorable ghost toy! This toy can be used as a tug toy or it can be great for fetch. All you need is a white sock, a tennis ball (or mini tennis ball for smaller dogs), and some scissors. Check out the full DIY here.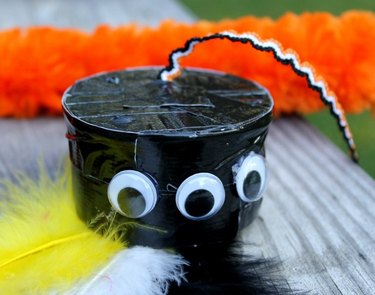 This three-eyed monster will give your feline hours of fun. This toy functions like any of your cat teasers, but it has a fun Halloween flair. And the best part? This monster is crafted out of an empty cat food container, so it's probably something you have around the house. Simply fill the metal container with catnip and cover it with black duct tape, then decorate with googly eyes and feathers.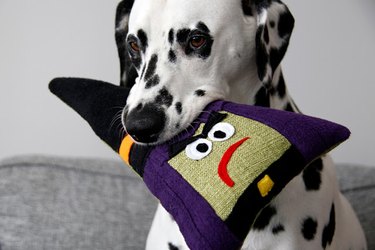 Flex your sewing skills to make this adorable grumpy witch plush toy for your favorite dog. This toy uses layered pieces of felt and other fabrics to create an adorable face that your dog will love to rip apart. You can even add a squeaker or some crinkle inside if you want. Check out the full tutorial here.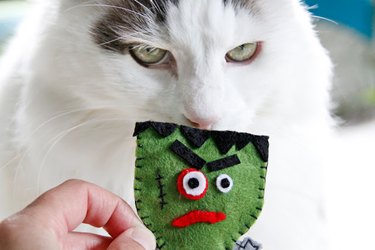 Really bring your kitty to life with this adorable Frankenstein catnip toy. Using simple shapes made out of felt, you can sew an adorable monster for your adorable monster. Plus, once you stuff a little catnip inside, your cat will never let this toy go.