If you're like me, a millennial, fully devoted to my fur baby, then you know what it's like to feel like the holidays wouldn't be the same without our dog. However, many of our holiday traditions don't leave enough space for our dogs and cats to participate in the festive fun. They're just a little too human-centric. But we all know that our pets can be just as holly and jolly as we can.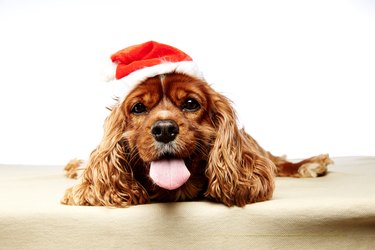 As proud pet parents, we want to change up the holidays, so they have as may pets as they do presents and children. We want to find ways to work our pets into our holiday traditions, and we have some great ideas. From getting outside into the crisp air to adding our pets into the present-opening fun, we've got so many fun ways to work your fur baby into your holidays.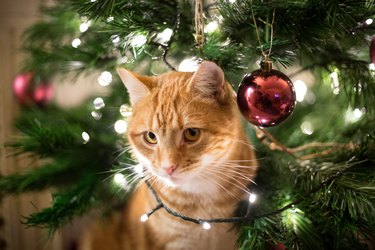 ​Make your holidays safe for your pets.​ Decorating with pets can be a special part of the holidays, but there are extra considerations that you might not think about when decorating just for humans. Make sure to keep decor out of reach of curious dogs and cats, and of course, make sure you're not decking the halls with anything that could be really dangerous. You may have to make some adjustments to your standard decorating, but trust us, it's worth it.
​Create a decoration that represents your pet.​ When you dress your house up for the holidays, make sure to make your dog a part of it. You can buy a pet-themed ornament or picture frame to put on the holiday tree, or you can find a festive animal statuette that works for the holidays. You can even create a fun paw print ornament or decoration if your pet is up for it, which can really make them part of the fun.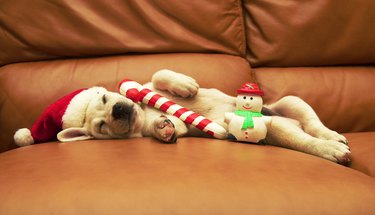 ​Add some Christmas themed toys to the house.​ Let's be real, dog and cat toys are adorable. And when they're holiday themed, that just takes it to another level. While on a normal occasion, you may find it annoying to find holiday toys underfoot throughout the house, but if it's holiday-themed, it can be festive. Pick up a toy or two and let your dog or cat run wild with their new prize.
​Make your pet a member of the family.​ Many people have personalized decor in their house, whether its stockings or figurines or some other memorabilia. Why not add your precious pet to the bunch? Get a stocking or other matching decoration, or you can even make one yourself.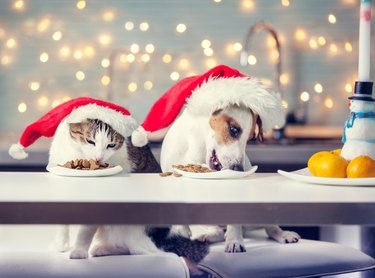 ​Make a special treat for your pet.​ We love the holidays because it means it's time for one of our favorite things – food. There are so many tasty treats that we wait all year to enjoy around the holidays. We spoil ourselves, and we can afford to do that a little bit for our dogs and cats. As you would for yourself and your family, try baking your fur baby a special treat, like these pumpkin dog treats.
​Share the bounty.​ While we never recommend giving your dogs or cats human food on a regular basis, around the holidays, a few little bites can be okay. Plain turkey, for example, can be a tasty treat for your dog or cat. Just make sure that it doesn't have any additional spices or oils that we humans love, but that may not be great to our animals. Cooked, plain pumpkin is also a great, festive option. Just keep the spices out and the portions minimal.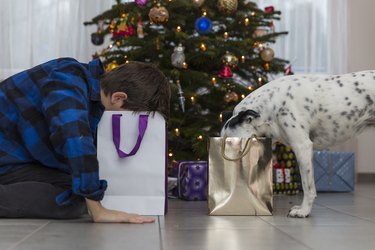 ​Take your dog out caroling or looking at lights.​ Going out to see holiday decorations or singing songs can be a fun bonding experience. So why not take your dog with you? As long as your dog is good on a walk, then you should bring them along on the merry adventure. They would enjoy the exercise, and we bet your joy will rub off on them.
​Make sure your pets feel the joy of gifts, too.​ Presents have become ubiquitous with the holidays, and we all get a little excited about that moment of opening our gifts. As subscription services like Barkbox prove, our pets enjoy surprises as well. You don't have to wrap a present up, but it's nice to think of your pet when you're buying gifts for your celebration. They'll enjoy having a new toy or special treat, while you're playing with your new toys.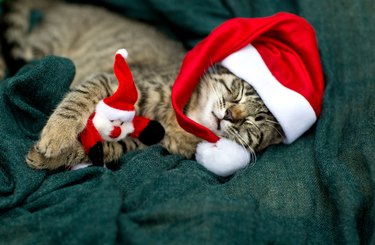 ​Do some training with your favorite pet.​ One of the best parts of the holidays is the family time, and we know that your pets are a major part of the family. One of the best ways you can show your appreciation for your pet is to give them your undivided attention. Training engages your pet's brain and reward centers, and it makes for some great bonding experience. So bust out the treats, and the clicker if you use one, and run through a few tricks to show your pet how you care.
​Make time for playtime.​ If there's something your pet likes more than training, it's either playtime or snuggles. And we'll get to snuggles. But another way to bond with your pet and show you care is by playing with them. Break out your dog's favorite tug toy or your cat's favorite teaser, and have a little pet-focused playtime. Or, if you got them a new toy for the holidays, this is a great time to test it out. We bet it becomes one of their new faves.
​Have some snuggly movie time.​ Once the fun is done, it's time for snuggles. If you're like my family, we love to wrap up a good holiday celebration with a fun movie. Make sure your pet joins in, so they get some quality snuggle time with their family. We know you're enjoying your extra downtime, and your pet will enjoy it just as much.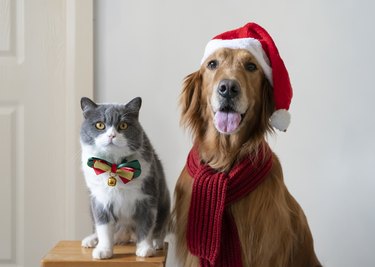 We hope you, your family, and your pets have the happiest of holidays!