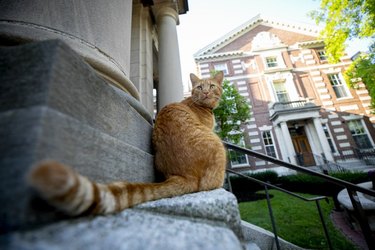 With an admission rate of just 5.6%, Harvard remains one of the nation's most exclusive institutions of higher learning.
But for one brazen feline, the absence of a transcript, test scores, or extracurriculars was no barrier to entry.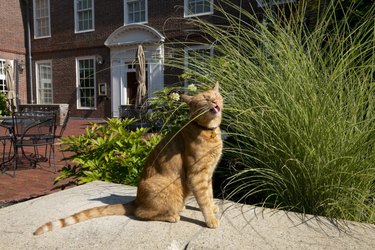 Meet Remy, the 4-year-old tabby who, as the backstory goes, wandered onto the grounds of the storied Ivy one day and, finding it much to his liking, decided to make it his home away from home.
(To be clear, the interloping shorthair, who is outfitted with a GPS tracking device attached to his collar, lives with a family of five in a neighboring house about a mile from campus.)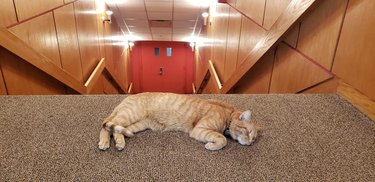 Thus was born an unlikely celebrity, one complete with his very own Facebook page that obsessively chronicles his comings and goings.
From the law library to the quad, assorted dorms to (and you can't make this stuff up) the Barker Center, Harvard's hub for all things humanities, Remy is known to crisscross the leafy Cambridge campus in search of a cozy spot to curl up and collect some pets from his adoring fans.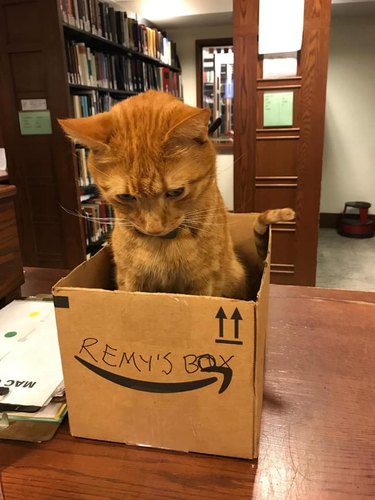 "We have picked him up from numerous Harvard buildings over the years," his human mom told The Harvard Gazette in a 2018 profile.
While Remy has carved out a reputation as the Big Cat on Campus (BCOC), his fame online has remained modest — until this week, when Annette Gordon-Reed, a Professor of History, shared a picture of the orange mouser casually sauntering through the brick-clad building that houses Harvard's law school.
"Well, here's something you don't see every day: a cat wandering the halls of Harvard Law School," she captioned the tweet, which quickly viraled out with thousands of likes (20,000+) and shares (2,900+) until it received the platform's most coveted endorsement: It's very own Twitter Moment!
"Am I seeing what I think I'm seeing?," she added in a second tweet pegged to the original:
Students, employees, and Gordon-Reed's fellow faculty members quickly stepped in to share previous Remy spots, the best of which have been cobbled together below.
"Afaik, he lives in the Comparative Lit building on Quincy Street," wrote one person.
"Sometimes he lives at the @hlslib Circulation Desk!," added a second.
"He has been around for a while! This is us two years ago in Sever," noted a third.
But with the heightened public interest has come an attendant, interdisciplinary squabble: You see, though Harvard's Humanities program has claimed Remy as one of their own, other departments, including the sciences, have tried to woo this prized pupil over to their side.
And much like the 7th-year grad student who audits new classes every semester in a never-ending attempt to stave off graduation and the IRL responsibilities that come with leaving the safety of the academic bubble, Remy seems content to play these rivals against one another — and eat all the treats in the process.
Never change, Remy, never change.