You love your pet. They're more than your best friend; they're your chosen, forever fur family. In 2019, part of being a loving pet parent often means a folder full of apps that do everything from letting you watch (and interact with) your pet when you're away from home to tons that connect you with dog walkers/sitters/groomers/everything-a-pup-could-need-ers. If you love all of the digital help available for taking care of your pet, but feel overwhelmed by the volume of apps and options, you're not alone. And, if you find yourself wishing there was just one go-to app that did everything you need a pet parenting app to do, then you're in luck, because there absolutely is.
The do-it-all pet-parent-helper app of your dreams exists, and it's called Scritch. Here's everything you need to know about the free app that's here to change the way you parent your pet.
First things first: What the heck is a scritch?
You've probably given plenty of scritches in your time and your pet loves them lots.
Per Scritch's official website: "A scritch is a deep, soothing scratch and a way to show affection to your pet. Scritching is the act of lovingly scratching those hard-to-reach places your pet can't get on their own. And it isn't only satisfying for your pet, scritching is also rewarding to you. Devoting time to petting and scritching your pet will give you a boost of oxytocin—a hormone associated with social bonding, trust, relaxation, and easing stress."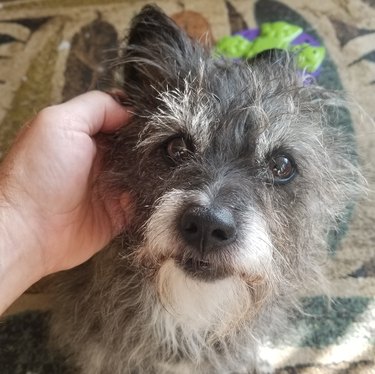 In the simplest terms, giving your pet scritches means hitting that spot your pet can't get to himself. And in bigger picture terms, think of it as taking care of your pet's needs—the ones he really needs his human to take care of for him. The app Scritch exists to help you do exactly that.
Okay, so what does Scritch help me do?
Answer: Pretty much everything pet-related. Here's a breakdown of what Scritch has to offer pet parents.
Maps of Pet-Friendly Places Near You
Whether you're at home or traveling, Scritch helps you find pet-friendly places such as bars, restaurants, vets, hotels and parks.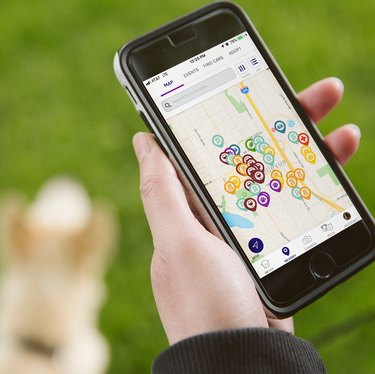 A Place to Store (and Share) Your Pet's Important Info and Records
You store all of your pet's vital info in your brain, of course, but that's not the easiest format for sharing with the need-to-know people, like pet sitters, family members, and groomers. Scritch lets you use your profile to store your pet's vet records, care notes, and any other vital information for his or her well-being in one easy place—and then easily share that info with anyone who might need it down the line.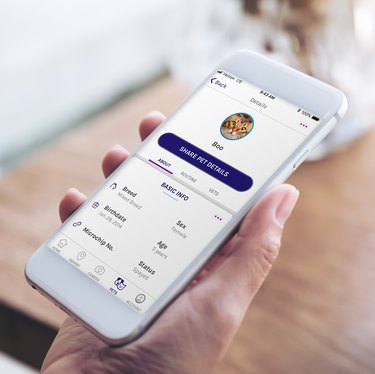 A Match.com-like Algorithm to Pair You With the Perfect Pet
One of its coolest features is the pet finder which features an in-depth personality quiz. By relying on the same kind of algorithms used by popular dating apps, you can adopt a nearby dog who fits your personality and your lifestyle.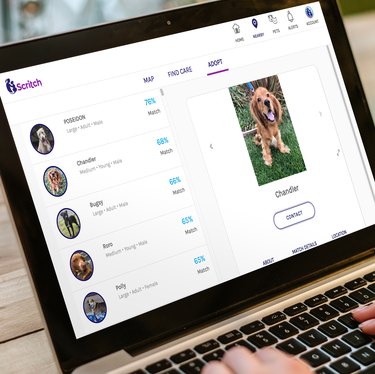 A Community to Connect You With Other Pet Parents
Like all of the best apps and websites, Scritch is a social experience. Along with all of the great features that help make pet parenting easier, it also connects you with a whole community of other pet-lovers where you can share pet pics and chat with other devoted pet parents.
Photo Contests to Show Off Your Adorable Pet
Do you enjoy a little healthy competition? Scritch runs themed photo contests where you can enter your pet pictures! Browse all of the adorable entries and vote for your favorites to help determine the winning pet photo.
Pet Sitters and Walkers
Looking for a pet sitter or a pet walker and are totally overwhelmed by the tons of sites and apps out there dedicated to those services? Well, Scritch can help cut down your digital clutter by connecting you with trusted pet sitters and walkers in your area. This part of the service is provided in partnership with Rover.
A (Free, In-App) Pet Camera
If you're the kind of pet parent who loves to snap pictures of your lovable little furball, then you'll love Scritch's pet camera, which lives in the mobile app and comes with fun sound effects designed to get your pet's attention (like the sounds of a dog barking or a squeaky toy, which help a ton if your pet is camera shy). The app's camera also has photo stickers and filters and, of course, you can share the pics right to the Scritch community.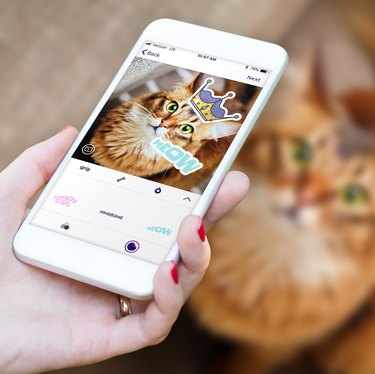 Loads of Helpful Pet Parent Resources
Pet Product Reviews You Can Actually Trust
While you can't just let Scritch order all of your pet food, toys, and treats for you, you can find amazing pet product reviews on the app that you can actually trust to help guide your buying decisions for just about everything pet-related.
Dog and Cat Training Resources
Scritch also has resources to help you train your dog (or cat). The training section comes with both articles and videos, including topics and even articles that dig deeper and help you understand cat and dog behavior—a key, but often neglected, aspect of successful training.
The Most Comprehensive New Pet Guide Around
Scritch helps new and prospective pet parents, too! Their new pet guide has all of the information you need to choose the right pet for you, as well as how to prepare for them and then care for them once you bring them home.
You convinced me. How do I get it?
Scritch and all of its amazing features are available (for free!) as an app for both iOS and Android. You can also learn more at scritchspot.com.