Flower-inspired names for dogs can be sweet and unusual, and many of them are unisex so they'll work for any gender. There are the more common flower names like Rose and Daisy, but even the longer ones like Chrysanthemum and Rhododendron are quite unique and can always be shortened to a cuter version if you're so inclined. If you're looking for a flower name for your dog, this list has 108 options that are sure to appeal to any taste, conventional or weird.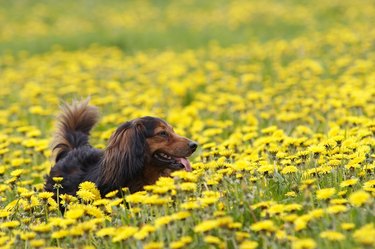 Traditional/popular flower names for dogs
Rose

Blossom
Sunflower

Dahlia

Iris
Hyacinth
Daffodil
Begonia
Amaryllis
Dandelion
Carnation
Chrysanthemum
Hydrangea
Poppy
Daisy
Marguerite (French for daisy)
Lily
Freesia
Tulip
Peony
Rhododendron
Lilac
Gardenia
Snapdragon
Ranunculus
Hellebore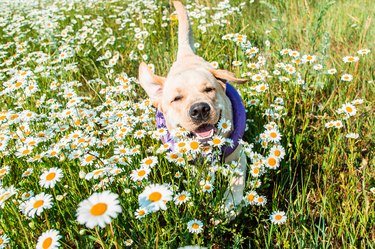 Pansy
Amaranthus
Aster
Anemone
Calla
Daffodil
Gerbera
Narcissus
Delphinium
Anthurium
Aubrieta
Bergenia
Bluebell
Morning Glory
Buttercup
Calendula
Primrose
Clover
Columbine
Crocus
Foxglove
Geranium
Gladiolus
Heather
Heliotrope
Hibiscus
Honeysuckle
Jasmine
Lavender
Lotus
Lupin
Magnolia
Mimosa
Petunia
Snowdrop
Sun Drop
Tiger Lily
Tuberose
Violet
Wisteria
Viola
Sweet Pea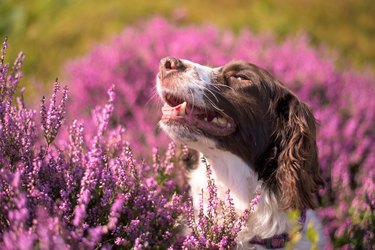 Unusual/unique flower names for dogs
Nigella

Nerine

Nepeta

Nolana
Nymphea
Phlox
Primula
Quince
Ursinia
Verbena
Winterberry
Yarrow
Zenobia
Zinnia
Alyssum
Astrantia
Dianella
Hollyhock
Hellebore
Iberis
Kalmia
Lantana
Lavatera
Mallow
Mandevilla
Muscari
Primula
Polyanthus
Silene
Scilla
Salvia
Sedum
Trollius
Trillium
Yellow Bell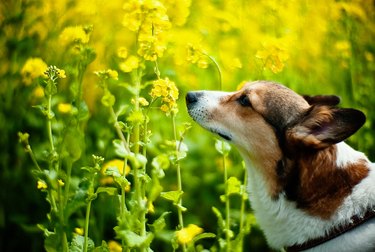 If you want to get even weirder...
Black Eyed Susan

Forget Me Not

Queen Anne's Lace

Xeranthemum
Zephyranthus
Need more inspiration for your new pet's name?
Pets are like our children. We love them, care for them, and we get to dress them up in adorable outfits so it's extra important that we take time to find the perfect pet name that reflects their personality and potential. Because settling on a name for your new pet can be hard and emotionally wrenching (oh the indecision!), we've gathered nine pet-naming techniques to find the perfect fit, as well as assembled a handful of our most beloved lists of pet names below!