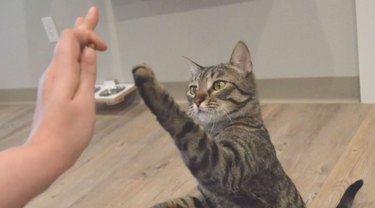 The high-five isn't just for basketball players and silver screen flyboys anymore.
With the help of clicker training (and treats), shelter cats across the country are also learning the triumphant hand gesture, which has been virtually woven into modern life thanks to its ubiquity in sports and pop culture.
But the reason why these felines are slapping fives and trading fist bumps will probably surprise you.
Developed by cat behaviorist Jackson Galaxy, Cat Pawsitive is a groundbreaking program for rescues "that aims to increase feline adoption rates by instructing shelter/rescue staff and volunteers how to implement positive reinforcement training for cats."
As the Animal Planet host and best-selling author noted in a press release shared with Cuteness.com, the paw-meets-palm initiative comes with a multitude of benefits for cats, shelters, and the humans who staff them:
"Shy cats in stressful shelter environments are often looked over, and difficult to adopt to loving families. By ... teaching [them] new behaviors like the high-five, they become less stressed and more adoptable."
Pegged around National High-Five Day (April 18th) and running through May 20th, the new campaign has already drawn hundreds of submissions from fans and nonprofits alike, the best of which will jockey for a $5,000 cash grant for the shelter of the winner's choice and an invite to party with Lil Bub and the Cat Daddy himself at a super secret birthday bash in Los Angeles (PAR-TAY, WOOT WOOT).
While Galaxy was reluctant to tip his hand ("cuteness and originality are the secret sauces," he mused), the feline impresario and wellness expert will personally select the top 25 videos before opening it up to the public, who will in turn vote for their faves.
For what it's worth, two of our sleeper picks are a former feral named Beignet seen alternating between paws (see GIF below) and a trio of gingers at the center of which is a particularly enthusiastic pupil trying to gobble up all the noms (never change, Sunny, never change).
And, indeed, part of the technique's appeal is its democratic nature: Cats of any age and breed — yes, even yours, you know the one that sleeps on your couch for 18 hours per day — can learn to high-five, as the video tutorial embedded below illustrates:
While the subjects are motivated primarily by food (cats are "greedy little creatures" and "you'll be like Santa Claus to them," America's Cat Daddy told us with an impish laugh over the phone), these techniques are also a great way to enrich the bond with your pet and blow your friends' minds when Fluffy leans back and daps it in.
Don't leave us hanging, bro cat.
To learn more about teaching your cat how to high five and how to enter your video, visit GreaterGood.org today!