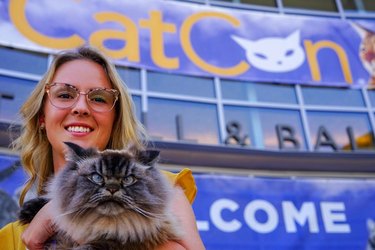 On June 29 and 30, thousands of kitty connoisseurs will converge on the Pasadena Convention Center for CatCon, the world's preeminent cat-centric event. Now in its 5th year (!!!), the gathering is equal parts expo and symposium, with programming that falls squarely between a triangulated hat trick of "E's": Engagement, education, and entertainment.
But what can convention goers actually expect when they slink through the doors?
In an email shared exclusively with Cuteness, CatCon's founder Susan Michals revealed 10 of her must-see, must-do attractions for CatCon 2019.
1. Purradise City
Mixing art and music, Purradise City is "a 5,000 square foot cat-stravaganza, where you can visit a cat lovers' retro dream home, discover the origin of the cat meme, interact with some playful cartoon kitties, and delight in a room of infinite irresistible cat treats!"
Expect to see lots of pictures from this installation flooding the cute side of your Instagram timeline.
2. CatCon Videofest
The year's best, funniest, cutest, and most ridiculous viral cat vids, edited by the peeps at Cats Of Instagram into one chonking huge, absolute unit of a sizzle reel supercut.
3. Celebricats Celebricats Celebricats
Rub elbows with your favorite celebricats during Meet & Greets sessions, during which you can snap selfies and collect autographs paw-tographs. The calvalcade of famous felines is headlined this year by @sukiicat, @the.dark_lord, and @benbencatcat.
4. Weruva Booth
Is the cat life the life for you? Find out at this carnival game-like attraction where you can "dig for 'treasure' (aka Tootsie Rolls) from a pool of litter; claw at a [human-sized] cat scratcher; and knock as many cups off [a] counter [as you can] in 30 seconds."
5. Angela Kinsey
The star of "The Office" will connect with fans in the CatCon Salon on Saturday afternoon and a portion of the proceeds are already earmarked for Milo's Sanctuary.
6. Nala Cat
When we said there would be 10 celebricats on hand, we lied. There's actually 11! Guinness World Record Holder and viral sensation Nala Cat will also make a special, TBA appearance on June 29th! Following that, she will be doing an Instagram takeover on Sunday. Follow CatCon on Instagram to join in on the fun!
7. Wellness Cat Condos
Do you work hard so your cat can have a better life? Then this is the experiential activation for you.
According to organizers, "cat condo artists" (yup, that's a thing) will fabricate "a series of custom-made condos throughout the weekend." Even better: one human (and their lucky cat) will walk away with the finished designs at the end of the show (good luck getting that on the plane in your carry-on, though).
8. Kat Von D Beauty Cat Coliseum
Influencer Kat Von D will host a series of workshops throughout the weekend during which she and other authorities in the cat space (such as Emily The Strange's creator Rob Reger) will share insights on everything from makeup hacks to tips for sketching cartoon kitties.
9. Kitty Coloring Collective
Apply what you learned at Reger's panel at the Scotch-Brite Kitty Coloring Collective booth. Crayons, pens, pencils, and ... wait for it ... scratch paper to be provided (soz, not soz)!
10. Furrocious Fashion Face Off
Strut on a literal catwalk in your very finest kitty cosplay. Last year contestants hailed from as far afield as places like Arizona, Indiana, Nevada, South Carolina, Texas, and Tennessee so expect the competition to be fierce AF.
To learn more about any of these events or others, sway on over to the official CatCon 2019 schedule.