Hello and welcome back to Cuteness Picks, our weekly roundup of the best pet products from websites both big and smol. This week, we turn the spotlight to the fruitiest pet bed ever, eyewear for your chic canine, and a must-have sweater for Boxer lovers.
1. PETKIT Eversweet Water Fountain
Kick traditional water bowls to the curb with the PETKIT Eversweet Water Fountain. Boasting a 3-stage carbon filtration system, silent water flow, and LED lights that blink when water levels ebb below a certain level, this smartphone-compatible model eliminates uncertainty and provides the hydration healthy pets need.
(Wondering whether your cat needs a water fountain? Check out our article all about the benefits of water fountains for cats!)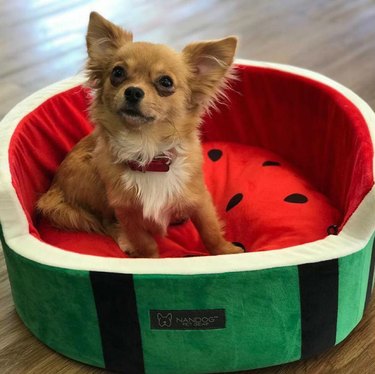 Boring pet beds are the pits. But with this fun design made by Nandog and available at Amazon, they don't have to be so... melon-choly (🤦).
Ideal for small cats and dogs, this bed cut in the shape of a watermelon adds a warm pop of color to any room. Even better the function matches the form: It's made of microplush fabric and filled with natural foam for added comfort, while the open mouth dips lower in the front, allowing your four-legged BFF to amble in with ease.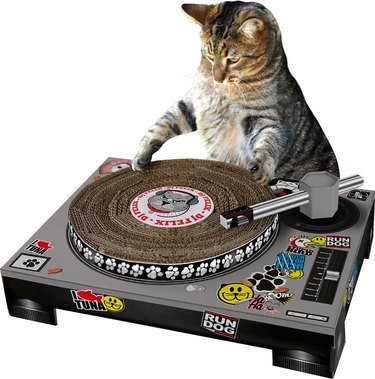 Cats are gonna cat. So either find something for them to scratch or your furniture is RIP. The choice is easy but the solution isn't.
Enter this scratch pad shaped like a turntable , which is ​mew-sic​ to our ears. Including a posable tonearm and platter that actually spins (MIND = BLOWN), the DJ Deck Scratch Pad's benefits are multitude: A healthy, constructive way for funky felines to mark territory, exercise their claws & paws, and just have fun.
The only drawback? You'll probably get deaded if you try to complete the look with a pair of kitteh-sized headphones.
4. Solvit Deluxe Tagalong Sport Pet Bicycle Basket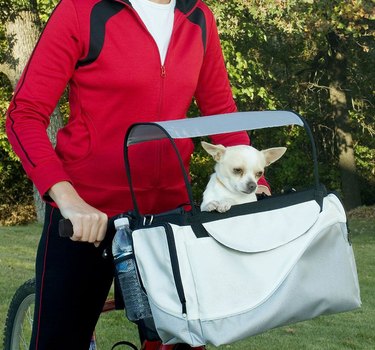 Complete with side pockets and removable sunshade, it attaches directly to your bike's handlebars with a three-way bracket system. And when the ride comes to an end, the basket converts into a carrying bag with shoulder strap. Two-fers FTW!
5. Doggles Rubber Framed K9 Optix Dog Sunglasses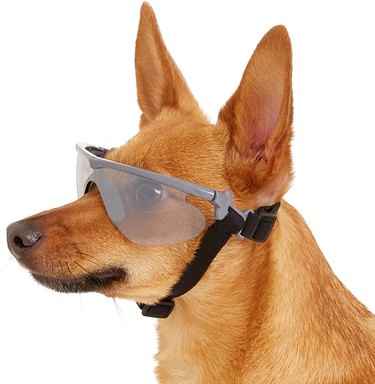 FACT: Dogs are inherently cool but dogs in sunglasses are next-level arctic cool (even Poochie). Lean in to this heckin truth with these rubber framed K9 optix shades for sale at Amazon. Featuring an adjustable strap and stylish, shatter-proof lenses that afford 100% UV protection, these doggles are "paw-fect" for motorcycle rides (!!!), boat trips, or just playing fetch in the sun.
Yes, your pup will be cooler than you. Yes, you should get over it.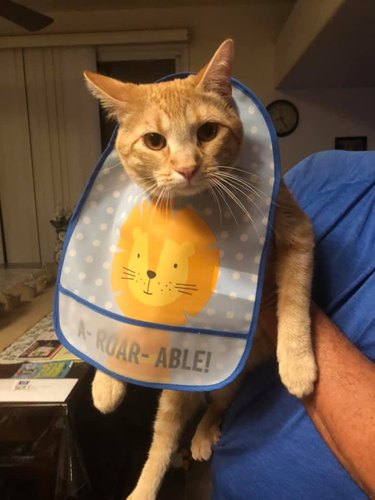 Okay, just to be clear, this bib, built around an irresistible pun — which, disclaimer, I will be ​cribbing​ for use in future posts — is almost certainly intended for human babies. But if you were to try to get your fur bebe to model it, we wouldn't judge.
Sadly, it seems to be a discontinued design from a company called 10 to 12 Baby Lounge, but a single holdover remains available by way of a reseller at Mercari. For what it's worth, dino takes on the same wordplay can be found at both Amazon and Walmart.
7. Merino Wool Boxer Sweater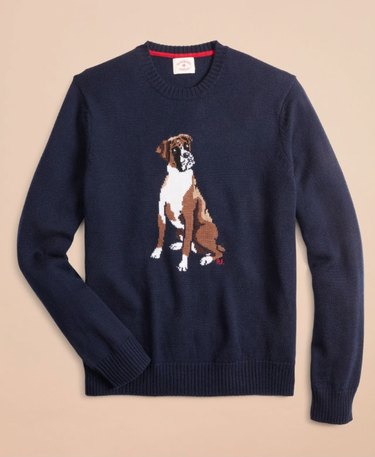 With fall come dog walks with crisper temps. And that means one thing: It's Sweater SZN™!
Layer up with this fantastic merino wool boxer sweater, available exclusively at Brooks Brothers and its millennial-focused imprint, Red Fleece. Front and center on the navy jumper is a very good boi waiting patiently for you to get his leash. According to the product description, rib-knit collar, cuffs and hem round out the intarsia stitching, which lends the whole thing an 8-bit, pixelated quality.
​What pet products are you stoked about this week? Tell us about them on Facebook!​