Whether you're doing it for your holiday cards or for the 'Gram, pet-centric photo shoots can be as taxing as they are adorable. And, if capturing a perfect picture of your pet is difficult, snagging that same aww-inducing cuteness in a picture with your pet can sometimes feel next to impossible.
Of course, some dogs are natural hams and love nothing more than a session of mugging for the camera (or, more often these days, the phone). But if your dog is more shrinking violet than attention hog when it comes time to snap some selfies, fret not, because we have enlisted the help of pet selfie expert to rescue your Instagrams from the dreaded "only liked by your mom and your best friend" zone.
We tapped Erin Askeland, CBCC-KA, pet behaviorist, training manager and #GiveAFetch pet expert for Camp Bow Wow to share her top tips for taking the best paws-ible selfie with your pup.
Rule 1: Have the right tool kit.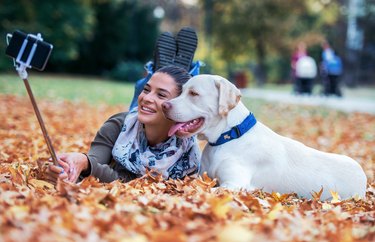 Taking a perfect selfie is hard enough when you just have one human face to worry about. Group selfies are a game of Snapshot Roulette in which you're just praying that you look at very least decent in the photo that's best of the group as a whole (or, in some cases, the photo that's best of the person posting the picture on social media). Pet selfies though? They can easily devolve into pure chaos, since "strike a pose" isn't exactly a part of basic puppy training classes.
That's why Askeland says there's no shame in giving yourself a leg up by utilizing all of the most cutting edge selfie tech around when trying to snap a perfect pup pic.
"Utilize any tools you need to make the selfie process easier," she says. "Selfie stick, timer and camera stand, squeaky toy attached to phone or camera."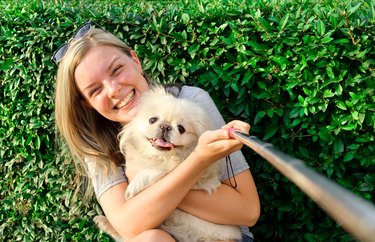 If you decide to use the old "squeaky toy attached to the camera" trick, Askeland advises pet parents to avoid brand new toys. "Let your pet sniff these out before your selfie session so they aren't new or scary," she explains.
And, yes, there are products designed specifically to help you snap the perfect selfie with your pet. Here are a few great options to get you started:
The Pooch Selfie, $9.99
You might remember this one from ABC's Shark Tank, but if you don't, here's the gist: It's an easy-to-use, super affordable product that clips onto the top of any smartphone, attaching a colorful tennis ball to the top of your phone, right above the camera, prompting almost every dog in existence to look happy and expectantly at said camera.
The Pooch Selfie is also available in a two-pack for $19.99, so you have a backup or an extra as a gift for another dog lover (and struggling puppy photographer) in your life.
Woofie, $6.99
WOOFIE - The Pet Selfie & Portrait Tool, is similar to the Pooch Selfie, but instead of attaching a tennis ball-shaped clamp to your smartphone, it's designed to hold your pup's favorite treat or bone. The idea is the same though—put something your dog loves right above the camera and the dog will look at the camera.
The Quik Pod Pet Selfie Stick It, $19.99
This one is a little different, actually. Instead of simply prompting your dog to look for a standard selfie, the Quik Pod Pet Selfie Stick It goes a step further, acting as a kind of portable tripod and remote photo snapper. Using the Quik Pod successfully will require a few extra elements—a wall or other flat, stick-able surface you can face for your photo and a couple of basic training moves on the part of your pet (specifically sit and stay).
To use the Quik Pod Pet Selfie Stick It, get your pup in position and ask him for a sit and a stay. Wave a yummy treat under his nose and, while he's in the stay, take it with you, along with your phone and your Quik Pod system to a wall (or anything you can stick the device to) facing your pet. The treat sits on a little shelf above the camera and the system comes with a bluetooth remote to allow you to start snapping once you're back in position with your doggo.
Rule 2: Go (doggo) glam.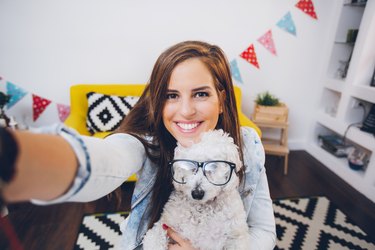 Okay, so you don't need to go full photo shoot glam (unless that's the vibe you're feeling, in which case GO. FOR. IT). Askeland's second tip is to increase the overall cuteness of your pup selfie with accessories, costumes, and props (oh my!).
"If your pet is willing, selfies are a great opportunity to showcase fun costumes and pet accessories," she says.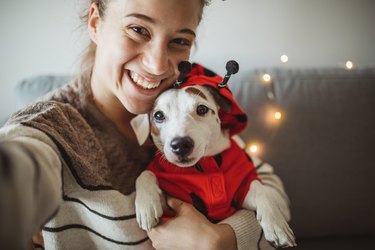 There are, of course, some basic safety rules to keep in mind any time you're dressing your pet up or putting them in immediate proximity to a photo prop (which, in dog world is just another word for "toy"—regardless of how much you'd like them not to eat it).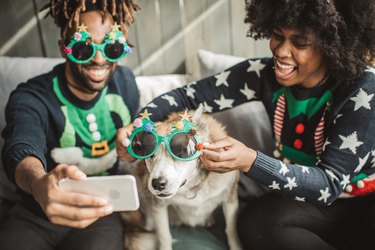 "Never leave your pet alone with any clothing item or accessory and only keep them on for a short time frame," Askeland advises.
Rule 3: Plan ahead.
The best human selfies are often spontaneous, but the best pet selfies often, well, aren't. You don't have to plan out every aspect of the photo op or sketch out notes on the art direction weeks in advance (although, you can if you want to, I guess?), but when you settle in to snap a selfie with your pup, a little forethought goes a long way.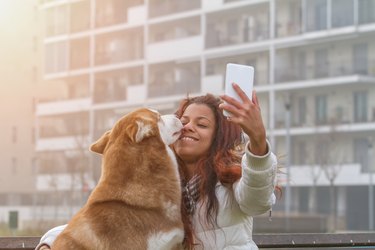 "Determine what pose you're going for in advance!" Askeland says.
It might feel impossible to plan out a pose for your pet, but if he knows a few basic commands, then the behaviors you think of as "tricks" can double as photo poses.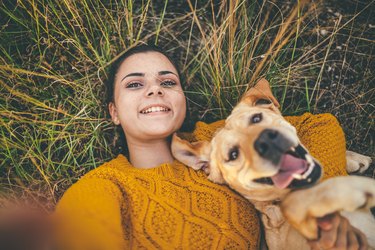 "There are several tricks that look great on camera with you such as playing dead, waving, sitting up, smiling, and more!" Askeland explains.