Hello and welcome back to Cuteness Picks, our weekly roundup of the best pet products from websites both big and smol. Catching our eye this week: A pet bed giving off serious island vibes, the perfect headwear for mischievous cats who could care less about getting coal in their stocking, and a top-loading pet carrier guaranteed to curb kitty chaos.
1. Dozy Ducks Pet Pajamas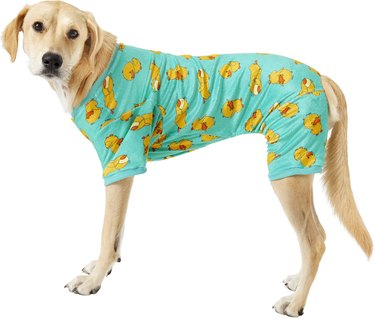 The cozy season calls from cozy sleepwear. And no threads lock winter's chill out better than these duck pajamas from Chewy's house brand, Frisco.
Lined with medium-weight fleece and elastic at the belly and hind legs for easy-on, easy-off stretch, they come in a wide assortment of sizes and are perfect for both quick cat naps and power slumbers alike.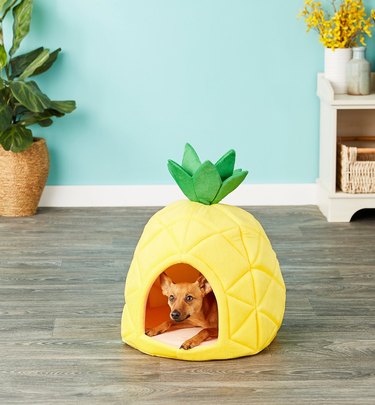 Another column brings another novelty pet bed in the shape of fruit. And like the watermelon mattress we spotlighted last week, this plush pineapple design immediately adds a festive splash of tropicality and color to any room. Unlike the watermelon, however, the sunshine yellow and leafy green cuddle cave comes with a measure more privacy, making it a welcome retreat for pups and kittos when they need a moment to themselves.
3. Hide and Seek Plush Volcano Puzzle Dog Toy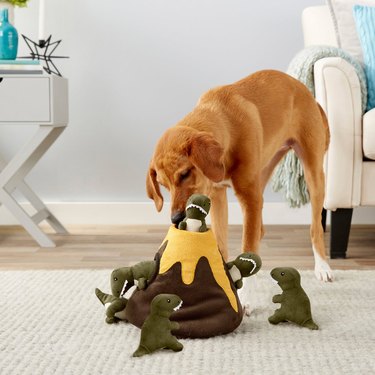 Trigger an eruption of interactive enrichment with this adorable puzzle toy. Built into the 8.5-inch plush volcano cone are stash spots for soft, textured T-Rex's, which are stuffed with built-in squeakers.
While the kit, which includes 6 total dolls, probably won't hold the interest of your pups for as long as the Cretaceous era, it will provide them with hours of daily stimulation and hide-and-seek fun.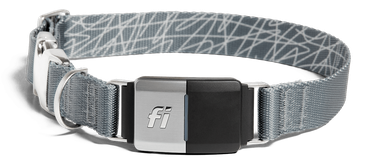 Tech has been reshaping every aspect of the pet experience, so it's no surprise that the humble dog collar has come in for a smart device makeover.
Billed as the world's first smart collar, The Fi Smart Dog Collar's Bluetooth-enabled version does the basic things you'd expect — like clasp around your pup's neck and clip to a leash — but also included are a bevy of advanced 2.0-type features like step counting and GPS location tracking (particularly helpful if your dog is prone to the occasional jailbreak).
While a monthly subscription is needed to fully unlock the functionality of Fi's partner app, expect to see further refinements to this product category in the months and years to come.
5. Naughty & Nice Pet Knitted Hat Set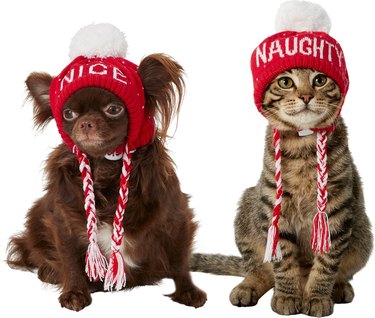 Because even good boys break bad once in a while, there's this ridiculous knitted hat set to ring in the holiday season. On the first stocking: the word Nice, which is nice indeed. On the second: Naughty, which is less nice — but measurably more LOL. Plus, we all know cats have literally no shame so they should have no qualms about modeling it from time to time (in small doses and only if they consent, of course).
From racking up the kudos on Instagram to sparking wicked funny jokes at Christmas gatherings with friends and family, the Naughty & Nice hat set, which comes designed with ear holes and an adjustable elastic chin strap, is a surefire way to win the holidays.
6. Golden Retriever Umbrella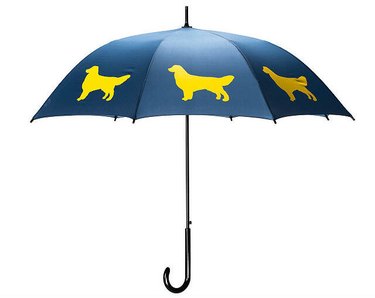 Walks are a fact of life for any dog owner. So too are the elements.
So keep both walker and walkee sheltered from them with this 6-panel umbrella adorned with silhouettes of popular breeds pacing the perimeter. Strong and reliable, the umbrella and its chic navy-and-yellow colorway is sure to receive two paws up at doggy daycare, the park, or anywhere else you rock puppy pride (i.e. everywhere on planet Earth).
From pugs to poodles, 12 breed-specific designs are available for purchase.
7. Two Door Top Load Plastic Kennel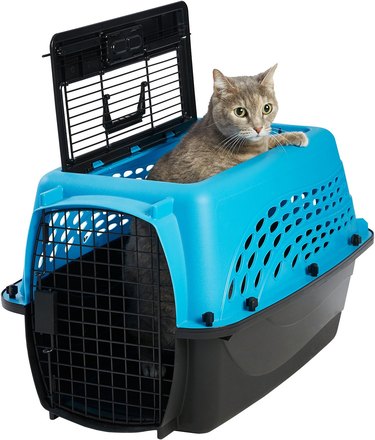 Everyone knows you can't herd cats—or force them into a pet carrier head first.
Take the path of least resistance then with this top-loading pet carrier, which affords easy, crane-like access for both pups and kittos. From short trips to the vet to weekend getaways at the beach, this durable, hard-sided design, which is molded from 95% pre-consumer recycled plastic content, offers comfort, protection, and peace of mind.
Ventilation holes cut along the sides and back allow air to flow freely, while an interior moat keeps paws elevated in cases of spills, accies or mishaps.
​What pet products are you stoked about this week? Tell us about them on Facebook!​