Cuteness may earn compensation through affiliate links in this article.
Hello and welcome back to Cuteness Picks, our weekly roundup of the best pet products from websites both big and smol!
Taking center stage in this week's column: a leash that doubles as an umbrella, a toy bundle for cats with all the hits, and a heat pad for pets that crave extra warms.
1. Snuggle Safe Microwave Heat Pad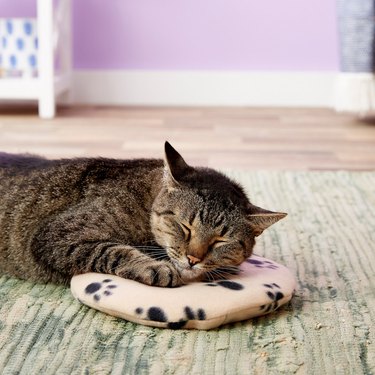 Providing up to 10 hours of reassuring warmth, the vet-approved Snuggle Safe Microwave Heat Pad is a 9-inch, plate-sized accessory for newborns, convalescents, seniors or any pet in a chilly environment. The Thermapol filling is non-toxic and, unlike most electric beds, there are no wires for curious pets to accidentally noms on.
Better this than your new, expensive laptop, amirite or amirite?
2.Wooly Snuffle Dog Feeding Mat
We've extolled the virtues of slow feeders in this column previously and this next item, the Wooly Snuffle Dog Feeding Mat, puts a new and ingenious twist on the concept.
Mimicking the instinct to hunt for food in grass and fields, the mat's thick but soft and non-toxic bristles force your pup to root out the kibble sprinkled over it with their keen sense of smell. Customers rave about the mat's durability and ease of cleaning — simply chuck in the washer and dryer.
3. Dog Umbrella with Leash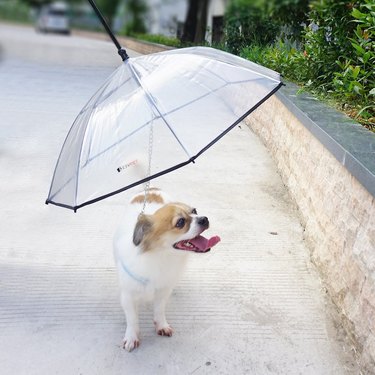 Rain or shine, the walks must continue.
And while a human umbrella can provide a semblance of protection for pups, this clever lead with a built-in concave shield gives them one to call their own.
Made of a durable polyester material that resists tearing, the LesyPet Dog Umbrella with Leash is water- and wind-proof and transparent so you can see if your four-legged pal gobbled up something off the ground that they shouldn't have gobbled up off the ground. Dogs!
4. All Kind Bundled Cat Toy, 25-Pack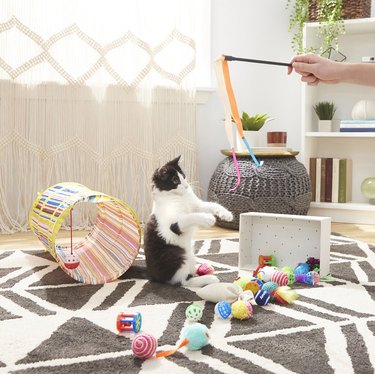 Why buy one cat toy when you could buy literally ALL of the cat toys?
Packaged in the All Kind 25-Pack Toy Bundle are a riotous mix of playtime staples: feathers, fuzzy mice, rolling balls, crinkle wand, and a tunnel for hiding, seeking, pouncing, or straight chillin'. And if Tuxy somehow grows bored with the colorful assemblage, you can punch it up with the included 'nip. Perfect for single kitties and multi-cat homes alike!
5. Trixie Activity Poker Box Interactive Dog Toy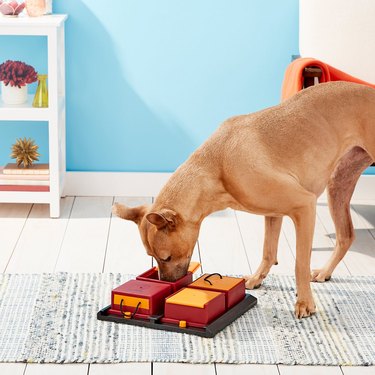 If not a feeding mat, then how about an interactive poker box for dogs?
Designed to challenge your pup and channel their curiosity, this enrichment toy holds treats placed in a set of compartments. To unlock them, your dog has to use their patience and concentration to navigate a series of lids, flaps, knobs, ropes, and drawers. Included with non-slip, machine-washable kit is a booklet with tips to get the most out of the challenges.
6. Striped Polo Shirt For Dogs (And Possibly Cats?!?)
Brace yourself, summer is coming.
Get a jump on your pet's upcoming wardrobe needs then with this striped polo from Frisco, Chewy's house brand for pet products. Cut from a breathable and lightweight cotton-polyester blend that includes a hole at the neck for leashes, it's a sharp little number that's both smart and casual. Come on, do it for the 'Gram!
The product page claims that it's also suitable for cats but there aren't any images of cats sporting the shirt, so drawn you own conclusions about the viability of that application. (Reminder: Don't force pets to wear clothes if they aren't happy doing so — your scratch-free wrists will thank us.)
7. Outward Hound Holiday Hide A Squirrel Puzzle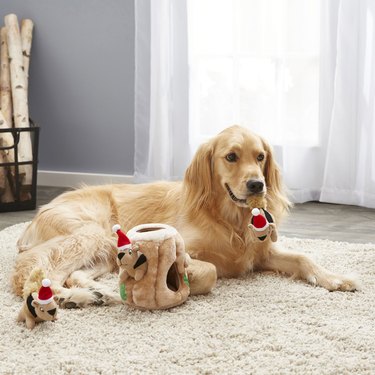 Christmases come, Christmases go but plush squirrels in Santa hats hiding in a log? Those, my friends, are HECKIN FOREVER.
And like Halloween candy, the best time to save on seasonal toys is after said holiday has passed. Scoop one now for next year, because foresight is truly 2020 (DID YOU SEE WHAT I DID THERE??? OKAY I'M OUT).
Looking for more cool pet products? Check out last week's Cuteness Picks for additional recommendations!