Some cats seem to look right at you and meow, and you swear they are trying to say something in a complete sentence if only you could interpret their meows. Other cats hardly seem to notice humans, and even other cats, and don't meow at all. Meowing is definitely a form of communication with people and with other cats, but why do some cats meow more than others?
Excessive meowing
First, let's make a distinction between normal communications with people and meowing loudly or excessive meowing, which could be something to pay attention too. According to the ASPCA, a cat who meows a lot should be checked out by a vet. Just how much meowing or yowling constitutes too much is hard to judge, as each cat is different.
But a medical condition or a disturbance due to them aging could be to blame. For instance, various diseases could make a cat unusually hungry, thirsty, restless, or irritable and they might try to tell you something's wrong by meowing more than usual. Get to know what's normal for your cat, and if she starts to meow more than usual, or changes the time she meows — for instance, while she's using the litter box — pay attention and get things checked out.
As cats age, they can develop issues such as thyroid and kidney disease, and either one may result in excessive meowing. Then again, if your female cat is of the age where she could be in heat, that non-stop yowling could be because she really wants to find a mate. That's the kind of meowing that will happen continually over time until you get her spayed.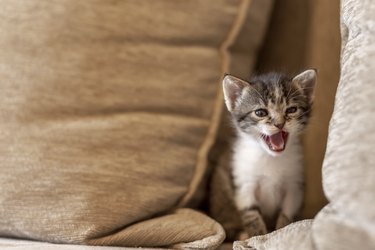 Your cat's age
According to the ASPCA, the type of meowing that a cat exhibits changes as they get older. Interestingly, adult cats don't usually meow at each other. The meowing is reserved almost entirely for communications with people. However, kittens will meow frequently at their mothers, to let her know they are cold or hungry. As kittens get a little older, though, they generally stop communicating with other cats this way.
Naturally talkative cats
Every cat is different, and each cat will have a different communication style, even cats from the same litter. Some cats will come out and talk to you when you first wake up in the morning or when you get home from work. Other cats, though, will barely notice you. That said, some cat breeds do tend to meow more than others in general.
Persians, Siamese, and other Asian breeds are known to be more talkative than other cats. The Humane Society looked back into the evolution of cats and explained that their vocalizations are different than that of dogs, which are often known to bark at anything. When the mailman comes on to the porch, your dog is likely to get excited and bark. However, your cat will likely not even notice.
If something goes on in the cat's environment, they are more likely to keep quiet. The reason is that dogs evolved from pack groups that barked to communicate with each other. Domestic cats, on the other hand, descended from solitary hunter cats. Because of this, the entire way that cats communicate and engage with their environment is different, and most of the time they stay silent.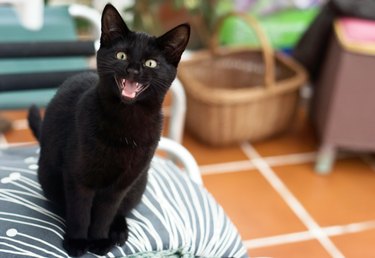 Talkative Siamese cats
Siamese cats are one of the oldest breeds, which may explain why they are so sociable with humans. They are also known for being curious and intelligent, which, again, may help explain why they talk so much. That's not to say that other cats aren't as intelligent as the Siamese, but they seem to express their curiosity and intelligence directly to humans more than other breeds do.
According to the Traditional Cat Association, Siamese are people-centered cats that will "talk" to you and keep your attention focused on them. The vocalizations of Siamese cats have a wide range of variety depending on what they are trying to tell you. And believe it or not, their cry has often been compared to that of a human baby. When trying to figure out if your cat is exhibiting excessive meowing, you just might need to keep in mind what's normal for your cat, especially if they are of a more talkative breed.
Changes in a cat's life
The Humane Society says that well-socialized kittens are often more talkative than those who have not gotten as used to humans. So if you want a chatty cat, you might start with a young one and make sure they learn that when they try to communicate with you, you pay attention. In reverse, if you have a naturally chatty breed and you want them to be a bit quieter, you might try rewarding quiet behavior.
As stated above, a change in your cat's age or health may mean they have an issue. Or, it could be simply that they don't like the food you've switched to or the litter in their litter box isn't clean enough. Whatever your cat is trying to tell you, if they feel it's important enough to meow about, it's likely important enough to pay attention to!
Conclusion
Breed and personality differences can account for why some cats meow so much more than other cats do. However, if your cat suddenly starts meowing much more often than they usually do, it's a good idea to take them to a vet to make sure nothing is wrong.