​Cuteness may earn compensation through affiliate links in this article.​
Work hard so your cat can have a better life filled with all sorts of really cool stuff.
Problem: Your cat gets separation anxiety when you're gone for the day. Solution: The Purr Pillow Cat Toy, a soft plush with a touch-activated "purr mechanism" on the inside.
Give it a squeeze for two minutes of soft, cooing mewmurs (yes, I just coined that term) that will put kitty in a calmer state of mind. Even better, the voice box can be removed for easy washing and care.
2. Pawaboo Denim Jeans Cat Tunnel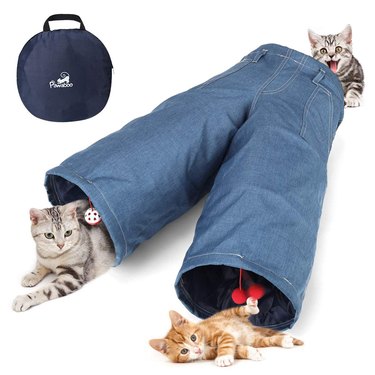 I'm also happy to report that belt loops and pockets are real and functional so if laundry day catches you by surprise ....
3. MYZOO Wall Mounted Cat Bed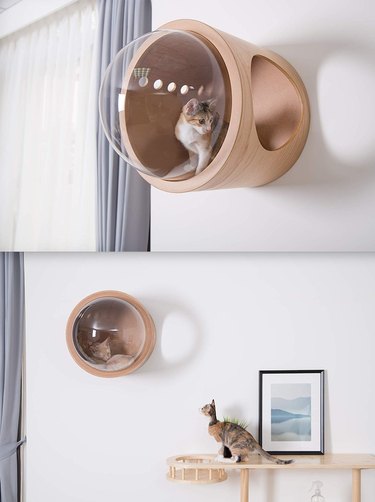 From backpacks to strollers, bubble-shaped products that offer would-be astro cats a window to the world have emerged as a very hot trend that shows no sign of well, being burst.
Case in point: the Myzoo Wall Mounted Spaceship Cat Bed, which is made of spruce, walnut or ash and can be mounted to almost any wall with studs. The acrylic dome retains heat, creating a cozy hideaway from which kitty can orbit the comings and goings down below on planet Earth (or just the kitchen).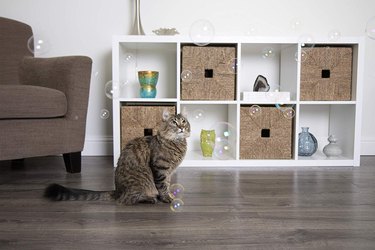 Speaking of floating globules, here is one product cats might actually like to pop: Catnip-infused bubbles, which stimulates play and "has all the benefits of loose catnip without the mess." Lifehack!
5. Skateboard-Shaped Cat Scratcher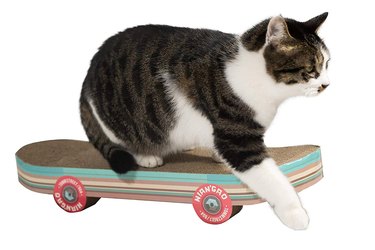 From a faux turntable that actually spins to a decoy laptop, we will never not love a novelty cat scratcher. All of which is to say we frickin love this design modeled after a skate deck. Gleaming the cube instead of the couch's arm? That's what we call a radical win for you and them.
6. Cathole Interior Pet Door With Grooming Brush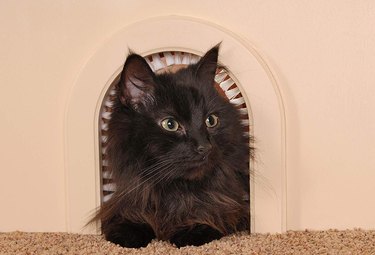 Cats are notoriously indecisive. They're in, they're out, repeat forever. Harness that restless energy with the interior pet door, which not only affords 24/7/365 come-as-they-please access, but is ringed with removable bristles that capture loose fur and coat dander!
7. Cat Crib Chair Hammock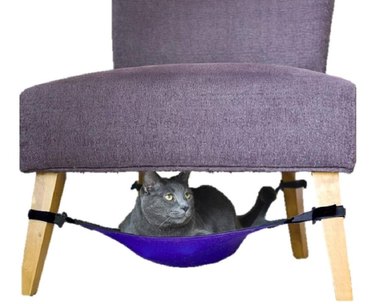 Put a new on "hanging out" with this Cat Crib Chair Hammock which attached to wooden chair legs with no-slip velcro straps. The ingenious design reclaims wasted space in your home while providing your four-legged pal a cozy spot from which to watch their favorite shows.
​Looking for more gifts for the pets in your life? Check out last week's Cuteness Picks for more recommendations!​