​Cuteness may earn compensation through affiliate links in this article.​
Sure, some cats will sleep literally anywhere and on ​anything​, but why not splurge on a bed for your purr pal? From the basic to the fancy, here are seven of our favorite cat caves for priority sleepers.
1. Frisco Foldable Canopy Cat Bed
The best things in life are multipurpose. Like this "Foldable Canopy" from Chewy's house brand, Frisco. It's a bed with a removable (and machine washable) pillow; a cozy nook where your kitty can retreat for some privacy; and a toy with a swattable ball suspended on a string. Oh and it folds down slim for easy storage or travel. Add it up and you have a cat bed that ✅s all the 🧃s.
2. Twin Critters - Handcrafted Cat Cave Bed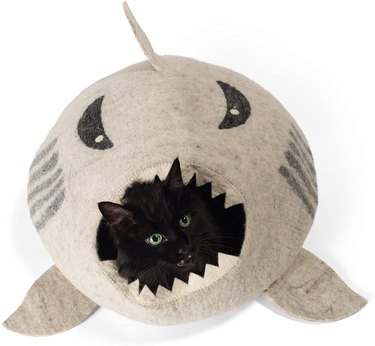 You cat will lie in the belly of the beast with this bed shaped like a shark. Handmade in Nepal, its spacious interior can accommodate all but the largest of chonky kittos. Even better, the Merino wool construction sheds odor, dirt, and stains ​AND​ regulates temperature in summer and winter, ensuring year-round usage. And if the shark isn't to your liking, you can choose from one of 11 additional styles including emojis, frogs, and dragons.
3. Honeycomb Hut Covered/Bolster Cat & Dog Bed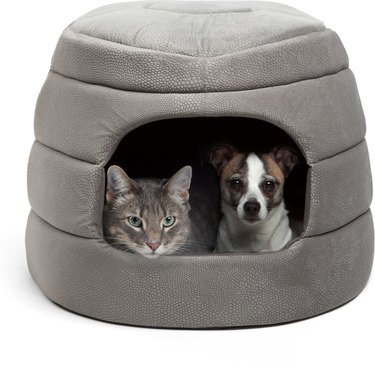 Like a baseball stadium with a retractable roof, this hut-bed hybrid finds value in versatility. When your pet needs me-time, they can amble in for 360-degree privacy. If they want to catch some zzz's, the top folds down and transforms into a cozy bed. Rounding out the feature set is the lightweight micro plush fabric that's soft as a cloud. Available in two sizes: Standard and JUMBO 👀.
4. K&H Pet Products Thermo-Mod Dream Pod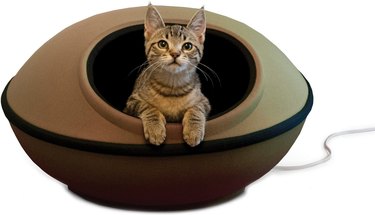 Fancy cats need fancy sleeping quarters. And nothing says fancy like a heated dream pod. On the inside is a cozy faux fleece pillow; plug it in for immediate warms. Surrounding that is a durable nylon exterior with a large porthole for easy entrances and exits. Connecting the base and the top is a zipper that runs along the exterior; remove the lid for easy cleaning and pillow fluffing. Our only complaint? It doesn't come in human sizes. 😞
5. Kitty Tube The Outdoor Insulated Cat House - Feral Option w/Straw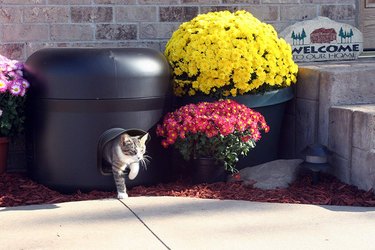 All cats need a covered bed — even cats that, technically speaking, aren't your cats. Such is the dilemma that the Kitty Tube Insulated Cat House sets out to solve. Put it in your background or on your farm for the feral cats that value their independence or are too shy for human contact. The clear flap door provides an easy place for them to retreat to when predators lurk, while the insulated floors, walls, and roof keep provide a welcome reprieve from cold winter months. Holds up to three cats!
6. Best Friends by Sheri Novelty Hut Covered Cat & Dog Bed Pinata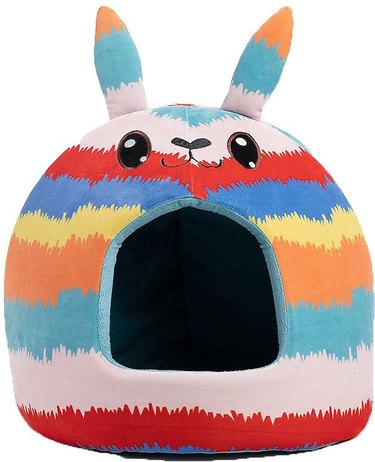 There are pet huts and then there are novelty pets huts. Falling squarely into the latter is this piñata dressed up in a riotous mix of festive pastels. But it's not just form without function. Made of ultra-soft micro plush fabric, this adorable cubby is the perfect place for your four-leggy friend to get their doze on, while creating a sense of security and protection. And if this isn't the straw that stirs your drink, choose from one of seven other styles including flamingos and unicorns.
7. Duck Bean Foldable Pet Cat Bed House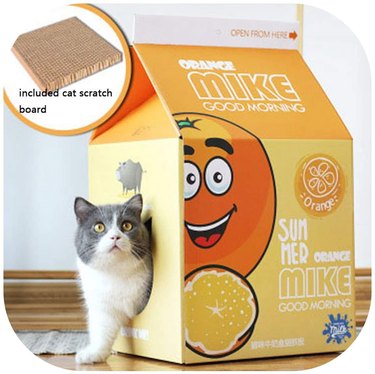 Because you can't spell juice carton with C-A-T. By far the zaniest of our selections, this Duck Bean Foldable Cat Bed House isn't juice a splash of color to brighten your mornings. No, it doubles as a scratch pad, complete with sprinklable catnip, the real breakfast of champions!