Some people jump into dog adoptions enthusiastically. This list is not about those people.
Regardless of how people connect with their four-legged fur pals, the result is the same: pure unadulterated love.
1. "My husband: 'wE wiLL nEvEr OwN a PiTbuLL, tHeIR bRaInS gEt tOo BiG fOr tHeIR hEADs aNd ThEy GeT aGgReSsiVe.'
Also my Husband: #ididntwantadogchallenge"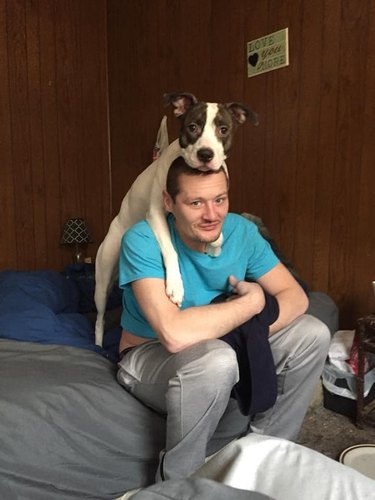 2. "'I don't want a lap dog,they ain't manly and I'm manly.' Sure, ok.. 🥴🤷🏾‍♀️ #ididntwantadogchallenge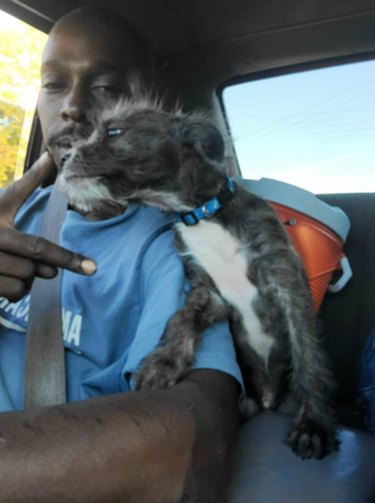 3. "I feel like this picture is pretty self-explanatory... 🤎🤎🤎 #ididntwantadogchallenge"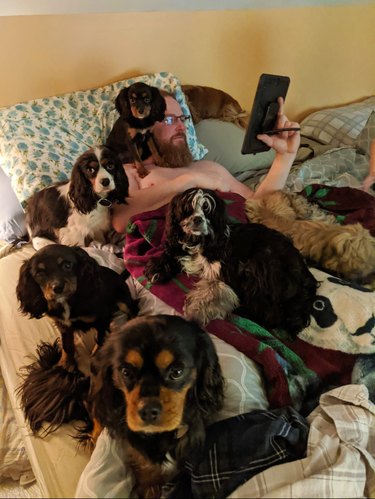 4. "We have a corgi. She was acting very odd and we took her to the vet just for the vet to tell us she needed a companion. My fiance at the time being (since we didn't have our fence done) did not want another dog. So now here is the evolution of him 'not wanting another dog' over the past year almost 😂❤ #ididntwantadogchallenge"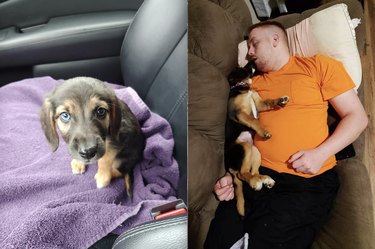 5. "Seven years ago we woke one day to this pup on our porch. My husband said 'ABSOLUTELY NOT! No more mouths to feed.' So we girls did what any good dog loving women would do and secretly fed him.
A few days later after this pups pitiful eyes had worked on him some he told me 'Dam**it, go let him in.' I told him 'Nope, I won't be blamed for this. If you want him in YOU go get him.' He did. They have been inseparable since. Here's Johnny (daddy) and Rufus (his boy.) The first pic is from before we let him in. The second is from Sunday.
We eventually found out that our neighbor put him there. He brought the pup home and his wife threw a fit and told him to get rid of the dog. He knew we had rescued several dogs so he put him on our porch and told him to stay. Rufus must have understood him because he didn't budge, lol. #ididntwantadogchallenge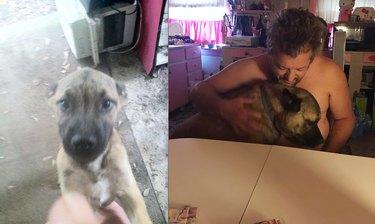 6. "I've posted this before, but it's perfect for the #ididntwantadogchallenge so excuse my repost. That's my dad, who was ADAMANT about not getting another dog after our Sophie Girl passed away. My mom, also adamant about not getting another dog, surprised us all by bringing this fluff ball, named Maggie, home out of the blue after seeing her on a rescue site.
Flash forward 8 years later to my dad blow drying her hair after her baths so it's 'styled the way she likes it'. (Maggie is still unsure of this service, but it makes her human happy so she reluctantly goes along with it)."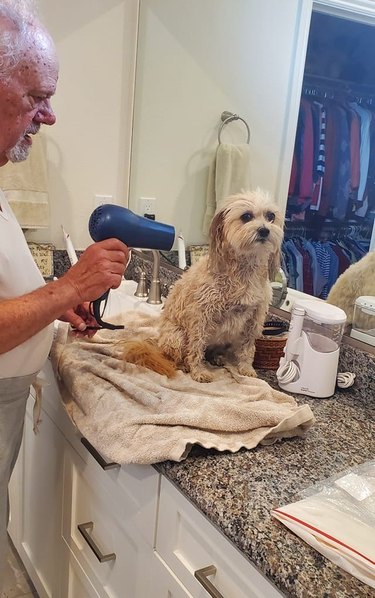 7. "I did NOT want another dog. Just months before, we had lost our bully AND found out that another of our dogs has osteoarthritis. We were also dealing with our son, who was having mental health issues. I didn't want any more on my plate, but this was my husband's dream dog and I finally agreed to go meet the puppies & parents, although I was acting as stubborn as I could.
When we got there, I sat down and the father was let out the door. He walked right by his owner and my husband, plopped himself on my lap, and covered me with kisses. My husband had really wanted an a black Corso, but this little guy...... All of the puppies were eating when we arrived and when they were all done, Enzo came trotting on over to me and snuggle right up on my lap. That was when I said, 'Ok, if this is it- he's the one!' and although he's more my husband's dog- he's become my guy, too.
His personality sometimes reminds us of our bully, he's always got his nose right where our food is, and he now hugs, too I couldn't help but fall in love! #didntwantadogchallenge"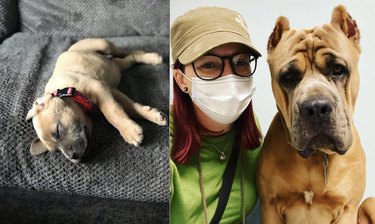 8. "When I first got Cooper, I was 21. Immature, barely home, blah blah normal stupid 21 year old crap. My mom said 'if you get a dog, he's your responsibility - vets, food, grooming.' He destroyed everything he could get his paws on until he was about 2 years old. Here we are now, I'm 27 and Cooper's 6. I live with my mom and these two are INSEPARABLE. I like to say he loves me most, but I'm not sure sometimes. 🤨❤️ #ididntwantadogchallenge"
9. "He said if I brought another animal home he was gonna leave me. 🤣 (His name is Chapo by the way 🖤) #ididntwantadogchallenge"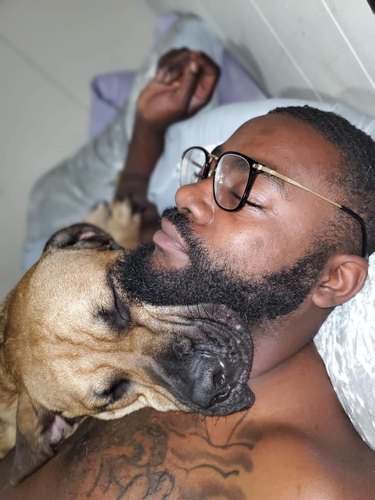 10. "After a year and a half of showing him and begging him to just go look at dogs that came up for adoption through different rescue groups, Priya's story was posted. It involved a very sad case of abuse and a bloody and scarred face, mange, collar imbedded in skin, but still maintained a happy and forgiving personality. I couldn't stop thinking about her and kept bringing her up to my husband. He finally agreed to just go meet her, we were not even there 30 seconds and told the lady we would take her.
As I found out later he also told her If there were any other dogs who needed a home who she thought would make a good pal for Priya let us know. Within a month we had a phone call about Stella a very affectionate gal who had been abandoned in the south and overlooked in the shelter up here for six months. Now we have two dogs and I consistently rank third in the family 😂. #ididntwantadogchallenge"
11. "Ollie was severely fearful of everyone and everything when we got him. Even the shelter adoption manager said, 'really?', when I told him we wanted to adopt Ollie. Within 2 days of having him, my husband said he didn't know what I saw in him and thought we should return him. Seven years later, and he is my hubby's best boy. He follows him everywhere and MUST be laying on my hubby at night. We both wake up in the middle of the night to ensure he and his sister are covered with blankies. They are our babies and can't imagine life without them. ♥️ #ididntwantadogchallenge"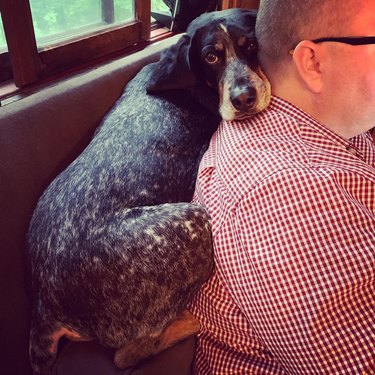 12. "My boyfriend in 2015 - 'We can't get a dog... we don't have time for one'
Me- 'What's with the we? I wasn't asking I was saying I'm going to get a dog. You're gone all the time anyway.'
Me 5 years later with the love of my life- ....
Boyfriends come and go but my love for Walter French will last far beyond this lifetime.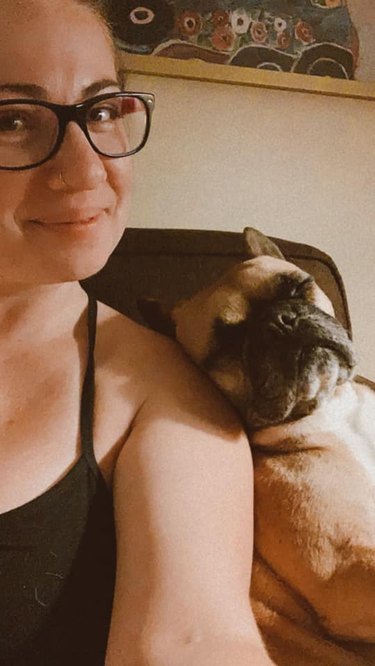 13. "'You aren't thinking this through. You don't need a dog. It's going to be too big. You won't be able to take care of it with your anxiety. No, I'm not going to hold it.'
Edit: He's not as bad as it sounds. I accidentally made him sound like a butt. 🤣 #ididntwantadogchallenge"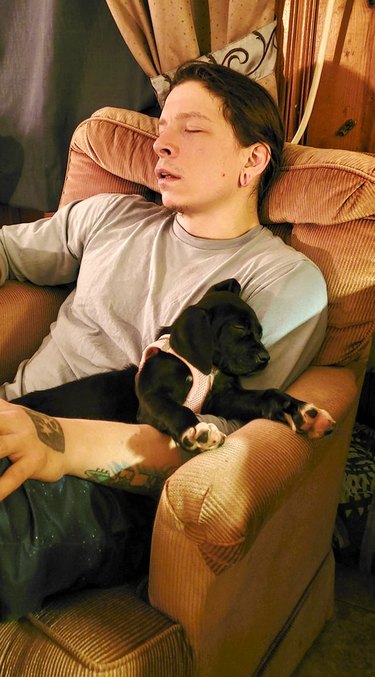 14. "I have ZERO photos of me and my husband since we got Penny. ZEROOOOOOO. He didn't want a dog, I did... after my cat passed away I told him we were getting a dog, I even went to the shelter the day he had a stomach virus so he had no say 😂😂. I locked eyes with this girl and I knew I couldn't leave her there. She was ours.
LONG STORY SHORT, I don't have a dog, my husband does. They don't even care about me anymore 😂😂😂 #ididntwantadogchallenge"
15. "I had been looking for months to bring a puppy into our family. We have an 11-year-old lab hound rescue that is aging and I thought it would be good to bring a puppy into our family. My husband was dead set against it.
After months of hounding him, I finally found a rescue puppy, also was fostering her brother. My husband fell in love with her brother ❤️. So we were foster fails at 2 days. They are now "his puppies". Incredible how this works out, they are great additions to our family. #trixierocky #ididntwantadogchallenge.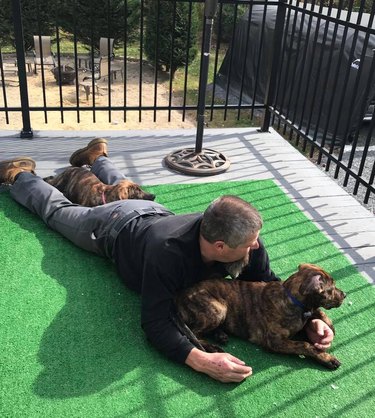 16. "My Husband - 'We're not driving 18 hours one way for a small dog, I can't love a small dog, they're not tough enough.' Also my Husband - .......
🤣 #ididntwantadogchallenge"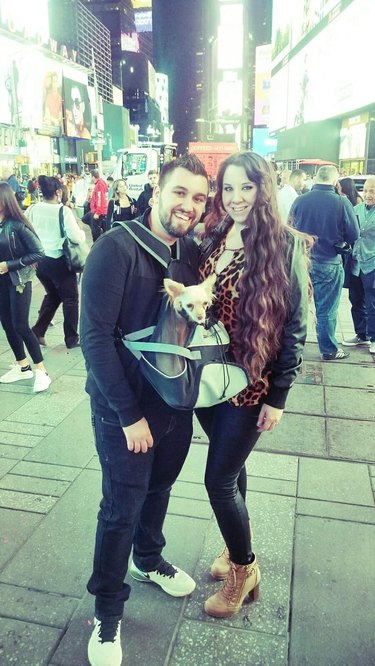 The takeaway here: Even if you don't choose the dog life, sometime the dog life chooses you.