Dogs love to chew, but not everything they love to nibble is good for them. Teething on furniture, shoes, or other items in your household, for example, can both injure them and tarnish the relationship you have with them. Experts say the key to success is having plenty of "right answers" — things that are alright for them to mouth. Bully sticks are a great option.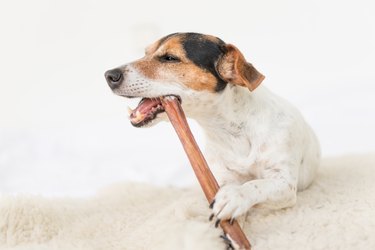 Although bully sticks look similar to rawhide treats, they're made from pure muscle fiber. The most common single ingredient treat is the dried pizzle (penis) of a bull, but alternative ingredients include the gullet, tripe, and bladder. The single-ingredient treat serves up protein and amino acids beneficial to your dog's brain, coat, and overall health. Unlike rawhide chews, they're dried in the sun or an oven and don't undergo chemical washes to color and shape them, making them an all-natural alternative.
The treat is highly nutritious and much safer for your dog than rawhide or bones, according to the American Kennel Club. Bully sticks won't splinter like bones and, because it's 100% muscle, the dog can fully digest the treat, unlike rawhide that can cause digestive upset and potential blockages. They also last longer than a biscuit or other dog treats, making dogs slow down and really break down what they're digesting and helping clean the teeth in the process.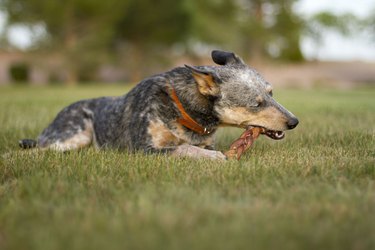 What to Consider When Purchasing Bully Sticks
Bully sticks come in many shapes and sizes, making it easy to offer your dog variety and catering to her individual preferences. The best bully sticks are those that fit your dog's size and chewing style.
​Thickness​: While sticks are safe to give to puppies as soon as they are able to eat on their own, you'll want to supervise them and give them a thinner, shorter bully stick than you would serve to an older pup whose adult teeth are coming through.
​Length​: Appropriate length is also crucial to make sure your dog doesn't take in too many calories munching these digestible treats. Your dog doesn't know when to say "when," so it's up to you to make sure it doesn't get too many calories. Each inch of a bully treat contains 9 to 22 calories—an average of 15 calories per inch — according to Cummings Veterinary Medical Center.
​Shape​: The shape is another consideration. In its most basic form, a bully stick is a single sun-dried or oven-baked pizzle. But you can also find curly sticks, braided sticks, sticks shaped into rings and more to keep your pup entertained.
​Odor​: The smell of many bully sticks may make them even more enticing to your dog, but the odor can smell a lot less appealing to humans, so it depends on who you're more willing to please. If you want to avoid that particular bully stick smell in your home, there are odor-free options. They're usually cooked longer to cut down on the smell and moisture. Keep in mind that once your dog starts chewing, their saliva can make even a bully stick advertised as odor-free begin to smell at least a little.
​Source​: Many manufacturers will list where the animals (in this case, bulls) came from. Some people prefer food products sourced in the U.S. or Canada, while others may prefer cows from Brazil, which are more likely to be free-range and grass-fed, which some purport to make a difference in quality and taste.
With these considerations in mind, here are some of the best bully sticks for dogs:
The best bully stick for small pups
Nature Gnaws Extra Thin Bully Sticks
Nature Gnaws Extra Thin Bully Sticks are just the right size for your puppy's size and nutritional needs. The treats originate from responsibly sourced local beef and is completely free of rawhide, making it safe to chew, swallow, and digest. The sticks are carefully with only fresh ingredients, cleaned with water, and oven-baked, and each batch undergoes human-grade food testing to ensure chews are free from bacterial contamination. On top of this, every chew is hand-inspected—if it's not up to standards, it doesn't make it into the bag! They're currently available in packs of 10 or 50 (check with Amazon for availability of 25-packs).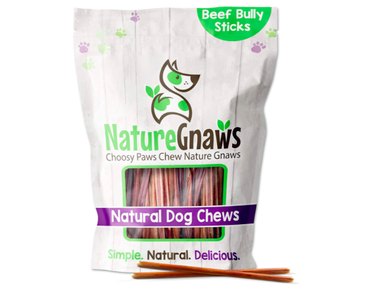 The best bully stick variety pack #1
Best Bully Sticks Meat Lovers Variety Pack (20 Count)
If your dog likes bully sticks, they probably won't turn their nose up at any bully stick they're offered. However, changing up the treat's size and shape will offer a new challenge every time. This variety pack from Best Bully Sticks contains four different types of bully sticks in one package, including different ingredients and shapes. Appropriate for dogs of all sizes and life stages, this variety pack comes with gullet sticks, beef tripe twists, bladder sticks, and 4-inch bully sticks, for a total count of 20. They're suitable for dogs considered medium-strength chewers.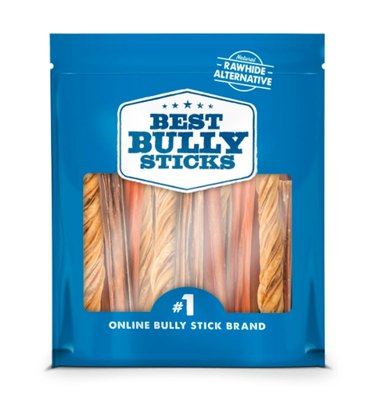 The best bully stick variety pack #2
Bones & Chews Small Dog Bully Stick Variety Pack
Another great variety pack is Bones & Chews', which comes with nine total sticks, three of each type: 6-inch regular bully sticks, 6-inch braided bully sticks, and 7-inch to 10-inch curly bully sticks. Everything is pure, 100% digestible beef pizzle, packed with protein, and made with zero additives, chemicals, or preservatives. These bully sticks are recommended for small and medium-sized adult dogs.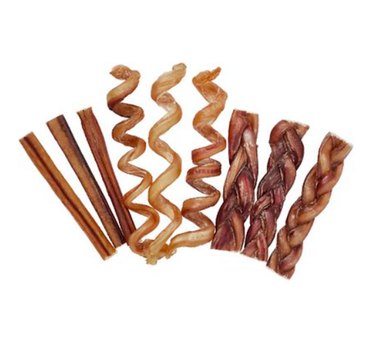 The best bully sticks for large dogs
For large dogs that can gnaw through objects easily, large, braided bully sticks will present more of a challenge and the multiple surface angles will clean their teeth most effectively. Best Bully Sticks Premium 6-inch Jumbo Bully Sticks are recommended for big dogs. Free-range, grass-fed beef is the sole ingredient of these sticks, which are twice as big around as normal bully sticks. This product comes in packages of six or 20.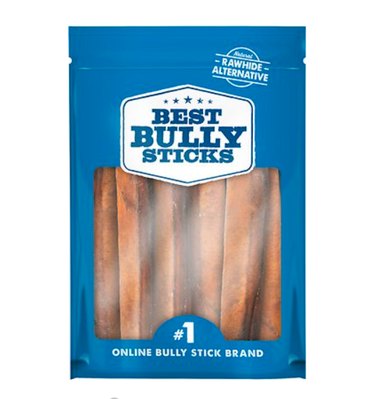 The best odor-free bully sticks
Best Bully Sticks Odor-Free Angus Bully Sticks
As with any all-natural animal product, bully sticks come with their own distinct smell. Dogs love the aroma, but not all humans do. The best odor-free sticks don't use chemicals to mask the scent. Instead, the moisture content that produces the signature aroma is reduced through oven, drying according to Best Bully Sticks. These bully sticks are dried in the oven, unlike many other brands' bully-sticks, which are sun-dried, leaving a higher moisture content, and therefore, more aroma. They're made from all-natural, free-range, and grass-fed angus beef, so they're mighty tasty.
Although they are sold as odorless, they'll still have a faint scent to them. Some dogs have a clear preference for sticks that have full scent, so you might want to try the baked sticks in small quantities to make sure your pooch is on board with the switch. They're available 6 inches long in packs of 20 or 12 inches long in packs of 12 or 24.