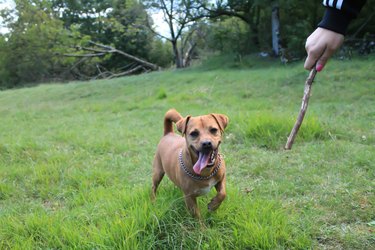 ​Disclosure: At Cuteness, we are committed to being the go-to resource for pet owners and animal lovers. We only recommend products we think our audience will love. If you purchase something by clicking on one of these links, we may receive a small commission of the sale and the retailer might receive some data for accounting purposes.​
Dogs love to chew, but not everything they love to nibble is good for them. Teething on furniture, shoes, or other items in your household, for example, can both injure them and tarnish the relationship you have with them. Experts say the key to success is having plenty of "right answers" — things that are alright for them to mouth. Bully sticks are a great option.
Although bully sticks look similar to rawhide treats, they're made from pure muscle fiber. The single ingredient treat is the dried pizzle — penis — of a bull. The single-ingredient treat serves up protein and amino acids beneficial to your dog's brain, coat, and overall health. Unlike rawhide chews, they're dried in the sun or an oven and don't undergo chemical washes to color and shape them, making them an all-natural alternative.
The treat is highly nutritious and much safer for your dog than rawhide or bones, according to the American Kennel Club. Bully sticks won't splinter like bones and, because it's 100% muscle, the dog can fully digest the treat, unlike rawhide that can cause digestive upset and potential blockages. They also last longer than a biscuit or other dog treats, making dogs slow down and really break down what they're digesting and helping clean the teeth in the process.
Choosing the best bully sticks
Bully sticks come in many shapes and sizes, making it easy to offer your dog variety and catering to her individual preferences. The best bully sticks are those that fit your dog's size and chewing style.
Thickness and length are two primary factors to consider when seeking the best bully sticks for your dog. Sticks are safe to give to puppies as soon as they are able to eat on their own. However, you'll want to supervise them and give them a thinner, shorter bully stick than you would serve to an older pup whose adult teeth are coming through.
Appropriate length is also crucial to make sure your dog doesn't take in too many calories munching these digestible treats. Your dog doesn't know when to say "when," so it's up to you to make sure it doesn't get too many calories. Each inch of a bully treat contains 9 to 22 calories — an average of 15 calories per inch — according to Cummings Veterinary Medical Center.
The shape is another consideration. In its most basic form, a bully stick is a single sun-dried or oven-baked pizzle. But you can also find curly sticks, braided sticks, sticks shaped into rings and more to keep your pup entertained.
Check out our favorite bully sticks
Best sticks for small pups
Jack and Pup 6-inch Baby Bully Sticks are just the right size for your puppy's size and nutritional needs. The treats originate from grass-fed beef that is hormone and antibiotic-free. The sticks are carefully prepared in a USDA Human Grade Certified and Inspected facility. The multi-step process of boiling, roasting, smoking, and slow-drying eliminates all bacteria that could make your pup sick.
If your dog likes bully sticks, he probably won't turn his nose up at any bully stick he's offered. However, changing up the treat's size and shape will offer a new challenge every time. The Pawstruck Bully Stick Variety Pack for Dogs has seven to 15 different shapes in one convenient package.
Made from free-range, grass-fed beef, the treat package is geared toward various sizes of dogs. Large dogs get two jumbo thickness straight sticks, a bully stick-stuffed esophagus, a braid, ring, spring, and barbell. The 15-treat package for dogs under 15 pounds includes six thin straight sticks, three springs, three barbells, and three braids.
Best bully sticks for large dogs
For large dogs that can gnaw through objects easily, large, braided bully sticks will present more of a challenge and the multiple surface angles will clean their teeth most effectively. Best Bully Sticks Premium 6-inch Jumbo Bully Sticks are Amazon's Choice for big dogs. Free-range, grass-fed beef is the sole ingredient of these sticks, which are twice as big around as normal bully sticks. This product comes in packages of four, 12, or 25 sticks.
Best odor-free bully sticks
As with any all-natural animal product, bully sticks come with their own distinct smell. Dogs love the aroma, but not all humans do. The best odor-free sticks don't use chemicals to mask the scent. Instead, the moisture content that produces the signature aroma is reduced through oven drying according to Best Bully Sticks. Many types of bully sticks are sun-dried, leaving a higher moisture content and therefore more aroma.
Although they are sold as odorless, they'll still have a faint scent to them. Some dogs have a clear preference for sticks that have full scent, so you might want to try the baked sticks in small quantities to make sure your pooch is on board with the switch.