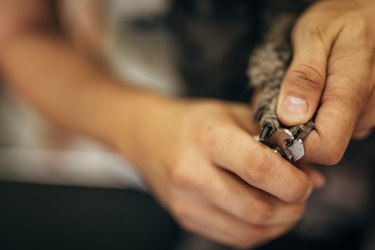 ​Disclosure: At Cuteness, we are committed to being the go-to resource for pet owners and animal lovers. We only recommend products we think our audience will love. If you purchase something by clicking on one of these links, we may receive a small commission of the sale and the retailer might receive some data for accounting purposes.​
Long nails might look fashionable on a human, but allowing your dog's nails to get too lengthy can cause serious problems. As nails hit the floor, it can cause difficulty keeping traction on smooth floors and can snag in carpeting. The changed angle of the foot from long claws puts pressure on your dog's foot and leg bones, splays your dog's feet unnaturally and paves the way for tendonitis and other health problems.
Easily clip your dog's nails
The American Kennel Club recommends trimming your dog's nails regularly at home to avoid pain and deformities. Your groomer will clip your dog's nails when you bring your dog into the shop for a bath or style. Some even offer no-appointment-needed low-cost nail clipping. However, if your dog requires little grooming or you prefer to groom at home, it's simple to learn to trim nails when you have the right clipper.
Understand dog nail anatomy
Dog nails consist of an outer hard shell and an inner blood supply known as the quick. The quick doesn't extend all the way to the tip of the nail and it's this horny end that you'll need to cut away.
Nails that are lighter in color are easier to clip as they are usually softer than dark nails. It's also easy to look at the light nail and see the pink quick inside to avoid cutting into it. On dark nails, a glance at the bottom will give you a clue to where the dog's quick lies by looking at where the light tissue under the nail ends.
Clip nails at a 45-degree angle, following the same slant as the nail's growth. On dark nails, clip a little at a time and look for a change in color to light grey with a pinkish hue that indicates getting close to the quick.
Remain calm and keep your dog steady should you clip into the quick and draw blood. A styptic pencil can quickly stop the bleeding. Don't let your dog run off at this point —bleeding will stop in about 5 minutes or less, but your dog can leave little dots of blood throughout the house.
Best manual guillotine clippers
The guillotine type of clipper is the easiest for using on dogs, according to Washington State University College of Veterinary Medicine. The device slides around the pet's nail and you squeeze the handle to activate the blade. Keep the sliding blade facing you to prevent cutting closer to the blade than you intend.
Resco USA-Made Deluxe Dog and Cat Nail/Claw Clippers come in several sizes allowing you to order a model with the right opening for your dog. The small dog version has a 5/16" opening and the style for large dogs has a 3/8" opening. Resco invented the guillotine-style dog nail clipper in 1937.
Allstar Innovations PetiCare LED Light Pet Nail Clipper is a guillotine-style device with a few extra bells and whistles. LED light and 5x magnification let you really see what you're doing to eliminate any guesswork. A nail trapper catches the trimmed bits to make cleanup easy.
Best scissors-style clippers
Scissors-style clippers are ideal for very curved nails, such as dewclaws. A shield behind the cutting blade is designed to keep you from inadvertently cutting too much off of the nail.
gonicc Dog & Cat Pets Nail Clippers and Trimmers - with Safety Guard rank as Amazon's Best Seller for this type of clipper. A locking mechanism prevents accidents and a nail file tucks unobtrusively into the handle for storage. Customers commented that this was the sharpest scissors-style clipper they had ever purchased.
An alternative to clippers: Grinders
If you're concerned about clipping into your dog's nail quick, a grinder can be an easy solution. The rotary tool sands down your dog's claw, cauterizes and smooths the end all at the same time. A grinder makes it easy to have nice round ends on your dog's nails that won't scratch flooring or people.
Although you might be tempted to get your small grinding tool from your workshop and give it a try, most dogs find the high-pitched whine of woodworking tools to be too stressful. The best dog nail trimmers have a relatively quiet motor that won't send your dog scurrying.
Casfuy Dog Nail Grinder Upgraded - Professional 2-Speed Electric Rechargeable Pet Nail Trimmer ranks as Amazon's top seller in pet claw care. It has a diamond-tipped grinder for efficient trimming and a cordless design that you can recharge in any USB port. Hooded access to the blade lets you insert your dog's nail at the correct angle and wards off any accidental contact with paw pads, toes, or curious noses.