​Cuteness may earn compensation through affiliate links in this article.​
Whether it's a puppy, an adult, or a senior in their golden years of life, bringing home a new dog is an exciting time for everyone. Older dogs still have a lot of life, love, and companionship to offer a person, and may require a few additional accommodations in their advanced age.
Be sure to ask about any medical conditions or special arrangements you may need to make for your new friend. Having them at home ahead of time will make the first week together as stress-free as possible.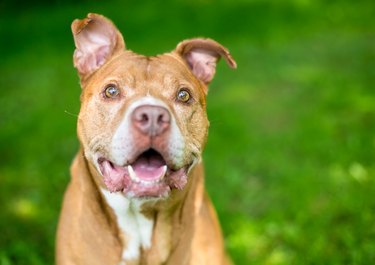 Keep these things in mind
Generally, your senior dog will need most if not all of the same things a younger adult dog might require in order to stay happy and healthy in their new home. Items like food bowls and water bowls, poop bags, chew toys, an ID tag and a toothbrush and toothpaste all have spots on the adult dog checklist, which is part of senior dog care as well. In addition to the basics, some senior dogs may require a little extra care and attention, and the exact items in need will depend on your dog and his health.
Some common difficulties that older dogs face include joint pain, mobility issues, incontinence — this is not the case for all senior dogs, but if you notice your dog having problems in these areas it is recommended that you consult your veterinarian immediately to establish the proper course of action. In the meantime, or in addition to treatment, there are many products that can make day-to-day life more comfortable for an older canine.
Provide relief for joints
It happens to the best of us — stiff or achy joints. If your dog is having trouble walking, standing or sitting, or if his mobility is more limited than before, you should consult your veterinarian in case arthritis treatment is needed. In addition to, or in some cases, in place of, medication and exercise recommendations, supplements formulated with glucosamine, chondroitin, and essential omega fatty acids to support flexibility and tissue growth can be found at retailers and online, including Well & Good Senior Stage Joint Support.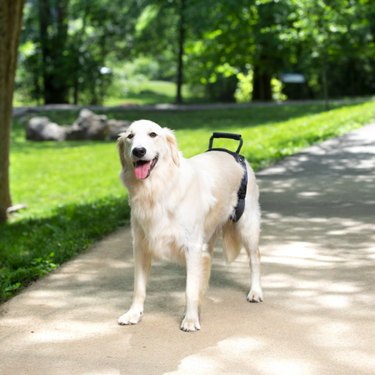 For dogs with noticeable pain in their step, supportive braces may be especially helpful. The Neo Alley Rear Leg Dog Brace can add extra support for dogs who may have trouble putting weight on a certain leg, or who may be prone to injuries in that area.
Some older dogs may have trouble getting up on their own at all and may require assistance from their guardians. Helping a dog with a compromised rear section get up off the ground is much easier with a sling or harness to lift them, like the PetSafe CareLift Handicapped Support Dog Harness. It will also make walking easier on both of your backs.
Feed appropriately for age
Pet food designed for senior dogs comes in many formulas, so it's important to understand your new pet's specific needs before deciding on a diet. Medical conditions like kidney disease or food allergies require different dietary components, so get a consultation from your vet before switching to a new food.
Look for healthy ingredients. Meat should be first on the list, but other superfoods like blueberries, kale, quinoa, chia seeds, and spinach deliver more nutrition per bite than foods with corn or other fillers as one of the first five ingredients on the list. Diamond Naturals Senior Formula Dog Food.
Older dogs that eat slowly could also be experiencing tooth, jaw, or neck pain when they chomp on hard kibble. Have your dog's teeth checked and talk to your vet about switching to a wet diet. Foods such as Authority Ground Entree Mature Adult Wet Food deliver tasty flavors such as lamb and rice in a recipe that requires little chewing by sensitive mouths.
One of the many benefits of having a dog in her golden years is that you will, in many cases, have a companion who appreciates a nice nap, or several, throughout the day. Older bodies can benefit from added support in their bedding materials, so finding the right dog bed can make those several hours of slumber more comfortable. Like the right food, the perfect bed will depend on what your dog could use a little help with. Some dogs may benefit from a heated bed, like the K&H Ortho Thermo Bed, which can help raise a dog's body temperature, and ease stiff joints and muscles. Many pet parents also opt for orthopedic beds made with memory foam, like the Top Paw Orthopedic Mattress, which offers ample room for a dog to stretch out, and comes with a machine washable cover. An elevated dog bed, like the Coolaroo Steel-Framed Bed, may be especially helpful for dogs experiencing pain, and who may not be able to find comfort in beds that rest on the ground.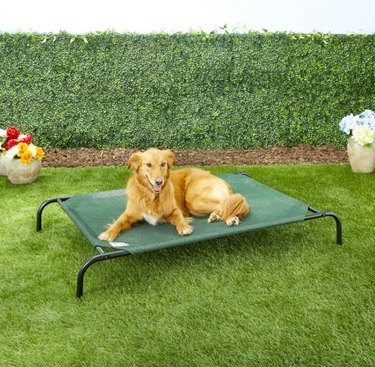 Understand incontinence solutions
It's certainly not the case for all older dogs, but some may experience incontinence issues later in life. Reusable dog diapers, like the Pet Parents Washable Dog Diapers, are available in sizes extra-small to extra-large, are designed for both male and female dogs, and boast a soft material that's leak-proof, won't stick to fur, and are machine washable for repeated use.
Many arthritic pets have trouble reaching places they use to jump or climb up on with ease, like inside of the car, on the couch, or even in your bed if that's how your household rolls. Pet stairs can make climbing up and onto surfaces easier on dogs who may be limited by stiff joints or other mobility issues. When selecting a set of stairs, be sure to find one that's the right width and weight threshold for your dog. The Pet Gear Easy Step 2 is a highly-rated choice for dogs up to 150 pounds as it runs a little wide, and has carpet strips on the surface and rubber grips on the bottom, making for a no-slip stair ascension for your canine friend.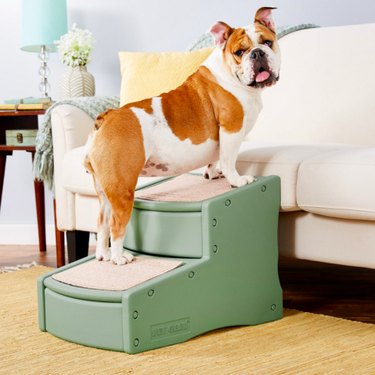 Similarly, a folding ramp, like the Pet Gear Full Length Tri-Fold Dog Car Ramp can make it easier for larger canines to get into and out of cars, allowing them to continue to join you and your family on regular outings.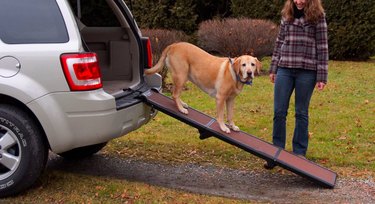 Always check with your veterinarian before changing your pet's diet, medication, or physical activity routines. This information is not a substitute for a vet's opinion.