Everyone knows that a pet bed needs to be soft and comfortable, supportive where it should be, and big enough for the dog or cat to either stretch out or curl up — and it should have room for at least one favorite toy tucked away in there too. What else does a dog or cat bed need? It needs to look good and be cute enough that we say "Awww" every time we see our best friends using it. Even if you don't have a Simba or a Goofy, you can still bring the magic of Disney into your home with any of these 5 super cute Mickey Mouse & Friends dog and cat beds.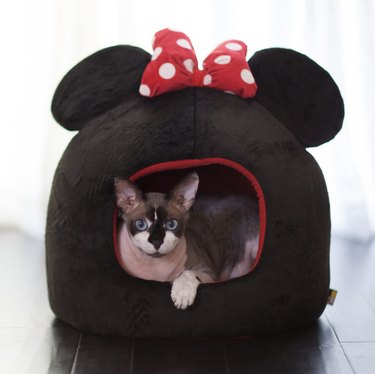 1. Disney Pluto Pillow Cat & Dog Bed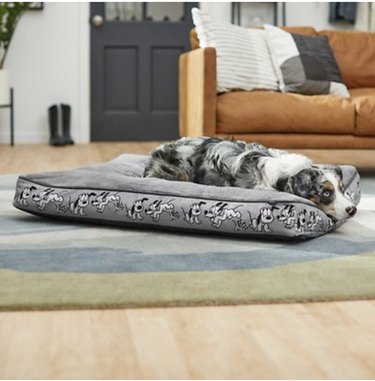 If your dog or cat is "best in show" like Pluto is, they'll love this Pluto-decorated pillow bed. Whether they want to lounge or sleep, they'll love the ultra soft fabric and you'll love the cute Pluto cartoons around its edge and the fact that it's washable. The fabric is filled with fluffy yet supportive polyester fiber filling. One nice thing about a pillow bed like this is that its low edges make it easy for any dog or cat to step on to it, which could be great if they are older or have hip issues and can't move around as much anymore, or if they're a puppy Pluto who is still growing. You'll find this Pluto pillow bed only on Chewy, and it's available in multiple sizes to fit small dogs, puppies or kittens, all the way up to larger breeds.
2. Best Friends by Sheri Disney Minnie Mouse Pink Shag Fur Hut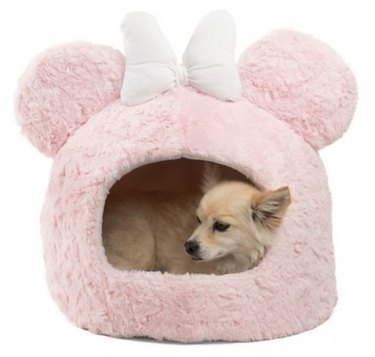 Your little "Minnie" will look cute as a button in this pink fluffy hut with mouse ears. Made especially for cats or small dogs that weigh up to 15 pounds, your "paw-tner" will love this snuggly hut that they can climb into and cuddle up. The circular-shaped soft pillow that fits inside the hut is removable and reversible. If it gets soiled, just toss it in the washing machine. The bottom is made from water-resistant nylon for hassle-free cleaning.Touch the faux mink fur and you'll be transported to a world of velvety softness. This one's only available in one size, for your mini-Minerva (Minnie's real name is Minerva but she hardly ever uses her full name!), but it's also available in plush blue faux fur for your mini Mickey. This pet bed measures 15.5 inches in length and width, and 18 inches in height.
3. Best Friends by Sheri Disney Minnie Mouse Covered Cat & Dog Bed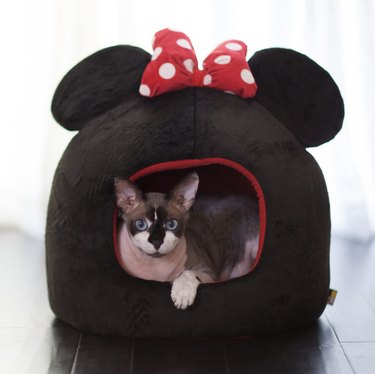 While the above pink (or blue) bed may be cute as can be, the black and red faux fur hut with the bow has the classic Minnie Mouse look that is unmistakable. The reversible pillow is solid red on one side and red and white polka dots on the other side to match the hair bow. If your mini Minnie likes to hide or curl up in a cave-like space and burrow, she'll love this little hut-style bed with 360-degree coverage for safety and security. The bow and ears are firmly stitched to the top. The pillow is removable and the cover is safe to machine wash and dry. Remove the pillow, and you'll find that the bottom of the bed is a waterproof fabric that is easy to clean.
Of course, there's also a Mickey version of the bed that has the classic black mouse ear shape but without the hair bow. Mickey's bed has a black and white Mickey pattern on one side of the reversible pillow and solid red on the other. Like the hut beds above, these are 15.5 by 15.5 by 18 inches are best for dogs and cats that weigh 10 to 15 pounds.
4. Mickey Mouse 2-in-1 Honeycomb Hut Pet Cuddler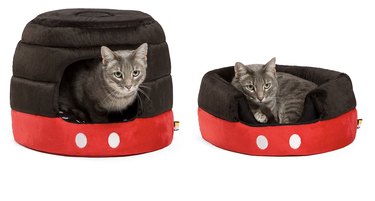 Try this Mickey Mouse-themed pillow bed for your cuddle baby. Designed for small dogs or cats up to 15 pounds, this round pet bed has a 2-in-1 design that magically turns it from a beehive-shaped hut to a round bed with low sides. Just push the top down to make it disappear into the bed bottom. Remove the cushion pillow for cleaning, and reveal the water-resistant nylon bottom. The whole thing is safe to wash and dry. Designed in classic black on the top with a dapper red bottom, there's no question which famous mouse inspired this bed. The removable and reversible pillow has a black and white Mickey print on one side and is solid plushy black on the other. Sized 14 inches high by 17 inches wide by 17 inches deep.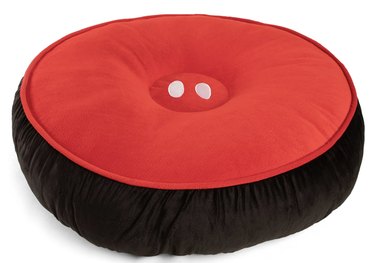 The only thing cuter than your pooch or purr friend lounging on this Mickey Mouse pet pouf is the pouf itself! You'll love the classic Mickey-inspired red and black color scheme, and the cute white buttons in the center of the pillow. This one's made for larger dogs up to 45 pounds, though if you buy it for a smaller cat or kitten they'll love it too. Its outer shell zips away from the polyester filled cushion and is completely machine washable. If there are any accidents, the bottom is a water-resistant nylon material. Sized at 8 inches off the floor and 27 inches in diameter. Look closely to find a hidden Mickey embossed in the fabric.