Some people find it embarrassing, other people find it hilarious, but wherever you stand on the issue, humping in dogs has surely raised some questions — mainly, why do they do that? While humping, or mounting, among dogs is often a display of totally normal behavior, sometimes it can indicate underlying medical issues that affect the genital region, like urinary tract infections. Dog humping is usually not a cause for too much concern, but you can take steps to curb your dog's behavioral mounting of other dogs or people if it has become a problem.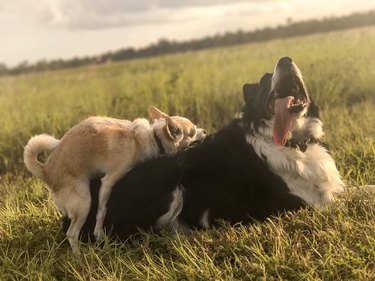 Dogs hump for a number of reasons and no one answer will apply to every dog in every situation. Altered adult and young dogs often display mounting behavior for social reasons, usually to indicate their status among each other, and sometimes to assert control over a particular situation, dog, or person. Dogs can also engage in humping during play activities, and while this is usually normal behavior, excessive humping may be seen in dogs who have limited social skills. Sometimes, humping can be sexual in nature as well, often done as a masturbation technique (that's right, dogs can and do masturbate!)
Humping can also occur as a self-soothing method, a response to stress or excitement, or may even be a compulsive behavior. Excited or compulsive humping can be displayed around other dogs, although it's not uncommon to see it acted out on people, or inanimate objects, like blankets, toys, or pillows. In some cases, humping can be symptomatic of an underlying medical condition, including urinary tract infections, allergies, or priapism, which is a condition that results in persistent erections which cause pain.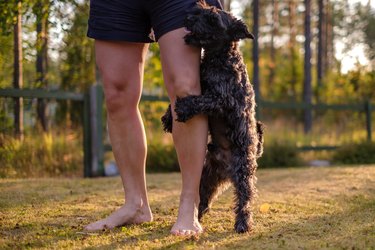 In most cases, humping among dogs is not really anything to worry about, especially if the dogs at hand have healthy play boundaries and one isn't obsessively chasing and pinning the other one down. Any dog has the capacity to engage in mounting behavior, be they male dogs, female dogs, shy dogs, or even dogs who have been spayed or neutered. Concerns could be raised, however, if your dog or those around him are made uncomfortable by his humping, at which point seeking measures to stop the behavior will likely benefit everyone, your canine included.
In the case of medical problems, humping that's accompanied by excessive licking or whining may be a red flag that something is wrong, and should warrant a visit to the vet's office. Curbing compulsive humping may benefit from the help of a certified behaviorist, who can spot your dog's trigger and redirect their focus toward more positive and healthy behaviors.
If your dog tends to hump often, he will likely encounter at least a few dogs who do not appreciate being controlled or played within that manner, which can result in a scrap. If you know that your dog tends to hump recklessly, avoiding social places like dog parks and playgroups might be a good idea, at least until you've got a training regimen underway.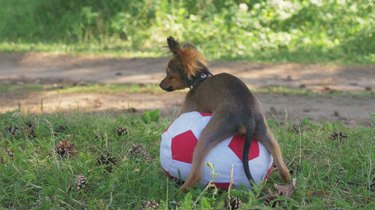 The best way to curb humping in dogs is to identify why your dog is humping in the first place, which can be made easier with the help of a qualified dog trainer. From there, the three of you can work to establish a cue to redirect your dog's attention before she engages in mounting by using positive reinforcement, which rewards dogs for desired behaviors rather than punishing them for undesired ones. Additionally, ruling out any medical issues that may lead to humping or mounting can save you and your dog a lot of unnecessary stress, as well as help her find the help she needs.
Humping is seen far more in younger dogs who have not yet been spayed or neutered and is usually done as a sexually motivated act. Spaying or neutering your canine won't guarantee that humping won't happen, but it can remove the sexual element, which can reduce mounting. In addition to training, keeping your dog distracted with toys or exercise can be a great deterrent for a masturbating dog, and discouraging the humping of people by turning your body around or standing up if you're seated, then redirecting your dog's attention can help to establish good habits, with consistency.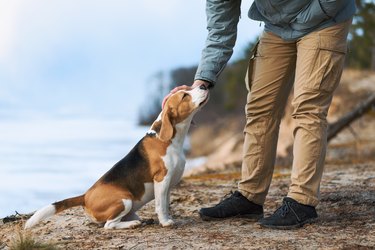 In most cases, humping is not really anything to worry about, as it's usually enacted as social behavior, or possibly a sexual one. Compulsive humping or humping done as the result of an underlying medical issue should be addressed by a behaviorist or veterinarian, respectively, as both are likely causing some discomfort for your dog.