A dog's sense of wonder and adventure is a big part of the fun of doing outdoor activities. Whether you're going camping, taking a road trip, or just going for a hike to wherever the end of the trail takes you, there are new smells to smell, new sights to see, and new adventures for both of you. Whatever it is you're doing, the right gear and accessories on hikes and outdoor excursions can make the experience safer and more fun for both you and your dog.
Whether your dog is the type to carry their own weight and tote their own food, water bowl, and treats, or whether your little adventure dog needs you to carry them, you'll go farther and have more fun with the following hiking gear made for adventurous dogs and their humans.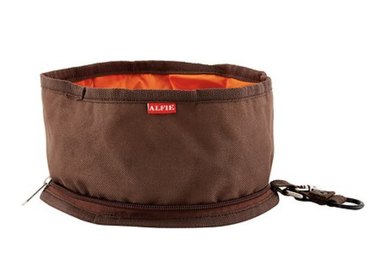 One of the most important things to bring on any adventure is plenty of water for both you and your pet. This collapsible fabric portable dog bowl is light and holds 6.25 cups of water to slake even the biggest thirsts. It's an easy solution for feeding your dog or providing her with water while on the go.
Its durable nylon fabric can be folded in half, and a zipper keeps it collapsed and easy to stuff into a bag. In between uses, it's easy to clean and fully washable. It's collapsible, but it won't accidentally collapse, even when your pet bumps the bowl.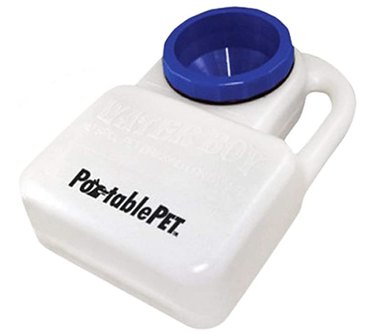 A portable water/food bowl is nice, but maybe an all-in-one water bottle and water bowl is the way to go. The design means there's less to keep track of, and you instantly know how much water you have. This Heininger brand travel water bowl and water bottle holds a remarkable 3 quarts of water. The bowl unscrews for easy filling and cleaning.
Because the bowl is attached to the water reservoir, more water can flow in while your pet drinks. It stands upright and lays flat to give your dog a built-in water bowl. It's engineered not to splash or spill, which means your dog can use it on the trail or even in your moving car.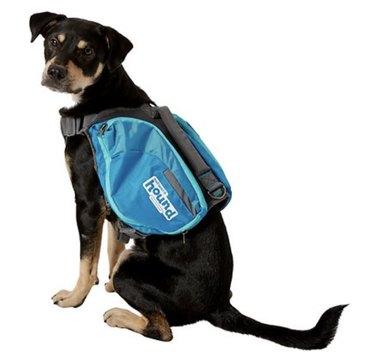 Equip your dog with its own trail pack. A day pack that is sized for your dog means your dog can hold its own gear — and you can carry more, or less, of whatever you want to carry. With a pack like this one by Outward Hound, pockets and pouches hold gear like a collapsible water bowl, poop bags, food, treats, and a toy.
The DayPak is a light-capacity pack featuring a saddlebag-style design, with pockets on each side of your dog's back. The four pockets expand, and the D-rings mean it's ready for the leash, whether you're just running around the neighborhood or going on a day trip. This DayPak can be used with or without a leash attached to it. The water-resistant fabric is perfect for outdoor adventures and easy to clean.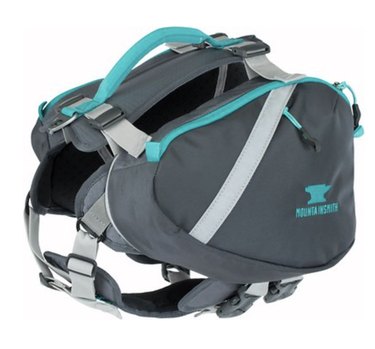 Mountainsmith's K-9 Dog Pack is made for a little more rugged adventures. While a day pack lets your dog carry some of their own gear, this one also has a handle on the top. That's a useful feature for the occasions when you may have to lift your dog over a puddle or a fallen tree across the trail.
This one has a four-point adjustable chest harness, an adjustable back harness, a non-slip buckle system that is covered with padding, and breathable mesh panels. The pack is water-resistant and can be hand-washed. The attached pannier compartments can hold just about all the gear your companion will need, and if you happen to have the Mountainsmith 2019 K9 Bed (not included), it can fit right inside.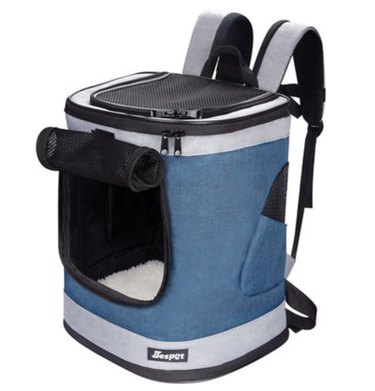 Just because your adventure dog is on the small side doesn't mean they can't come along with you no matter what you do. With this small backpack carrier that holds up to a 16-pound dog (or cat!), they can reach the summit at the same time you do. Made for extra small and toy dog breeds, this backpack contains enough space for your buddy to stand up and turn around or curl up.
A mesh door on the back means they can look around, and a mesh zippered top lets them poke their head out. The backpack straps are padded for your comfort, and the side pockets hold bags, treats, leashes, or anything else you bring. As a bonus, this carrier is also airline-approved, so if your adventure involves flying instead of hiking, your little guy is ready to go.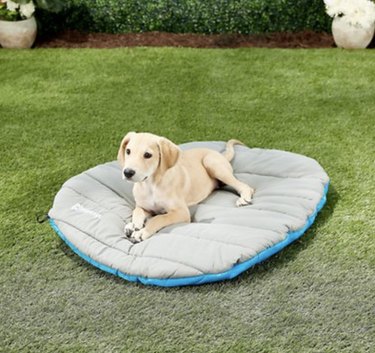 When you get to your destination, you and your pup will need a refreshing place to relax and sleep. It's not realistic to pack your dog's full-sized dog bed on the trail, so this packable, portable travel pillow dog bed is the perfect thing. Just squish it down into its own nylon stuff sack, which is included.
With its quilted poly-suede cover and durable water-resistant rip-stop bottom, it's ideal for camping, the beach, or wherever you end up. It has a soft loft like a sleeping bag and measures 30 x 39 inches, which is big enough for small- to large-sized dogs. It's completely washable and can hang to dry with a sewn-in hook.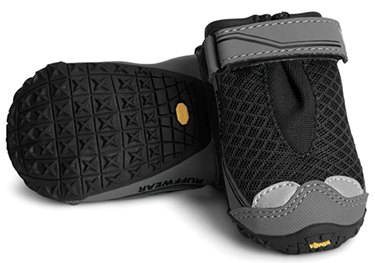 Whether you're hiking, running, or biking along with your best friend, you might not know what they're stepping into. It could be thorns, broken glass, or even just mud. These rugged trail-ready boots protect their paws from just about anything. They're available in sets of two boots and four boots, so if they do get used so much they're worn out, they're easy to replace.
The rugged Vibram sole is just like the shoes you wear, and it gives them traction and flexibility so they can keep up with you even better than they already do. They're easy to put on, with a hook and loop closure that provides a snug fit on any paw. Once on, the breathable mesh keeps them comfortable. Best of all, they are easily washable in the washing machine on a gentle cycle.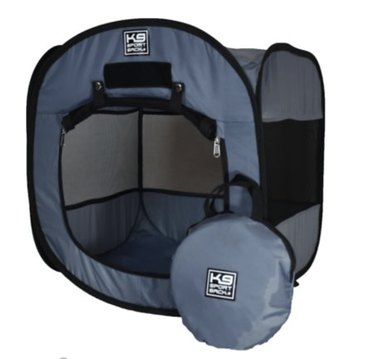 Keep your adventure dog out of the hot sun, blowing sand, or whatever the trail throws at you with this easy-to-assemble pop-up tent. This tent easily fits into any backpack or bag and pops up in seconds to provide a little hideaway to catch some zzzs or just catch some shade. Made from rip-stop nylon and a metal frame, it's rugged but still lightweight. It's even got a mesh window so your friend can be part of the action but be safely crated.
When the small tent is packaged, it folds into a bag with an attached handle that's only 9 by 7.5 inches. It's also available in a large size that pops open to 30 by 30 by 30 inches. Four fabric loops allow for it to be firmly staked into the ground and stand up to even the windiest summits. Make it your own with a customizable hook-and-loop area so you can add your, or your pup's, personal flair.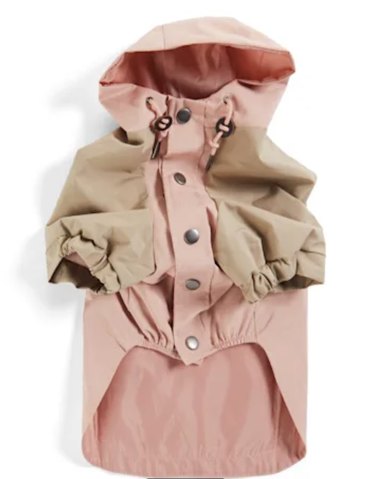 Just in case your little girl gets caught in a rain or snowstorm, pack this snazzy extra small raincoat (many colors, styles, and sizes are available, including baby blue). Never let your adventure get rained out, no matter where you're headed. Not only is this raincoat super cute, but it also folds into a travel-size pouch you can easily bring along.
The rubber is made from recycled materials and goes on and off easily with a zipper. A stitched opening allows you to hook up their leash. It's lightweight and water-resistant, but since it isn't lined, it won't heat your dog up on warm days.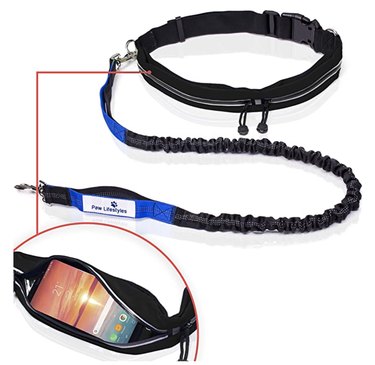 When you're trying to keep your balance on the trail, you don't want to have to hold on to the leash of a dog that's running alongside you. Instead, try this retractable leash that wraps around your waist. As a bonus, it has a secure zippered pocket that also lets you store your smartphone. Other pouches in the 48-inch adjustable waistband with a shock-absorbing bungee leash hold your keys, ID, money, or dog treats and bags.
Sip your water anytime, take a photo, or use your hiking pole while your dog is secured alongside you hands-free. Even though you won't need your hands for this leash, you can still easily guide them with the built-in handles — one that's near your waist and one that's near their collar. Reflective trim keeps you both safe when you're jogging through the neighborhood, and a 2-inch heavy-duty clip and D-ring let you attach a poop bag holder, small flashlight, or anything else you might need.
No matter how practiced you are in having outdoor adventures with your dog, it's easy to forget something crucial that reduces your enjoyment of the day. When you have the right gear, you can worry less about safety, overheating due to lack of shade or lack of water, or comfort when you reach your destination. Bring along gear that lets you keep the important things close at hand, and maybe even lets your dog pack their own gear. When you have everything you need, you can focus on the smiles and not the sweat.