You might assume that any toy could technically be a tug toy, but that's not the case. Tug toys are designed to be yanked back and forth between you and your dog without breaking—all in good fun, of course. Unless a toy is specially made for tugging, it would likely break into pieces, which is messy, costly, and dangerous for your dog to ingest.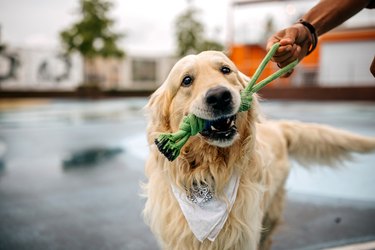 There's a belief that playing tug can encourage bad behavior in dogs, but it can actually be helpful. Playing tug can help dogs build confidence, promote impulse control, strengthen the bond with their owners, and keep them physically and mentally stimulated.
Dianna L. Santos (KPA-CTP, CPDT-KA, CNWI), owner and lead instructor at Dog Sport University told the American Kennel Club (AKC) that "allowing a dog to win means they can celebrate with their prize, but it also presents them with a wonderful opportunity: to choose to bring the toy back to you on their own! It sounds so simple, but this is a huge shift from most interactions between dogs and handlers. Instead of the handler nagging their dog for the toy or the dog hoarding it away from them, the dog chooses to bring it back to play some more. This is liberating to the dog and can take your relationship to the next level!"
What to Consider When Buying a Tug Toy for Your Dog
​Size:​ Tug toys come in all shapes and sizes. The size you go with should depend on the size of your dog. Puppies and small dogs need small toys that comfortably fit in their mouths. Medium and large dogs need larger toys that won't fall apart and pose a choking risk, as they tend to be more aggressive in their playing and chewing.
​Shape:​ A solid tug toy needs to be as easy for you to grip with your hand as it is for your dog to grip with their teeth—otherwise a game of tug wouldn't last very long. Generally, tug toys have some sort of handle, ball, or knot on one or both ends.
​Material:​ Most tug toys are made of rope or rubber. Rope is the most popular option as it's inexpensive and holds up well, but it does pose the risk of falling apart if chewed on. Rubber is pricier (relatively speaking—none of these toys will break the bank) and can be easier to hold onto if it's the right shape. It's also easier on your dog's teeth and mouth.
Take a look at the best tug toys for dogs of all sizes below.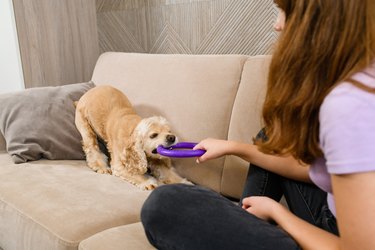 The Best Tug Toys for Small Dogs
Now this is an Instagrammable tug toy. Not only is it pretty, but it's also made from 100% natural cotton with reinforced seams and stitching and 100% natural rubber with a reinforced core to make it more durable. It's also BPA-free and meets food safety standards. The two different shapes and textures make it more interesting for dogs and easy to hold onto for humans.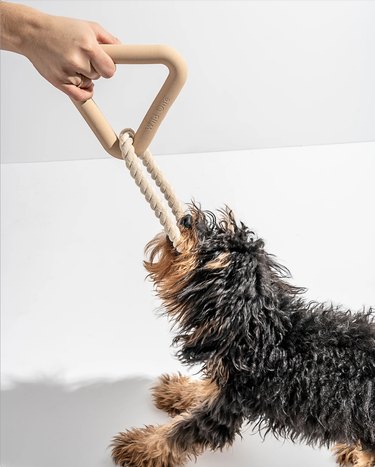 West Paw Zogoflex S-Shaped Tug Toy
We all know that it doesn't take long for dog toys to get pretty filthy, but you won't have to worry about that with West Paw's Zogoflex, as it's dishwasher safe. So just pop this little toy in for a good rinse and it's good to go. It's also 100% recyclable, BPA-free, phthalate-free, non-toxic, and FDA-compliant. The S shape of this rubber toy makes it easy to hold onto while your dog tugs on the other end, plus it stretches to two times its length when pulled. It also works well as a fetch toy as it's easy to throw and easy for dogs to carry around in their mouths.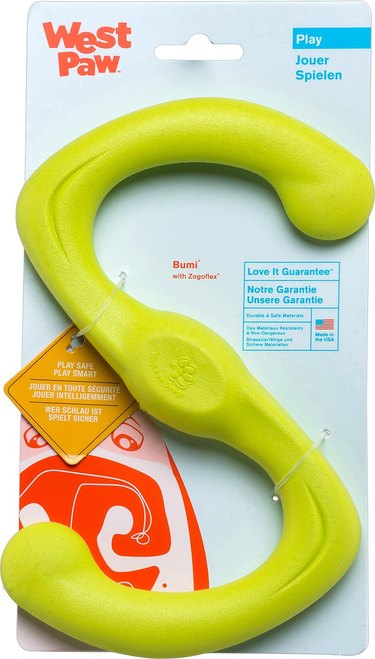 The Best Tug Toys for Medium Dogs
Kong products are known for their strong rubber material and flexibility. The double rings on this toy are designed specifically to withstand the most vigorous tugging. Something worth noting about this toy is that it's made with Kong's Control-Flex technology, which prevents it from snapping back into your dog's face if you let go. According to the company, the toy is dishwasher safe but it might hold up better if it's hand washed.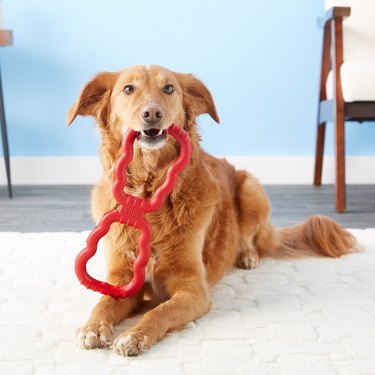 Chuckit! Ultra Duo Dog Tug Toy
Whether you want to play tug or a fun game of fetch, the Ultra Duo toy from Chuckit! is great for both. Two rubber balls attached to the ends of a rope make the toy easy to hold onto during a game of tug with your dog (or a game between two dogs). The balls have raised flexible rubber sides that are gentle on mouths, and if you do play fetch with it, you'll notice that the balls have high bounce, high buoyancy, and good visibility. If you want to spice things up (and give your arm a break), it's compatible with the Chuckit! ball launcher.
Tonka makes dog toys and yes, this one is as durable as it looks. The toy consists of three miniature tires that are hooked together for endless games of tug. It's a toy that's made to last, plus it's waterproof, so if it's accidentally left outside after a play session, you don't have to worry about it getting ruined by rain, sprinklers, or morning dew. It comes in a 10.5-inch rubber flex tread or a 15-inch mega tread.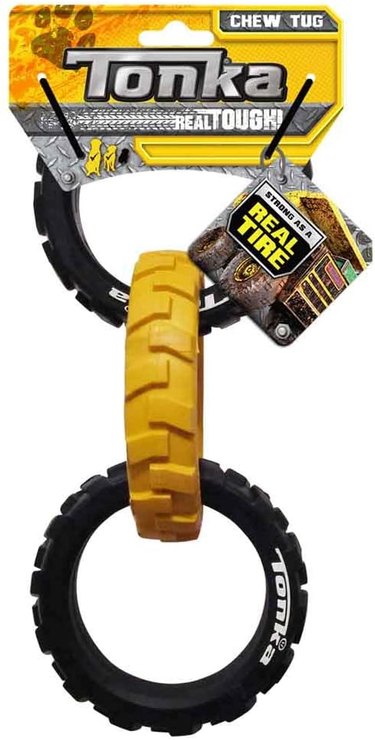 The Best Tug Toys for Large Dogs
ZippyPaws Squeaky Monkey Rope
This toy offers the best of both worlds—a cozy plush monkey combined with a tug of war rope. A 2/3-inch thick rope sits on both sides of the monkey for simultaneous tugging, which happens to be the same rope thickness used by rock climbers, so you know it's durable enough to last. To make things even more fun, the toy has a squeaker inside that grunts when pressed. The monkey is available in four colors: blue, green, purple, and red.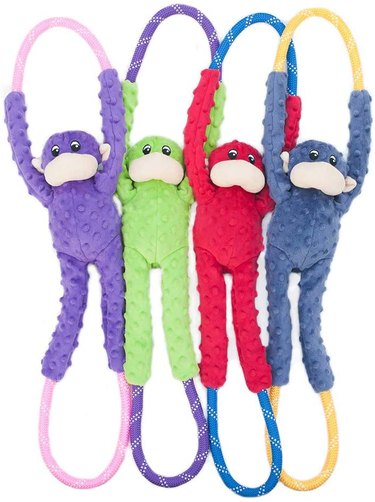 Tuffy's Ultimate Tug-O-War Squeaky Plush
This toy is designed for a good ol' fashioned tug-of-war game between two dogs. Multiple layers of material add to the durability so you can trust that your dogs will play together without ripping the toy apart. Made of plush fabric with soft edges, the toy is easy on the gums and can also make for a cozy cuddle buddy. A fun perk is that it floats in water and is machine washable. The toy is available in four colors/designs: camo blue, pink leopard, red paws, and yellow bones.
Pacific Pups Rope Toys for Aggressive Chewers
Why buy one dog toy when you can buy a bundle of 11? Your dog will never have to search for a toy because the chances of there always being one nearby are pretty high. This bundle is jam-packed with various rope toys, most of which make for a fun game of tug, with the exception of a giraffe and a carrot toy that are both designed to clean teeth. Rope toys can be dangerous for dogs if they fall apart and the pieces are ingested, but Pacific Pups stands firm that these toys have the durability many rope toys don't. The toys are tested in a lab for any type of toxicity before they are sold. Also, a portion of every purchase supports Pacific Pups Rescue, a non-profit organization in California that rescues dogs from high kill shelters.