Does your dog need a fitness routine? The answer might surprise you! If your dog is a couch potato or a canine athlete, they can benefit from a structured conditioning and fitness routine. It has been shown that having a dog also helps to keep people more active. Dogs can go from sleeping all day to then playing hard at the park and running after a ball — which can lead to wear and tear on a dog's body and injuries. It's important to make sure your dog is properly conditioned before they start to exercise, just like wouldn't get off the couch and then go off and run a marathon.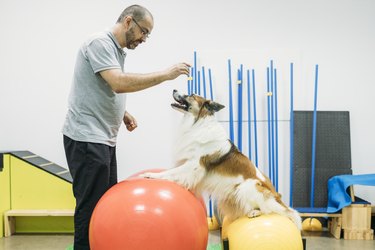 What is Canine Conditioning?
Canine Conditioning is the dog equivalent of what humans do at the gym. The goal of conditioning is to build muscle tone, decrease the likelihood of injury, build core strength and balance. Canine Conditioning has been growing in popularity for many years amongst dog lovers who train and compete with their dogs in dog sports such as agility, flyball, and other high-impact activities. However, conditioning isn't just for canine athletes — it is also a great way to keep all dogs feeling strong, healthy and active. Canine Conditioning exercises and activities involve teaching dogs to balance on their two feet, and then on four feet, using a variety of safe but unstable surfaces like inflated exercise discs. This is to build your dog's core strength and have them perform a variety of exercises and behaviors to support the development of their muscles.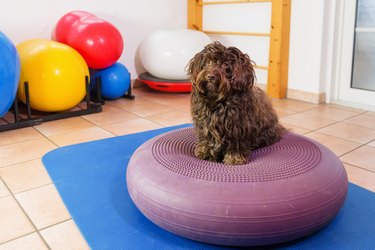 Get a vet check beforehand
Before beginning any new kind of fitness, conditioning, or athletic routine, it's important to ensure that your dog is healthy first. Schedule an appointment with your veterinarian for a physical and talk about your fitness goals and plans. Your vet will be able to advise you about any preexisting conditions, exercise restrictions, or any other concerns they have about your dog doing fitness training. For example, if your dog is overweight, your vet may have specific recommendations to gently increase your dog's level of fitness.
If you and your dog spend time training or trick training, chances are you are already doing activities that are helping your dog to build their muscles. One easy conditioning exercise that many dogs begin learning in puppy kindergarten or basic obedience classes are "push-ups." For this exercise, your dog will move between a sit, a down, and a stand position. If your dog already knows how to sit, down, and stand on cue, you can ask your dog to move between those positions. If your dog is still learning those cues, you can use a treat to lure your dog between the positions. To do this, get your dog's attention with the treat and bring the treat up and back to lure them into a sit, and then bring the treat down toward the ground to lure your dog into a down position. Then, bring the treat up and forward to lure your dog into a stand position. The better your dog gets, the more fluidly and quickly your dog can move between the positions.
Take a canine fitness class
Canine fitness or conditioning classes are becoming a popular offering at dog training facilities and kennel clubs across the country. Some training centers have yoga classes for dogs or classes designed for dogs and people to do yoga together! There are a few professional certifications that dog training professionals can obtain to prepare them to offer conditioning courses to students. The American Kennel Club (AKC) Fit Dog Program certifies trainers for teaching basic fitness classes. For more advanced learning The University of Tennessee has a Certified Canine Fitness Trainer Program) (CCFT) that provides hands-on learning and certification of trainers in Canine Conditioning and fitness. If you're looking to build your own knowledge of canine fitness or looking to work with a trainer to condition your dog, be sure to ask about their experience and qualifications. Keep in mind that canine conditioning classes and workshops are appropriate for healthy dogs who don't have orthopedic injuries or other health conditions. Dogs who have ongoing health considerations should do conditioning with a veterinary physical therapist.
See a veterinary physical therapist
If you have a senior dog who is slowing down or a dog who has experienced any kind of orthopedic injury it's a good idea to start your canine fitness journey by working with a veterinary physical therapist. They will give a complete examination of your dog and will be able to create a specialized and individualized fitness plan. This may include clinic sessions for structured exercise and work on specialized equipment like underwater treadmills, as well as homework with stretches and exercises that you and your dog can do at home. Developing a Canine Conditioning routine can be life-changing for dogs who have or develop medical conditions, are recovering from injuries, or are dealing with the challenges of aging.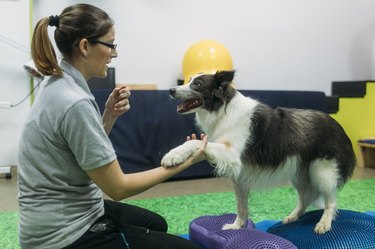 Be cautious with stretching
This is something that you'll want to work with a professional on, to help you learn a hands-on the right (and wrong) way to stretch your dog. Stretching sounds like a good thing, but it is easily possible to cause a soft tissue injury to your dog by manually stretching their muscles too far. Because of the risk of injury, stretching is best done under the guidance of a professional. A veterinary physical therapist will show you how to safely and appropriately stretch your dog.