Cats aren't always known for being cuddly and affectionate. However, some pregnant cat owners have noticed their cats' behaviors changing ⁠— certain cats have become more attentive to their humans. Are cats able to sense pregnancy, and if so, how do they feel about pregnant people?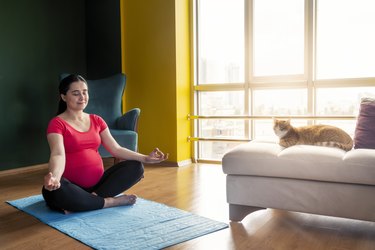 Cats are equipped with superior sniffing abilities that far exceed that of humans. A cat's sense of smell is around 14 times more powerful than our own, and their noses possess over 80 million scent receptors (compared to 5 million in humans). A specialized structure called the vomeronasal organ, or Jacobson's organ, further aids cats in detecting subtle smells. Located on the roof of the mouth, Jacobson's organ is mainly responsible for picking up and analyzing pheromones (scent chemicals). If you've ever noticed your cat pulling a strange face, with its mouth wide open and lips curled into a bit of a grimace, you've likely witnessed them harnessing the power of this organ. This admittedly funny-looking expression, called a Flehmen response, allows cats to pass scent molecules over the Jacobson's organ in order to decipher them.
Can cats sense pregnancy?
Some cat owners are sure that their cats not only know when they're pregnant but they may have even known before they did. When a human member of a cat's household is pregnant, behavioral changes in our feline companions are very common. What exactly is driving these behavioral changes, however, is a bit complex.
The main function of the Jacobson's organ is to detect chemical signals given off by other cats, primarily for mating purposes. Though there has been almost no research on this subject, it is thought that cats may be able to smell the hormonal changes that occur during pregnancy. When a person becomes pregnant, they begin producing higher levels of the hormones estrogen, progesterone, and human chorionic gonadotrophin. While it's well-known that dogs are able to sniff out diseases like diabetes and cancer, it's unclear if cats have the same abilities. But, based on what we know about the feline sense of smell, it's possible they can also detect certain chemical changes in humans.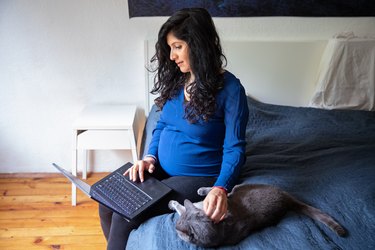 Aside from the hormonal changes, there are a number of physical and emotional changes that people experience during pregnancy that cats likely notice. Most kitty roommates (even the aloof and independent ones) are familiar with their humans' routines and usual behavior. If their human is suddenly spending more time in the bathroom with morning sickness (particularly when it's the cat's breakfast time), cats may notice something is up. Mood changes and fatigue can cause changes in people's behavior and body language that can also be picked up on by cats.
Are cats drawn to pregnant people?
Those who are expecting a new baby may notice their cats becoming more affectionate and attentive ⁠— following them from room to room, wanting to cuddle more, or uncharacteristically sleeping in bed with them. While it's only natural to draw a sentimental conclusion from these behaviors, the reason for this extra affection-seeking may be purely physical. During pregnancy, body temperature tends to increase slightly due to increased blood flow, heart rate, and metabolism.
Cats will notoriously seek out warm places to snooze, and body heat is no exception. With their small size, cats have a larger surface area to volume ratio than bigger mammals and lose heat at a much faster rate. Since they are drawn to toasty places, cats may simply be enjoying the extra heat produced by their pregnant human companions.
Some cats are bonded more strongly to their people than others and may become more clingy or attentive when their human is pregnant. They have likely picked up on changes to their humans' behavior and routine and might be a bit anxious as a result ⁠— cats are creatures of habit and won't understand that there is nothing to worry about. They may feel the need to stick close to their humans until they become more accustomed to these changes.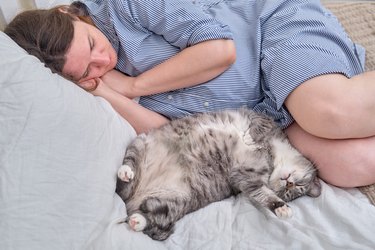 With their excellent sense of smell, it's possible that cats are able to detect the hormonal changes that occur during pregnancy, (though we don't know for sure). Cats are adept at seeking out the warmest spots to nap, and the increased body temperature of pregnant people could make them more interested in curling up with their humans than usual. Cats also likely pick up on the physical, behavioral, and routine changes that come along with expecting, which could make them more attentive and alert. It's normal for your cat's behavior to change a bit if you're pregnant, and you both might enjoy some extra bonding time before your new family member arrives.