Even when it's raining, dogs still need to go for walks. Relieving themselves is of course a necessity, but dogs also need walks for exercise and mental stimulation—and unfortunately, that basic need doesn't go away when it's raining. If your dog refuses to step outside in the rain, you've come to the right place. A raincoat might be just the thing they need to feel comfortable enough to get out the door.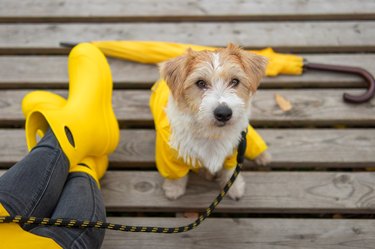 A dog raincoat is a tiny version of a human raincoat but fit for a dog. Its purpose is to protect dogs from inclement weather. They're made of waterproof or water-resistant fabrics and keep a large portion of your dog's body dry while in the rain. Some raincoats offer full coverage, including a hood and attached pants, while others have partial coverage. Keep in mind that unless your dog is used to wearing jackets or sweaters, it might take a few tries before they're willing to wear a raincoat.
What to Consider When Purchasing a Raincoat for Your Dog
​Size:​ To ensure you're buying your dog the correct size, you'll need to take some measurements. To find the dimensions of your dog's girth, measure the circumference of their rib cage at the widest part of the chest using a soft measuring tape. Then, while your dog is standing, measure the distance from the base of their neck to the beginning of their tail to get the length.
​Material:​ All raincoats for dogs are made from either waterproof or water-resistant materials like nylon or polyester. Some are lined with fleece, wool, or synthetic materials for added warmth. Removable lining might be something to consider if you plan on using the coat year-round. Raincoats often come in bright colors with reflective materials to help with visibility.
​Closure Type:​ The closing mechanism on your dog's raincoat should be secure enough to keep the coat closed and in place. A flimsy closure may cause the coat to move around or fall off when your dog moves around. If that happens, then you'll either be constantly readjusting your dog's coat in the rain or you'll end up carrying a wet coat and dealing with a wet dog when you get home.
​Leash Accessibility:​ Many dog raincoats offer an easy and secure way to attach a leash to a collar or harness without needing to remove the coat, but some don't. That's something to look for when making your purchase, otherwise, the coat will be too annoying to deal with on a regular basis.
Check out the best raincoats that'll keep your dogs dry and warm below. And if you're looking for rain boots to complete your pup's rainy day look, we've got a roundup of those too.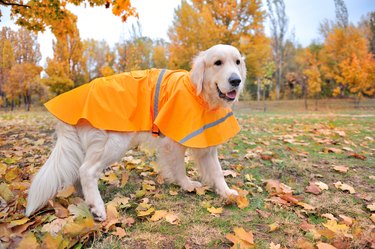 The Best Overall Dog Raincoat
HDE Hooded Slicker Poncho
There are lots of really great raincoats on our list, but this hooded poncho is our top pick. It's waterproof, reflective, lightweight, and it comes in four sizes and 18 color and design options. From ducks to plaid to dinosaurs to hearts, there's a pattern for every dog's personality. The adjustable belly strap ensures a snug fit and makes it easy to put on and take off.
Sizes: S - XL
Materials: Polyester
Closure Type: Adjustable velcro belly strap
Color Options: 18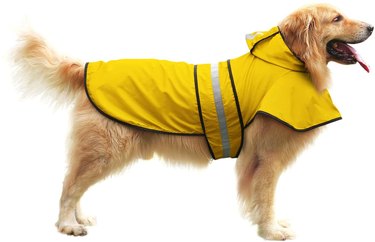 The Best Budget Dog Raincoat
There's a lot to love about this rain poncho. In addition to its budget-friendly price, this hooded poncho comes in 17 fun color and design options and several sizes. It's lightweight, water-resistant, and has an adjustable velcro waistband for a secure fit, as well as an access hole for a leash.
Sizes: XXS - 3XL
Materials: Polyester, taffeta
Closure Type: Adjustable velcro
Color Options: 17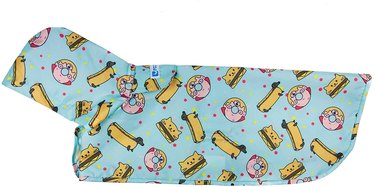 The Best Raincoat for Large Dogs
Hapee Reflective Raincoat
Made specifically for large dogs, this raincoat offers full coverage from the neck down to the tail. The jacket is waterproof and has a hood for even more protection from the rain. It has a reflective strip, it's lightweight, and it has an adjustable belly and leg straps to keep the coat in place. The straps don't get in the way when your dog needs to relieve himself. The coat also has a pocket on the back for holding poop bags, a key, or other small items.
Sizes: M - 2XL
Materials: Polyester
Closure Type: Adjustable belly strap
Color Options: Yellow, orange, blue, pink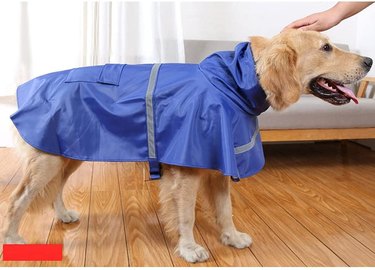 The Best Raincoat for Small Dogs
This stylish, water-resistant raincoat has all the bells and whistles. It features adjustable drawstrings, a removable hood, double-layer fabric for added warmth, reflective buttons, multiple pockets to hold small items, a zip closure, and front leg pants to help the coat stay on and to keep the mud at bay. There's a small opening on the upper back for a harness and leash. The company notes that the coat fits snug since the material isn't stretchy.
Sizes: XS - XXL
Materials: N/A
Closure Type: Zip
Color options: Black, red, navy, pink, yellow, blue with duck pattern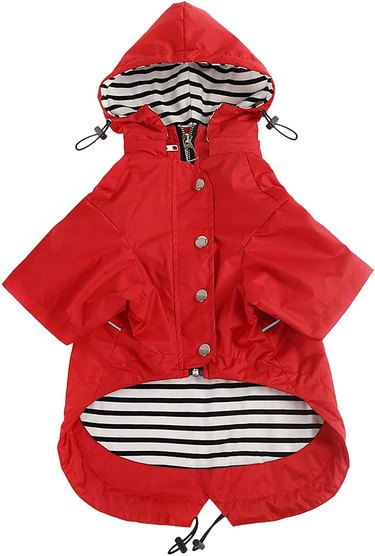 The Best Reflective Dog Raincoat
Arcadia Trail High Visibility Pet Raincoat
Rain lowers visibility, so this highly reflective raincoat can help with safety while out on walks at night. The bright color of the coat also makes your pup more visible during the day. The coat is waterproof and the inside has a spot for you to put your name and number in case your dog gets lost. When you aren't using the coat, you can place it in the storage bag with a carabiner.
Sizes: XS, M, 2XL
Materials: Ripstop
Closure Type: Adjustable velcro buckle
Color options: Orange, blue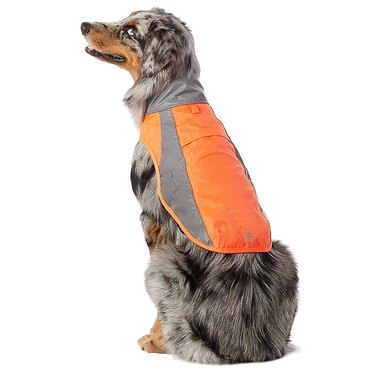 The Best Rain Poncho for Dogs
Frisco Clear Vinyl Poncho
Why cover up your dog's adorableness with a raincoat when you can buy them a clear raincoat so the world can see how cute they are? This transparent poncho is 100% waterproof and it has a hood for added wetness protection. Fuzzy fasteners around the neck and belly make it easy to put on and take off while staying secure on your dog. There's a built-in leash hole at the neck seam so you can attach a leash to your dog's collar. The poncho has an adjustable fit.
Sizes: XS - 3XL
Materials: Vinyl
Closure Type: Hook and loop
Color options: Transparent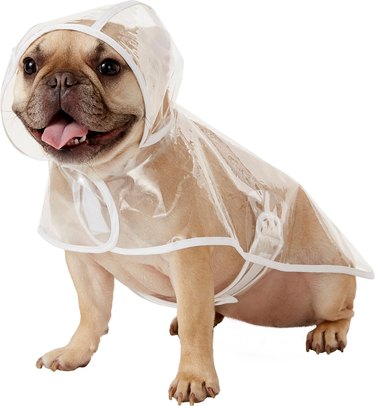 The Best Lined Dog Raincoat
Ezer Fleece-Lined Raincoat
Dogs can get pretty cold when they're out in the rain, but this fleece-lined raincoat can help. The outside is made from waterproof nylon and the inside is lined with warm fleece, so your dog will stay as dry and warm as possible. Fluorescent colors and two reflective strips give it better visibility during the day and while walking at night.
Sizes: S - XXL
Materials: Nylon, fleece
Closure Type: Velcro
Color options: Green, blue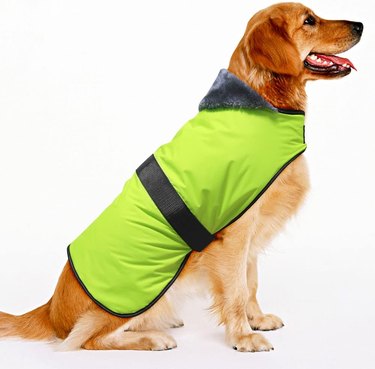 The Best Fashion-Forward Dog Raincoat
This retro hooded jacket is water-resistant and offers light protection in gentle rain showers. It comes with a detachable fanny pack that can be used to hold waste bags. When the jacket isn't in use, it can be stored in the fanny pack. Really the only negative about this jacket is that it doesn't come in human sizes.
Sizes: XS - XXL
Materials: N/A
Closure Type: Zipper
Color options: Orange/navy