If there's one thing puppies love to do, aside from sleeping, playing, and licking their favorite person, it's eating. Finding the right puppy formula food is a very important part of keeping your canine friend healthy for years to come, and finding the right treat to offer on occasion is part of that process too. Whether you're in the process of training your puppy, improving on and building the bond between you, or just looking for a little something extra to brighten their day, puppy treats can easily improve a puppy's quality of life. Like all items intended for your pet, you should keep a few criteria in mind when shopping for the perfect treat for your puppy, which can include flavor preferences, treat sizes, and where your puppy is at in her teething process.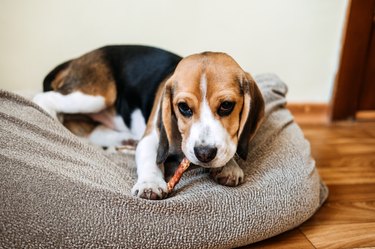 What to Consider When Purchasing Treats for Puppies
​Teeth:​ Teething is a big part of puppyhood and all young canines do it, although some more than others. Offering small, edible treats can help quell your puppy's teething, but often, a long-lasting treat or chew toy will keep them busy for longer and alleviate painful gums during this time.
​Supervision:​ Some treats can be considered choking hazards for dogs, especially if it's not easily chewable in one bite. For this reason, stick-shaped treats aren't really recommended for young and small puppies unless you can supervise them the entire time they're enjoying it in case of an emergency. Keeping things small and bite-sized is the best bet for puppies in most cases.
​Size:​ This applies to both the size of your puppy and the size of the treat, as, again, choking is a hazard that should be taken very seriously when offering a young puppy anything she can fit in her mouth. Very small puppies who are still nursing don't really need treats at all, and even very young pups who are just getting started on dry food don't need them either.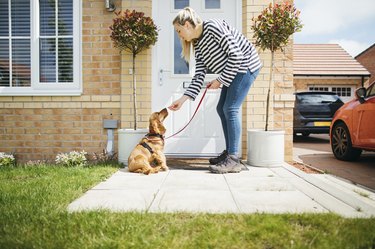 The Best Overall Treats for Puppies
Zuke's Mini Naturals Chicken Recipe Training Dog Treats
Tiny, soft in texture, and packed full of flavor, Mini Naturals are the go-to treat for many dog owners throughout their dog's life, from puppyhood into their senior years. These treats are excellent for puppies for their small size and excellent ingredients, which include chicken as the main protein source, as well as cherries, turmeric, and sunflower oil for antioxidants, and vitamins. Puppies generally don't need to worry about their weight, but these treats do contain only three calories per bite, and are not made with wheat, corn, or soy, which are common food allergens for dogs.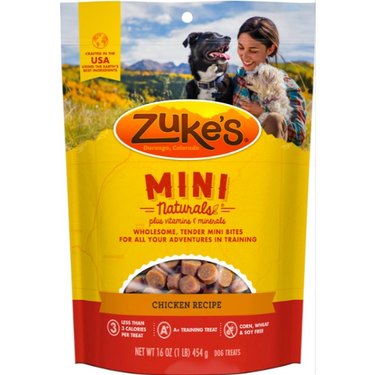 The Best Training Treats for Puppies
Puppy Chow Healthy Start Salmon Flavor Training Dog Treats
Any food that your dog considers a high-value reward is what you should use to train him, and often, those rewards are tasty, smelly, and offered in a desirable texture. These salmon-flavored treats check all of those boxes and come in a resealable bag, making it easy to carry with you on the go (when reinforcement is most in need). Like the previously mentioned treats, these are small in size and low in calories, which are great specs when seeking an effective learning tool as you won't have to hesitate to reward your puppy whenever the occasion arises. Thanks to the first ingredient of salmon, these treats are rich in omega fatty acids, which contribute to healthy skin and coat functions, and are protein-rich to help your growing friend build lean muscle in those early months of life.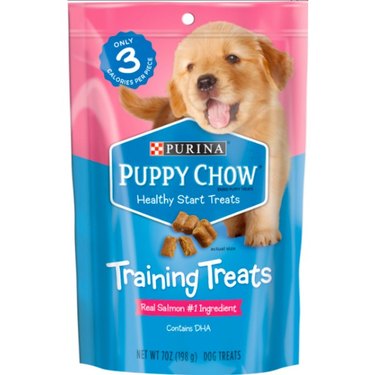 The Best Treats for Teething Puppies
Nylabone® Healthy Edibles® Puppy Chews
Unlike some of the other treat options mentioned here, this one isn't exactly a "hand it over and watch them chew it down in a bite" variety, but more intended to help puppies through an uncomfortable and inevitable phase of life—teething. Made to be durable and long-lasting, these treats are especially attractive as they come in flavors most dogs find enjoyable, including bacon, roast beef, and turkey and apple. Unlike the traditional plastic Nylabone or other dental chews, these treats are edible and made with all-natural ingredients, free from artificial colors, flavors, and preservatives. Like all long-lasting treats, these should only be offered when your puppy is under direct supervision as treats of this shape and size can be a choking hazard, especially for large-breed puppies who can fit a lot more in one bite.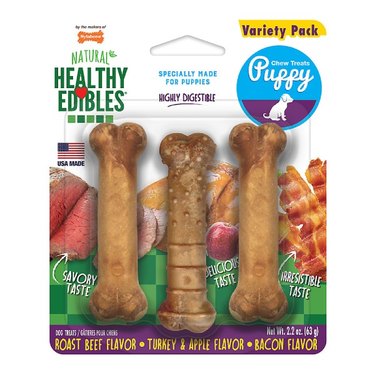 The Best Long-Lasting Treats for Puppies
KONG Stuff'N Puppy Ziggies Dog Treats
If there's one name above all others that dog owners think of when it comes to a chew toy that won't break under constant chewing, it's KONG. These treats are designed to add a little extra incentive to keep messing with that chew toy rather than move on to their caretaker's shoes or furniture and are ideal for puppies who need to be kept busy for long periods of time. These treats fit inside of several KONG toys and are formulated with rosemary extract to keep those puppy teeth clean. This variety does contain wheat and isn't a high-protein snack, but it is made with chicken ingredients to offer a flavor most puppies enjoy. Although this is another edible treat, it is strongly advised that puppies be supervised when enjoying this one as it may be a choking hazard for some dogs.
The Best Freeze-Dried Treats for Puppies
Stewart Pro-Treat Beef Liver Freeze-Dried Raw Dog Treats
Sometimes you just need a treat to offer your puppy that isn't soft, smelly, or crumbly, and freeze-dried snacks are just the answer for that. These treats are made with 100% beef liver, which makes it a clean, single-ingredient treat that's rich in protein and generally won't result in food sensitivity or allergies. Because it's freeze-dried, the flavor of these treats isn't compromised over time, and is just the right size and consistency for dogs of any age or size, puppies included. These treats are especially great for dogs in all stages of their training journeys as they break apart easily, so you can offer more bites if your dog needs constant positive reinforcement when learning a new behavior.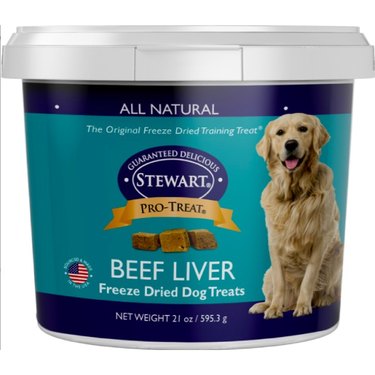 The Best Dental Treats for Puppies
GREENIES Original Flavor Natural Dental Dog Treats for Puppy
Because puppies lose their teeth at around eight to nine months of age, on average, the shape that their teeth are in won't matter too much, but the health of their gums should always be a priority. The act of chewing will naturally stimulate the gums, but if you're looking for an easy-to-serve treat to get the job done without a mess, Greenies are an excellent option. Why? Not only are they packed with a flavor puppies and dogs love, but they're also approved by the Veterinary Oral Health Council, which offers their seal of approval only to products that adhere to pre-met standards of limiting plaque and tartar in pets.
Additionally, these soft-textured treats soothe irritated gums during teething and are rich in calcium to promote oral health. Again, with treats of this size and duration, it's recommended that you supervise your puppy after offering one of these, although most pups scarf them down in little time, so you won't be on the hook for too long.