The road to fame isn't always a smooth one.
That's the story out of Cornwall, England where a cat found clinging to the inside of a rear bumper after a 300-mile trek has become an unlikely viral star and cover model for a calendar that raises funds for veterans and their families.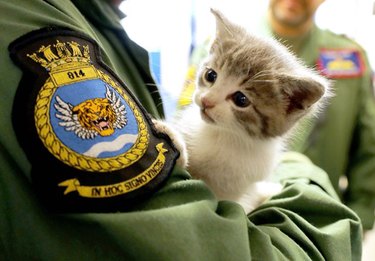 The fugitive feline was discovered in June by the car's owner, Lieutenant Nick Grimmer, the day after he drove from Birmingham Airport to the Royal Naval Air Station Culdrose, which sits adjacent to the English Channel at the southwest tip of the country.
In an interview posted on the Royal Navy's website, Grimmer, a helicopter pilot with the 814 'Flying Tigers' Naval Air Squadron, explains that "very quiet meowing" prompted a fruitless search of his beloved BMW.
"I looked in the boot, under the bonnet and climbed all over and under it and still couldn't find what was making the noise."
The officer, however, was not deterred.
"I called up some of our air engineers who came and helped me to start dismantling my pride and joy. On taking off the rear bumper we were greeted by a tiny tiger-striped kitten."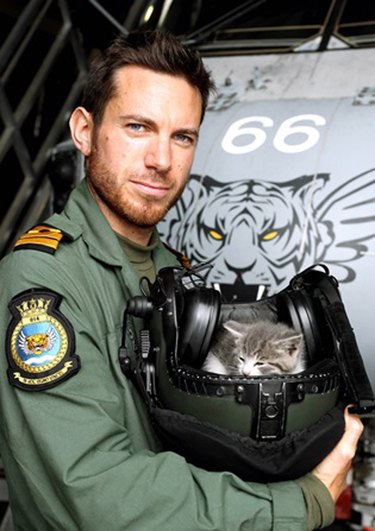 Dubbed Tigger for his striped coat which shares a likeness with sub-hunting helicopters that the 814 squadron flies, the white-and-grey cat was stressed but otherwise unharmed by the ordeal.
In fact, Tigger was quickly drafted into service:
"I am never late for work and was left with no option but to take my new friend in with me. The place he has felt most comfortable is in my flying helmet, which is the only place he is able to sleep."
When 'Operation Tiger Kitten', a campaign on social media initiated by the Royal Navy, failed to identify an owner, Grimmer swooped in to adopt the furry stowaway.
And now, six months after their date with destiny, the photogenic duo have landed on the cover of the 814's annual calendar.
(That smoke wafting from your monitor? It's wafting from ours too!)
Shot and edited by members of the Flying Tigers, their support staff, and local high school students, the project features a different kitten every month. Proceeds benefit the Royal Navy Royal Marines Charity, which since its formation, has distributed £45 million (roughly $56 million in USD) to veterans and families in need.