If you're lucky enough to have loving parents who documented almost every aspect of your first year in embarrassing detail, then you know how awesome (and awkward) it is to be revered by someone who loves you.
Thems the breaks for one lucky dog named Bitsy. This absolutely stunning deaf and blind pupper loves camping, tennis balls, and communicating with his human using touch commands.
"A tap on the butt means sit; tap on the withers means down," wrote Bitsy's proud mother Hayden Krystal, who documented this gorgeous guy's first year on Imgur.
"Bitsy is totally deaf and totally blind due to a genetic disorder related to her coat color. She loves the beach and splashing in the waves," Krystal posted.
"She used to be so small!"
But after a year, Bitsy is a little bigger.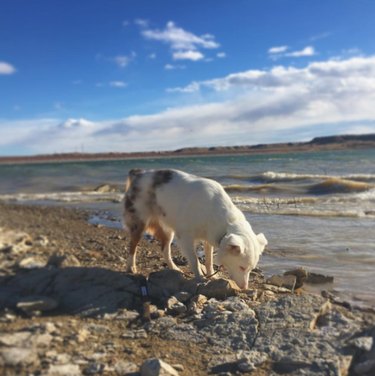 "Bitsy and I at my dad's house, looking for a tennis ball under the fridge."
"Making koi fish friends."
"Bitsy and her adopted older sister, Pinkman!"
"Pinkie, Bitsy, and I all love to camp."
Bitsy went to a friend's birthday party!
"My dad brought her a sticker from work; she felt fancy all evening."
"Baby Bitsy and my mom's golden retriever, Cassie. Cassie was her surrogate mama when she was super little."