One cat owner got more less than they bargained for when ordering a new scratching post for their feline friend on Amazon recently.
When it finally arrived, they opened the box and instead of the tall three-tiered slice of kitty heaven they were expecting, they got this:
Apparently, they failed to notice the product description, which uses words like miniature and doll house. The 1:12 scale may have also been a dead give away. Sometimes Amazon's one-click ordering makes things a little too easy.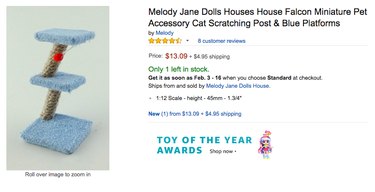 Instead of taking the loss with their tail between their legs, the owner took to Reddit to let others have a good laugh at their expense.
Some suggestions on what to do with the pint-sized scratcher posted by other Reddit users include: shrink your cat, buy a dollhouse, and keep it on your desk as a daily reminder of how dumb you can be. These are all good suggestions!
Still, the Reddit army wouldn't let one of their own be jilted without a little teasing, so they took to the item's Amazon page and left some pretty interesting reviews.
One user warned buyers to "just add water" and another added that it's "great for tiny little cats."
Maybe next time they'll pay better attention when shopping online. Until then, the ants sure are having a blast on their new scratcher.