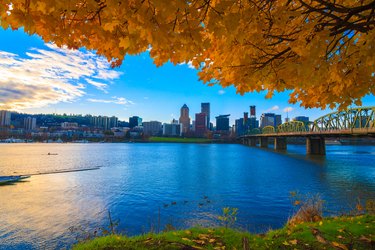 In 2016, Portland welcomed Biketown (stylized BIKETOWN); its first bike share program. In a town that prides itself on progressive cycling policies and a commitment to new infrastructure for cyclists, this was a BFD!
While the initiative is not without some cranky, NIMBY-type detractors, ridership has already exceeded official projections.
BIKETOWN's success has also midwifed a most unexpected and glorious hashtag: #dogsofbiketown.
While official Biketown policy doesn't "condone taking your dog for a ride," it's not above working these hashtag hounds into the program's official social channels, the best of which have been collected below.
Note: Because we love all dogs equally here at Cuteness HQ, we're slotting each and every one of them — bait-and-switch headline conventions be damned — into the second slot on our rankings. Who's #1? Read on to find out!
10. This Australian Shepherd
9. This Ewok
8. This adorable Labrador with a case of the sads.
7. This Chihuahua swaddled in fleece and stealing some ZZZZZZZZZ's.
6. This French Bulldog (or, hmmm, is it a Boston Terrier?) that has his own Instagram (because of course he does).
5. This Australian Labradoodle, which also has his own Insta.
4. "What do you mean my paws are too short to reach the pedals?"
3. This Westie
2. And this Pomeranian
1. The top dog — PLOT TWIST! — isn't a dog at all. Behold, then, this majestic beast sitting where it's fitting. The eyes tell you he's a lover, but the clipped ear says he isn't afraid to roll up his sleeves and get dirty.
Got a snap of your pet in a bike basket? Share it with us in the comments below!