A bus driver in Buenos Aires saved two soggy street dogs last week.
The city was hit with an impressive thunderstorm on January 23rd, and anyone who was outside found themselves in a heavy downpour. Amid the soggy captives were two small street dogs. But thanks to one kindhearted local bus driver the pups were able to stay warm and dry riding the bus for the rest of the afternoon.
Passengers reported when the driver saw the dogs shivering and hiding under a bench he stopped and carried them aboard.
Witness Stella Maris San Martín recounted, "He spoke to them like they were his own."
Dogs aren't technically allowed on the bus, but the driver has the support of his superiors. They are proud the driver took the dogs in — calling it a show of solidarity. Interestingly, despite the praise of his bosses and his passengers, the driver has remained anonymous.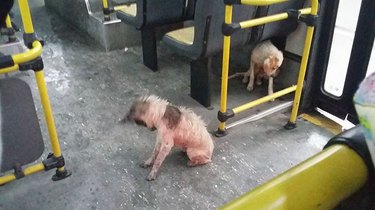 This anonymity helped the story go viral and was shared by over 10, 000 times on Facebook.
On behalf of the street dogs you saved, the passengers who got to ride with dogs on the bus that day, and the readers who get to hear about your kindness today — thank you, unidentified bus driver. You are a true hero indeed.