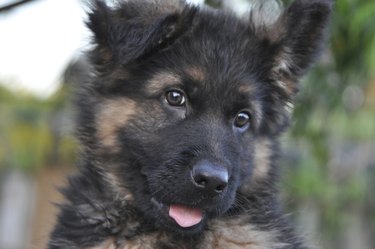 Buying a dog from the renowned trainers the monks of New Skete is a formidable task. The demand for these well-bred and socialized German shepherds far exceeds the supply. If you have your heart set on a New Skete puppy or adult, expect to wait a considerable amount of time and spend a great deal of money -- if your application is approved.
New Skete Training
If you wish to adopt a German shepherd from this monastic community in Cambridge, New York, you must agree to continue with the New Skete training program. That training emphasizes the basics in both teaching the dog and strengthening the dog/human bond. It's a lifelong process, not one lasting for just several weeks of obedience school. The monk's training program stresses understanding how dogs learn -- via trial and error -- and using praise when the dog performs the correct action.
New Skete Breeding Program
The monks at New Skete breed their German shepherds for temperament and physical soundness, using extensively researched bloodlines. Breeding animals live with either a monk, nun or local family, and puppies receive early socialization. The New Skete philosophy emphasizes "the social relationship as the single most important factor in your life with your dog." From the beginning, New Skete dogs are exposed to healthy canine-human relationships, which continues once the animal is adopted and starts a life with his new person or family. Dogs and puppies coming from New Skete cannot be bred by the adopter.
Adoption Costs
As of 2015, the cost of an adult New Skete dog ranges between $4,500 and $8,500 -- not including New York State sales tax. That's far more than the cost of adopting an untrained adult German shepherd, but not out of line with well-bred and well-trained representatives of the breed. New Skete accepts cash, personal or cashier's checks, major credit cards or money order for payment. Payment is required by the time the adopter picks up the dog, and is non-refundable.
Application Requirements
Along with basic application information such as your name, address and contact information, you must answer numerous questions about your home and family life. These include: previous dog ownership and experience; other pets in the home; children in the home and their ages; family members with allergies; occupations; and the reason you want a German shepherd in particular.
The application asks whether you have a fenced-in yard and the type of fencing; where a dog would sleep at night; whether you have read the New Skete training books; and where the dog would stay if adults work outside of the home all day. The application warns, "We reserve the right not to sell a dog to anyone."