Dog teeth grinding may seem like a nervous habit, but if it becomes chronic and is not dealt with, it can lead to major dental issues for your pet. The cause is usually an oral or gastrointestinal problem. Grinding teeth is often a canine's reaction to pain. You may not notice symptoms that accompany teeth grinding, like jaw pain, but if you see your dog clenching his teeth often, it's best to consult your veterinarian to investigate the cause.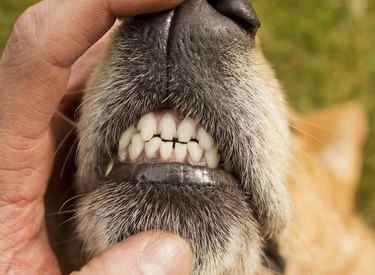 Anxiety can impact everyone at times, including pets. Grinding teeth, also known as bruxism, is sometimes a sign that your pet is under stress or dealing with an anxiety disorder. If you notice your dog grinding his teeth frequently, watch his behavior and see if he has any issues with eating or excreting waste. Give him space, pay attention to what may be triggering his nervousness, and change problematic routines where possible.
Diagnosing dog teeth grinding cause
A dental issue, like oral masses or lacerations, misaligned teeth, or broken teeth, may lead to tooth grinding. Dogs may also grind their teeth as a reaction to pain in other areas. When a dog is hurting, in addition to grinding her teeth, she may act differently. A dog feeling pain could act restless. She may also act anxious or depressed, breathe heavily, vocalize more, act lethargic, or refuse food.
Stomach ulcers and other gastrointestinal issues can cause pain that leads to dog teeth grinding. It could also be due to an injury or a joint problem, like arthritis. Dogs with other serious diseases, like cancer, also deal with pain, so it's always best to visit the veterinarian if you think your dog is hurting to find out the cause and help her get relief from her discomfort.
Dog grinding teeth side effects
When it becomes chronic, dog tooth grinding can lead to teeth decay, broken teeth, and major dental damage. Teeth clenching can lead to gum recession, and it can also cause your dog additional pain on top of what was causing the grinding in the first place.
Dogs who frequently grind their teeth are also at risk of developing more infections. If your dog breaks a tooth badly due to tooth grinding to the point that pulp is exposed, he may need major dental surgery, such as a root canal. A complete oral health assessment and treatment, or COHAT, involves a full examination of your dog's mouth to make the correct diagnosis of the cause of bruxism.
Dog grinding teeth treatment
To treat tooth grinding in dogs, the best action is treatment of the cause. When left untreated, grinding can lead to dental problems, and the source of the discomfort can get worse as well. Since the cause is usually pain, visiting your veterinarian to figure out the source and paying attention to your pet's behaviors are both important parts of the process.
Pain can be managed by treating the cause or giving your dog medication. If it's internal pain, like intestinal discomfort, a special diet could help your pet feel better. For joint pain caused by diseases like arthritis, an Epsom salt bath or dog massage can help your pet feel some relief by increasing circulation.
If the tooth grinding happens because your dog is stressed in her environment or has an anxiety disorder, changing her situation can help her relax. Pay attention to whether she gets more nervous when you leave or gets scared by loud noises, as these things can lead to anxiety in canines. The issue can also become exacerbated with age. Make sure she has a quiet area in which to relax if she gets overwhelmed. Your pet's veterinarian may prescribe medication to treat her mental health if it is an illness, and this may help lower anxiety levels, which in turn would lower coinciding symptoms, like tooth grinding.