Things You'll Need
Spray bottle

Essential oil of choice

Water
Warning
Avoid spraying the cologne into the dog's eyes or ears to prevent infections.
Tip
Research safe essential oils for dogs before adding anything to your dog cologne.
Read about the effects each oil has on dogs before making any mixtures. Depending on the dog's personality, owners may want to make either a calming or energizing spray.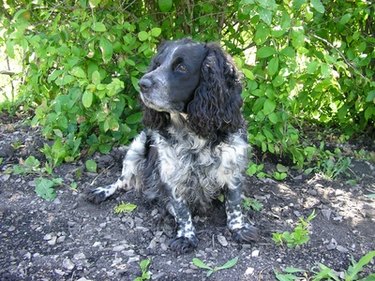 Dog cologne can be made at home, for a safe and inexpensive way to freshen up a dog's scent in between baths. Using water and essential oils, dog owners can create a custom dog cologne that can have a calming or energizing scent. Dog cologne is a great way to prevent a foul smelling home, leaving less room for embarrassing smells when company visits.
Step 1
Purchase any essential oils that you think smell nice. Safe essential oils for dogs include chamomile, cedar wood, ginger, lavender, peppermint, sweet orange and clary sage.
Step 2
Buy a glass or plastic spray bottle to keep the dog cologne in. Plastic may be a better choice if there is a chance of the bottle getting dropped or knocked over.
Step 3
Fill the spray bottle close to the top with water and mix in a few drops of the chosen essential oil.
Step 4
Smell the mixture to decide whether it is strong enough. If the smell is too weak, add in as many more drops of the oil as it takes to create a strong smelling blend for the dog cologne.
Step 5
Screw on the top of the spray bottle and spritz a few sprays of the mixture onto the dog whenever freshness is needed.