Things You'll Need
1/2 cup cooking oil

Garlic cloves

Container

Essential oil(s)

Ear dropper or cotton ball

Tissue
Warning
Regardless of the base, dilute essential oils before putting them in your pet's ears. Undiluted essential oils can burn or irritate the skin.
Do not use fragrance oils in place of essential oils.
Before using natural ear mite remedies on a cat, make sure you check with your veterinarian. Some essential oils cause a toxic buildup in felines.
Tip
You can substitute mineral, almond, grapeseed, or jojoba oil as a base to dilute essential oils. In this case, you will skip heating and adding garlic.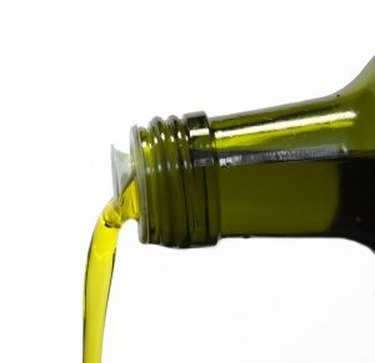 Ear mites often plague cats, dogs and horses, as well as other animals. As a highly contagious pest, ear mites often pass from one pet to another, makiing it difficult to exterminate them. With essential oils, it's possible to get rid of the pests without visiting a vet. However, some animals like felines require special care. Before you take advantage of a home remedy, you may want to talk with your animal care provider.
Step 1
Heat ½ cup of cooking oil on the stove and add two chopped garlic cloves. When the water evaporates from the garlic cloves, remove the cloves from the oil.
Step 2
Allow the garlic oil to cool before storing it in an airtight container. You may want to pour the oil into a tincture bottle that comes with a dropper to make it easier to apply the essential oils to the ears.
Step 3
Find pure essential oils to add to the oil. Common ones that work to get rid of ear mites include lavender, tea tree, rose geranium, and palmerosa. Once you select the essential oil you want, add a few drops to the oil base.
Step 4
Place three to five drops in one ear and gently massage. Some pet owners prefer to put the oil mixture on a cotton ball and then squeeze the oil into the pet's ear. After allowing the oil to sit for at least one minute, wipe the ear out with a clean tissue.
Step 5
Reapply the essential oil mixture to the pet's ear.
Step 6
Repeat Steps 4 and 5 in the other ear.
Step 7
Use the essential oils at least once per day until the symptoms clear up.
Always check with your veterinarian before changing your pet's diet, medication, or physical activity routines. This information is not a substitute for a vet's opinion.