Gerbils are highly social animals who usually thrive when they live with other gerbils. While they may appear identical, you can tell a female from a male by looking at their reproductive organs. You probably don't need the help of a vet. This is important because if you have multiple pet gerbils and you don't know their sex, you could end up with many more gerbils than you planned. If you're a breeder, you'll need to know whether reproduction is possible.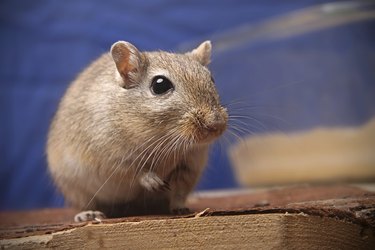 Gerbils can reproduce often
You may have heard that you shouldn't keep a female and a male gerbil in the same cage, and there's a good reason for that. Since gerbils have a relatively short life span, they can reproduce early and often compared to other animals.
Gerbils can safely reproduce when they're 3 months old, and they may continue to have babies when they're over 2 years old if their body allows it. Gerbils are pregnant for 24 to 25 days, have an average of five babies (and as many as 10) in a litter, and may become pregnant again the same day they give birth. This means they can have a lot of babies over their lifetime.
When you determine whether an animal is male or female, it's called sexing. Make sure your gerbil is calm and comfortable when sexing occurs because sudden stress and improper handling can trigger seizures, which occur in 20 to 40 percent of gerbils.
Put your gerbil on a flat surface or in your hand. Using your thumb and first finger, gently grip the base of the tail and lift up. Avoid grabbing the tail anywhere but the base and don't try to pick up your gerbil by the tail because the skin may come off the tail. It's called a "tail slip," and it's an escape mechanism. You only need to lift high enough to see the area under the base of the tail, where a male gerbil will have a large bulge. These are the testes.
The testes may not be visible until your gerbil is at least 7 weeks old. If your gerbil is too young or it's difficult to tell, look at the urogenital opening and anus near the base of the tail. A male will have a greater distance between the two than a female. This is true at any age.
Female and male gerbil traits
There are other traits that are different for a male gerbil and a female gerbil, but they aren't reliable for determining sex. Both males and females have a hairless, oval-shaped gland on their belly called a ventral marking gland. However, on an adult male, this gland is larger and secretes an oily substance. He may rub it on objects as a way of marking his territory. Females may mark their territory too but only after they've given birth. Males are often slightly larger than females; however, this isn't always the case.
A gerbil's sex doesn't change
If you've ever had a male gerbil who got pregnant or a female gerbil who got another female pregnant, you might wonder if gerbils can change sexes. While there are animals whose sex can change, that isn't the case for gerbils. This mysterious situation is better explained as a simple mistake. If you're unsure, you can ask your vet.
Same-sex living arrangements
If you have gerbils of both sexes and you don't want them to breed, keep them in same-sex cages. If you do want them to breed, keep them separate for the first three months until breeding is safe. Same-sex gerbils are usually happy to live together in pairs, especially when they are siblings or were introduced when they were young. Gerbils in groups larger than that and gerbils who don't know each other may fight.