If you don't like the idea of using powerful chemicals on your pet as a tick repellent, you've likely toyed with the idea of using a natural tick killer for dogs. Vinegar is sometimes the go-to natural solution for many ailments, but white vinegar isn't the best option for pets.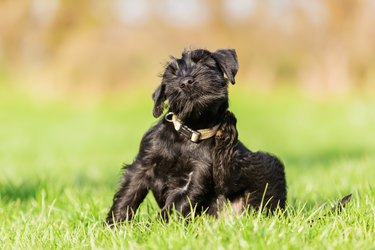 Apple cider vinegar has many health benefits and is sometimes used for animals instead of distilled white vinegar. It's a milder vinegar and is sometimes touted as a natural remedy for ticks on dogs. However, whether apple cider vinegar is an effective tick repellent isn't scientifically proven. References to its usefulness are anecdotal.
Natural tick repellent for dogs
Theoretically, you could put enough vinegar on your dog to kill ticks. The downside is that much acetic acid, the primary component of vinegar, would harm the dog as well. Putting a significant quantity of an acidic substance on his skin could seriously damage it.
That doesn't mean that apple cider vinegar might not repel ticks when sponged onto the coat in appropriate doses. However, if your dog is light-colored, substitute distilled white vinegar for apple cider vinegar when sponging. Apple cider vinegar can stain light-colored dog coats.
How to apply apple cider vinegar
After giving your dog a bath, sponge some apple cider vinegar on her coat to help prevent skin flaking. The apple cider vinegar should also repel ticks and fleas, and you don't have to bathe her every time to get the effect. Sponge enough apple cider vinegar on her to thoroughly wet the coat and then let it air dry. Perform the thorough sponging once a week during tick season. Keep a bottle of apple cider vinegar diluted with purified water handy to spritz on your dog before she goes outside.
Keep in mind that if you're using apple cider vinegar to repel ticks rather than a veterinary flea and tick preventive, it's crucial that you check your dog for fleas once or twice daily. Besides a visual inspection, use a flea comb or another fine-tooth comb to remove unattached ticks. If your dog does have a tick sucking her blood, dab some vinegar on the creature to ease removal with tweezers.
Drinking apple cider vinegar with water
It's understandable that pet owners are searching for natural remedies for ticks on dogs considering that many veterinary-prescribed products are pesticides ingested in safe dosages. Only veterinary products effectively kill ticks and have scientific data supporting their effectiveness and safety. However, if you're looking for an internal alternative to chemicals, apple cider vinegar diluted with water can be given to dogs to drink.
Apple cider vinegar makes your dog's blood more acidic when taken internally. Acidic blood turns off fleas and ticks. In other words, even internally, apple cider vinegar is only a tick repellant.
Holistic practitioners report that by adding 1 teaspoon of apple cider vinegar for every 14 pounds of body weight to your dog's food or drinking water daily, his blood acidity level will rise sufficiently to repel insects without harm. As with any suggestion unproven by science, it is wise to consult with your veterinarian before adding any supplements to your dog's diet.