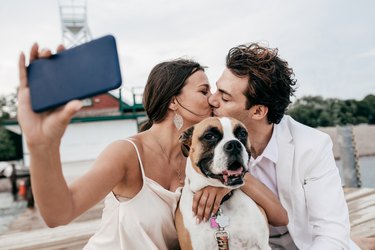 When preparing to propose, it's best to consult the experts. And who knows more about love than your pet?
Plus, animals make everything more memorable (and Instagrammable).
How can anyone say no when the question is posed on four paws?
1. Declare Your Love with the Help of Your Dog
Nothing says "Let's do this" like a diamond ring--except when that ring is delivered by a dog. Who can say no to those eyes? That nose? That furry doggy face? Attach the ring to the collar or a bow, and get ready to start your new life together.
2. Ask from Afar with a Carrier Pigeon
Popping the question from a distance? Let a carrier pigeon do the leg (or wing) work. These amazing birds have been used throughout history to carry important codes and messages--and they're a pretty perfect way to tell someone you'll always come home to her.
Make up for your cat's many unwelcome "presents" (disemboweled field mouse, anyone?) by making her your proposal messenger. If that doesn't give your beloved the warm fuzzies, nothing will.
4. Make the Puppy the Proposal
If the two of you have always talked about getting a pet once things are more serious, there's no better way to signal your readiness for the long haul than with a new addition to the family. (NB: You're still on the hook for a ring.)
Image: Paper Heart Photography
5. Convey Your Desires with a Kitten
Want your partner to fall in love all over again? Throw a kitten in the mix (not literally, dumbass). It's impossible to say no to anything when confronted with a tiny meow machine.
6. Carry a Fetching Message
Just look at that face. Could there be a better way to show your love? Consider writing your special question on a bumper, ball, or even carved into a stick for your doggy dearest to retrieve and bring to your intended.
7. Paint a Colorful Future Together
When you want to go big, make a mural and consider painting with your pet's help. Using paints safe for animals, make some paw prints on a sheet of paper or canvas to go along with the words. An engagement is a promise to love someone forever, so your furry family members should also have the opportunity to sign their approval.